Teaching English in Cali, Colombia: Alumni Q&A with Sara McKinney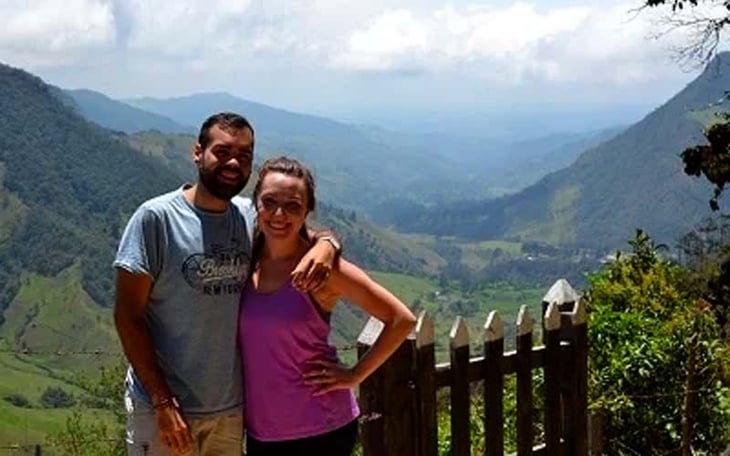 What is your citizenship?
United States
What city and state are you from?
Brattleboro, VT
How old are you?
23
What is your education level and background?
Bachelor's Degree

Have you traveled abroad in the past?
Studied Abroad
If you have traveled abroad in the past, where have you been?
Mexico, Dominican Republic, Argentina, Chile, Brazil
If you have studied abroad in the past, where did you study?
Mendoza, Argentina
What sparked your interest in going to teach English abroad?
I was initially interested in teaching English abroad because I wanted to travel in a way that would immerse me more deeply into the culture. I also have a degree in Education, so teaching English isn't too far from my professional interests. I was concerned that I wasn't going to be able to support myself off of the teaching salary.
What were some of your concerns before teaching abroad?
I was concerned that I wasn't going to be able to support myself off of the teaching salary.
What did your friends and family think about you moving and teaching abroad?
Most of them were apprehensive at first but very supportive.

Why did you decide to get TEFL certified and choose International TEFL Academy?
I decided to get TEFL certified to be a more competitive applicant and to receive more training on how to specifically teach English. ITA's online course was appealing to me because of the alumni benefits they offer.
Which TEFL certification course did you take?
Online TEFL Course
How did you like the course?
I liked the online course because I could complete my certification while continuing to work and save money. I thought the content of the course was applicable to the reality of teaching English abroad.
How has your TEFL training helped you in your current teaching position?
The TEFL training helped prepare me to teach English IN English to those that do not speak English, which is a challenging task. I gained some useful tools and teaching tactics from ITA's TEFL course that I currently implement in my English classes.

Which city and country did you decide to teach English in and why?
I decided to teach English in Colombia in the city of Cali. I was placed there by the program I came through.
How long have you been in this country and how long do you plan to stay?
I have been in Colombia for four months and I will be here until the end of my contract, which ends in six months.
What school, company, or program are you working for?
I am working in a public school through Colombia's Ministry of Education. I secured this position through the non-profit organizations Heart for Change and Volunteers Colombi
During which months does your school typically hire?
There are periodic hiring times with these organizations throughout the year.
Did you secure this position in advance of arriving?
Yes.

How did you interview for this position?
- Skype/phone interview
What kind of visa did you enter on?
Tourist Visa
Please explain the visa process that you went through.
I entered the country on a tourist visa and received a complimentary volunteer/work visa through the Ministry of Education. I received visa application support from Heart for Change.
What are the qualifications that your school requires for teachers? Please check all that apply
- Native English speaker
What is the best way to apply?
- Apply online
- Recruiter
Tell us about your English teaching job!
HOURS: 24 hours in the classroom, 15 hours planning outside of class/week
SALARY: Stipend payment from the Ministry of Education
SAVINGS: I break even financially each month
SCHOOL: I am working in a public school
STUDENTS: I teach high school students
VACATION: I receive a three week break between semesters, one week break in the spring, and one week break in the fall (this is dependent on each individual public school's schedule)
How did you find somewhere to live and what is it like? Do you have roommates?
I found my current place to live through a friend of one of the teachers at my school. I live with a Colombian couple.
On a scale of 1 - 10 please rate your experience with this school.
8
Please explain the cultural aspects, public transportation, nightlife, social activities, food, expat community, dating scene, travel opportunities, etc...
The people in Colombia are known for being really friendly, which I can attest to. The people in Cali live a very relaxed lifestyle with lots of salsa, bachata, or merengue playing throughout the streets day or night.
The nightlife in Cali is probably some of the best in Colombia, since it is known as the salsa capital of Colombia! So if you go out in Cali, be prepared to dance salsa!
The public transportation is the main way that I get around, although a lot of people use taxis as well. I try to stick to using the MIO (city bus system) so that my stipend goes a little further.
The menu del dia's are Colombia's lunches, which usually consists of soup, meat, beans, rice, plantain and a juice. You can find these at any bakery, restaurant, or food vendor in the middle of the day. There are also plenty of regional specialties... but a lot of it is fried, so I tend to stay away from those delicacies.
The number of expats and English teachers is fairly low in Colombia, though each year it is growing as people learn about Colombia's beauty and safety.
It is fairly cheap to travel throughout Colombia by bus and there are even some really cheap airlines, making traveling very accessible.

What are your monthly expenses?
-I pay for a room in a house for a total of $350,000 Colombian Pesos, which is about $114 USD.
-I spend probably $100,000 Colombian Pesos (approx. $32 USD) on food every week
-I spend about $25,200 Colombian Pesos (approx. $8 USD) per week to use the public transportation bus system
-I spend about $20,000 Colombian Pesos (approx. $6 USD) for one night of going out
-I spend about $15,000 Colombian Pesos (approx. $5 USD) each month for phone service (data and minutes)
**However, all of these expenses will vary depending on your specific lifestyle
How would you describe your standard of living?
Medium/High

In your opinion, how much does someone need to earn in order to live comfortably?
1 million or 1.5 million Colombian Pesos per month (around $500 USD).

What advice would you give someone planning or considering teaching abroad? Would you recommend teaching in your country?
I would recommend that they know what kind of a culture they want to live in before considering the country. If you are looking for a Latin American culture with a more authentic experience living among natives, then I would recommend teaching English in Colombia!


After studying abroad in Mendoza, Argentina in college, Sara became interested in teaching English abroad because she wanted to travel in a way that would immerse herself more deeply into the culture. She also had a degree in Education, so teaching wasn't too far from her professional interests. After getting TEFL certified through ITA, Sara started working in a public school in Cali, Colombia through Colombia's Ministry of Education.
Want to Learn More About Teaching English Abroad & Online?
Request a free brochure or call 773-634-9900 to speak with an expert advisor about all aspects of TEFL certification and teaching English abroad or online, including the hiring process, salaries, visas, TEFL class options, job placement assistance and more.