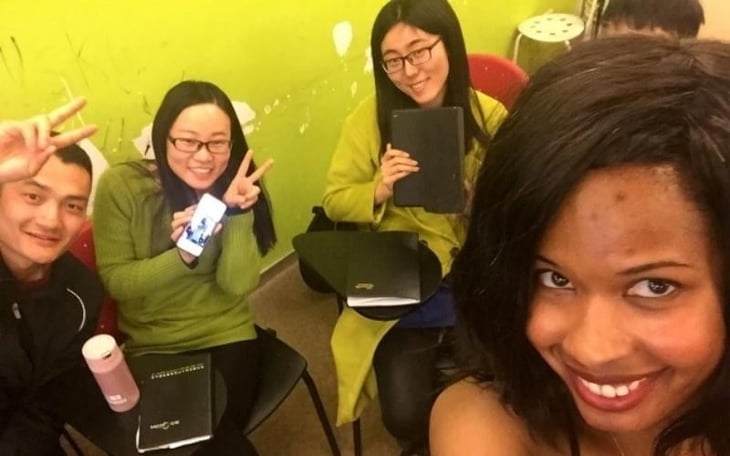 Xuzhou, China English Teaching Q&A with Ashante Hammons
TELL US ABOUT YOURSELF
What is your citizenship?

United States

What city and state are you from?

Clovis, New Mexico

How old are you?

33

What is your education level and background?

Master's Degree or Higher
Have you traveled abroad in the past?
Some international travel with friends, family, business, etc.

If you have traveled abroad in the past, where have you been?

Mexico, Malaysia, Japan, England, Spain, Bahrain, UAE, Hong Kong, Timor-Leste, Thailand
If you have studied abroad in the past, where did you study?

Mexico

What sparked your interest in going to teach English abroad?

I have enjoyed traveling around the world for quite some time while I served in the US Navy. I wanted to experience something completely different from the military. A friend of mine taught English for a summer and he told me to look into teaching.


TEFL CLASS INFORMATION
Why did you decide to get TEFL certified and choose International TEFL Academy?

I decided to get TEFL certified because of the job opportunities overseas. A lot of schools and training centers require foreigners to be TEFL certified as well as have a four-year degree. I chose this school because the class times were convenient for me. The admissions advisor, Doug Waxman, was very helpful and guided me through the process.
Which TEFL certification course did you take?

Online TEFL Class
How did you like the course?

I thoroughly enjoyed the course! The teacher gave constructive feedback regarding my homework assignments. The textbook was very interesting because I learned a lot about how to teach children as well as adults. When I did my practicum, the various teaching methods I learned were useful.


How has your TEFL training helped you in your current teaching position?

I did not receive training for my job, so I had to rely on my TEFL course for teaching strategies. I took the young learners' course and business learner course. At the time, I wondered if I would even use these courses. The answer was (and still is) yes. I teach various age levels-from 13 to mid-40s.

Which city and country did you decide to teach English in and why?

I chose to teach English in China in the city of Xuzhou. I wanted to experience China in all its roughness. Shanghai and Beijing are modernized cities; however, Xuzhou is a few years behind. Plus, many locals do not speak English. It forces me to learn Mandarin.

How long have you been in this country and how long do you plan to stay?

I have been here since August 2015. I will be here for another eight months.
What school, company, or program are you working for?

WEB International Training Center in Xuzhou

During which months does your school typically hire?

WEB hires all year.

Did you secure this position in advance of arriving?

I was already in China when I received this position. I worked for a previous school where I taught children. I decided that wasn't for me and looked for a place that allowed me to teach mainly adults.

How did you interview for this position?

- In person

What kind of visa did you enter on?

Work Visa

Please explain the visa process that you went through.

My process was a little different. I had to have original copies of my criminal background check, college degrees and a medical examination done. The school had me do another medical examination when I came to China because it needed to be in Chinese (Mandarin). I also needed two passport size photos. The HR department at WEB handled the paperwork for the work visa.

What are the qualifications that your school requires for teachers? Please check all that apply

- Bachelor's Degree
- TEFL Certification
- Native Speaker

What is the best way to apply?

- Apply Online

Tell us about your English teaching job!

The work hours for a full-time teacher is 40 hours a week. Teachers teach five classes a day. Sometimes, it'll be four classes and one social club. I am part-time; so, I work 20 hours a week. I do have the option to work more hours than that. The pay varies because it depends on teaching experience. During the probation period (2 months), the pay is 7000RMB ( about 1078 USD).The school provides a housing allowance of 1500RMB (785 USD) a month. After the probation period, you can make 8500RMB (about 1310 USD). I am able to save quite a bit for traveling. Vacation time and holidays are granted. I am able to travel a lot more because my schedule as a part time teacher is flexible.

How did you find somewhere to live and what is it like? Do you have roommates?

The HR department and other foreign teachers at the school helps new teachers look for a place to live. In Xuzhou, they try to give the foreign teachers modern accommodations (Western style toilet, mattress, etc.). I moved in with a friend of mine who was already here. It's nice to have another foreigner around to share this experience with.
On a scale of 1 - 10 please rate your experience with this school. 8


COUNTRY INFORMATION - FUN!
Please explain the cultural aspects, public transportation, nightlife, social activities, food, expat community, dating scene, travel opportunities, etc...

Xuzhou has great public transportation. It is relatively cheap. The bus fare is 2RMB (about 0.31 cents) and the taxi starts at 7RMB (about 1 USD).
The nightlife is not as lively. There are a few bars that cater to Westerners and one major club. Social activities here include going to a local coffee shop and hanging out, playing sports, or traveling to a different city by fast train.
The food is much different and very spicy. Most dishes consist of meat; so, if you are a vegetarian (like me), it's quite difficult to eat out. The expat community is quite large and everyone knows each other, whether it is from one meeting or hearsay.



COUNTRY INFORMATION - MONEY
What are your monthly expenses?

My rent and utilities are roughly 850RMB (about $130 USD) a month. Shopping at the supermarket can be quite expensive if you want imported goods. It's better to shop for fresh produce at the local markets because the supermarket produce can be overpriced. I have a SIM card from a local provider for my iOS. I usually have to "top up" every two to three months. I can make 100RMB (about $15 USD) last on my phone for that long if I do not use the data. Unlike the states (with my phone plan), I do not have unlimited data. WeChat is a very popular way to keep in touch with others around here (foreigners, students, etc.).
How would you describe your standard of living?
My standard of living is completely different from the states since this city does not have a lot of Western things I need.

In your opinion, how much does someone need to earn in order to live comfortably?

The salary is enough for this city.




ADVICE FOR PROSPECTIVE ENGLISH TEACHERS
What advice would you give someone planning or considering teaching abroad? Would you recommend teaching in your country?

Do your research about the country and the different cities that offer teaching positions. Each city in China is very different. Come here with an open heart and mind. If you get homesick, there are plenty of Starbucks around.


Naval veteran Ashante Hammons got the travel bug from studying abroad in Mexico and traveling while in the military. A New Mexico native, she says teaching English abroad provides her with opportunities to take her world travels to a new level. She chose to teach in Xuzhou, China in part because there aren't many foreigners there, which really helped her learn Mandarin.
Want to Learn More About Teaching English Abroad?
Request a free brochure or call 773-634-9900 to speak with an expert advisor about all aspects of TEFL certification and teaching English abroad or online, including the hiring process, salaries, visas, TEFL class options, job placement assistance and more.