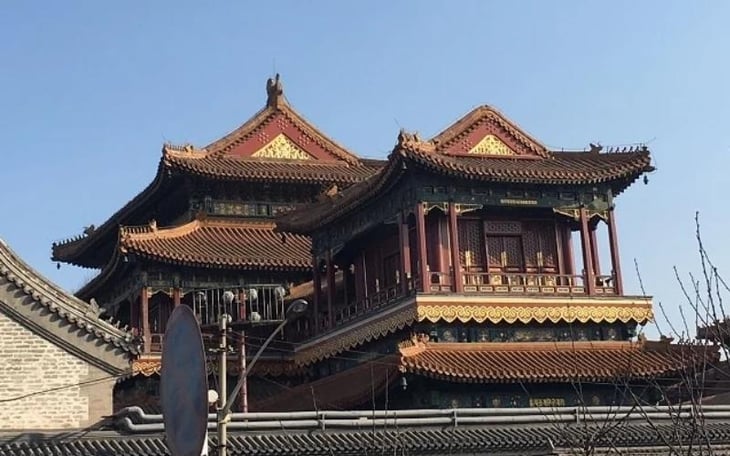 Teaching English in Beijing, China: Alumni Q&A with Shannon Cocci
What is your citizenship?

United States

What city and state are you from?

Sterling, Massachusetts

How old are you?

27

What is your education level and background?

Master's degree or Higher
Have you traveled abroad in the past?
Studied Abroad

If you have traveled abroad in the past, where have you been?
Western and Central Europe, the Caribbean, and Nicaragua
If you have studied abroad in the past, where did you study?

The United Kingdom

What sparked your interest in going to teach English abroad?
I had been keeping teaching abroad in the back of my mind as a possibility for years, but hadn't really done much about it, thinking I would try to find a job in my field in the States after I got back from studying for my Master's abroad. After nearly two years of working one job that really wasn't a good fit and searching for others, my friend asked me if I had considered it, as she was too. Having had very little luck in applying for better jobs and worried about my student loan debt, I decided to look into it more, and found that my travel bug had once again come back. The idea of living abroad again started sounding better and better, so I began to look at the opportunity more seriously.
What were some of your concerns before teaching abroad?
I had several concerns, mostly financial as I had only been making minimum wage for two years and had student loan debt. Would I make enough money to live comfortably and enjoy traveling around? Would I be able to save enough money to start making a real dent in my student loan payments? And of course, was teaching something I wanted to commit to? All in all, after doing research for awhile, I decided that the pros far outweighed the cons, and as long as I was smart about my finances, there was no reason I shouldn't be able to do it!
What did your friends and family think about you moving and teaching abroad?

My friends and family reacted mostly positively to the news that I wanted to move abroad again. Some of them weren't sure about it at first, but it was more because when I first brought it up, I didn't necessarily have a set plan in mind. I just knew I wanted to get my TEFL certification and move overseas for a second time. But most of them seemed to recognize that I wasn't happy doing what I was doing and encouraged me to pursue a new path, even if it took me far away.


TEFL CLASS INFORMATION
Why did you decide to get TEFL certified and choose International TEFL Academy?
My friend who asked me if I had seriously considered teaching abroad had actually already looked into International TEFL Academy, and gave me the information. I read through it and made an appointment to speak to an advisor. After talking to my advisor for awhile and doing some other research online, getting certified sounded like the right decision as it would mean more teaching opportunities would be open to me. Around the time ITA was offering a special on their online class, I was rejected from the last job I had interviewed for and didn't have other interviews lined up. It seemed like a sign, so I took it and signed up for my course!
Which TEFL certification course did you take?


Online TEFL Course

How did you like the course?

The online class was a good fit for me, as it allowed me to keep working and earning money while I got certified. The assignments helped me start developing skills as a teacher at my own pace. My instructors were always available for questions, and feedback and assignments were graded very promptly.
How has your TEFL training helped you in your current teaching position?
TEFL training helped me learn about how to teach in an effective way, and how to make sure my teaching is student-centered. I had never made a lesson plan before, and I wouldn't have any idea where to start without the training ITA gave me. But most importantly, they helped me gain confidence in my own abilities as a teacher. Having the opportunity to teach actual EFL students in another country was invaluable.
Which city and country did you decide to teach English in and why?

I decided to teach English in China in the city of Beijing. After finishing my certification, I was open to different locations around the world but was focused on Eastern Europe as well as considering going back to Central America for awhile. However, do to hiring seasons, I wasn't getting a lot of responses, so I decided to consider teaching in Asia, and possibly going to a different location later. When I spoke to a recruiter, I was put in touch with learning centers in China. I was offered a place with a company in Beijing, and was waiting to hear back from the one in Shanghai. I found out that an old high school friend of mine was actually working for Best Learning English in Beijing as well, and she had a lot of good things to say about working there, so I decided to take the job.
How long have you been in this country and how long do you plan to stay?
I have now been teaching in Beijing for five months, and I signed up for a year contract. I have really been enjoying my time here and the company is great, so I am considering signing a contract for a second year.
During which months does your school typically hire?

Year Round

Did you secure this position in advance of arriving?

Yes

How did you interview for this position?

Skype/phone interview

What kind of Visa did you enter on?

Tourist visa

Please explain the visa process that you went through.

I originally intended to enter China on a Work Visa, but my paperwork was unfortunately delayed. My company arranged to help me enter on a Tourist Visa with the option of changing to a Working Visa later. China now allows foreigners to do that while in the country, and this meant I was fine to come to China at the same time I originally planned. I had to visit the Chinese Embassy in Washington D.C. to apply for the Visa and had it within a few days. Less than a month later I arrived in Beijing!
What are the qualifications that your school requires for teachers? Please check all that apply

Native English speaker


What is the best way to apply?

Recruiter
Please include any application resources (website, email, etc.) or other information here:
I applied through a recruiter and they were very helpful in arranging interviews and had lots of information about different opportunities.
Tell us about your English teaching job!

I work at a Learning Center teaching children, and I work about 42 hours a week, with about 22 of those being teaching hours. I teach the classes along with a Chinese teacher, and our classes have anywhere between 8-15 students. My youngest students are three years old, and my oldest are around twelve. The children who are older come to evening and/or weekend classes, while the youngest children have the option of taking an all day class with us instead (the older children are going to their regular school during the week).

Best Learning pays very well. I am paid a base salary, as well as a housing allowance that covers most of my rent. If you have more than 40 teaching hours in a month you will be paid an hourly rate for those on top of your base, and if you have more than 100 teaching hours in a month you will get a bonus. Now that I have a full class load, I am making more than 2000 USD a month and that goes a long way in China! I can save to travel more, which I do have ample time to do. Due to the amount of public holidays in China, I have a lot of paid time off to explore and travel. We had two weeks off around Chinese New Year, several long weekends in the spring, and there is a week off in the fall for the Autumn festival. You can also opt to take a two-week vacation in the summer, but that is unpaid. But with all the paid leave we already get, it doesn't sound too bad.

How did you find somewhere to live and what is it like? Do you have roommates?

It is actually pretty easy to find an apartment in Beijing. I have one roommate, who I became friends with during training. We found agents who helped us find a location between our centers (unfortunately we were assigned to centers clear across the city from each other) and with a landlord who was willing to be paid monthly (in Beijing it's normal to pay rent three months at a time). I recommend looking at listings on The Beijinger, and talking to agents from there.
COUNTRY INFORMATION - FUN!
Please explain the cultural aspects, public transportation, nightlife, social activities, food, expat community, dating scene, travel opportunities, etc...

Beijing is a really easy city to get around thanks to the subway system! It's an easy subway map to learn, and most anything in the city can be reached that way. There are buses, but I haven't really used them yet. Once you learn a few words of Chinese, taxis are pretty easy as well. Just remember that the drivers rarely speak English. Another great way to get around shorter distances is bike sharing! There are several companies that have put many bikes around the city, and there are smart phone apps for them that allow you to unlock the bikes and ride them for a small fee (you put money on the app to use). Mobike is the best one for most foreigners because the app has an English interface.

In spite of the subway's early closing times, there is a lot of nightlife in Beijing to enjoy; my co-workers and I go out sometimes a few nights a week. There are a lot of bars and clubs in different neighborhoods like Sanlitun, Wudaokou, and Gulou. These are areas that are really popular with foreigners. You can find almost any cuisine if you learn where to look, and the Chinese restaurants are great too!

There's a lot of cultural places to visit in Beijing too; my favorite so far has been the ruins of the Old Summer Palace. I still have to visit the Forbidden City, but I have been to quite a few temples, especially during Chinese New Year when there were a lot of Temple Fairs.
COUNTRY INFORMATION - MONEY
What are your monthly expenses?

My expenses are fairly normal. I pay my rent every month and top up my electricity whenever it needs to be, as it essentially runs on a meter. Other utilities are either run on the electricity, or are billed biannually. The subway is pretty cheap so I use that as my primary form of transportation unless it is close enough to walk or use a bike share. I use taxis late at night or if I need to be somewhere quicker than the subway might get me there. I go out with friends and co-workers fairly regularly now that I've been here a few months, and the nightlife isn't very expensive unless you're going out to expensive places for the good foreign food every single night. Traveling within and outside of China is relatively inexpensive. I have been on a trip to Hong Kong (an expensive city once you get there, just to keep in mind) and Seoul, South Korea, spending only a few hundred dollars.

How would you describe your standard of living?

My standard of living is what I consider average. It's a small apartment but enough for two people, and while the bathroom is tiny, it has everything I need. I have heating and AC in the apartment, hot water, and old-but-still-good kitchen appliances.

In your opinion, how much does someone need to earn in order to live comfortably?

I would say that in total, earning about 12,000 RMB ($1800 USD) a month is best for a comfortable lifestyle. If your base salary is less than that, but your school provides housing allowance and/or extra money based on number of teaching hours, you will still make enough. However, I would say on average if you want to be able to go out and have fun and save enough for travel on top of bills, 12,000 RMB a month in total is what you would need.


ADVICE FOR PROSPECTIVE ENGLISH TEACHERS
What advice would you give someone planning or considering teaching abroad? Would you recommend teaching in your country?

I do recommend teaching China! Beijing is a great city, and I've heard great things about teaching in Shanghai and Guangzhou as well. The market for English teachers is very good, so finding a job is pretty easy, especially if you already have a degree, but many places will hire you if you don't.
After developing a passion for international life through travel and earning her Master's overseas, Shannon was torn between pursuing her career at home and heading back abroad. She took the plunge and got TEFL certified, and has been teaching English in Bejing, China ever since.
Want to Learn More About Teaching English Abroad?
Request a free brochure or call 773-634-9900 to speak with an expert advisor about all aspects of TEFL certification and teaching English abroad or online, including the hiring process, salaries, visas, TEFL class options, job placement assistance and more.