Teaching English in Phnom Penh, Cambodia: Alumni Q&A with Kate John
Written By: Kate John | Updated: June 29, 2023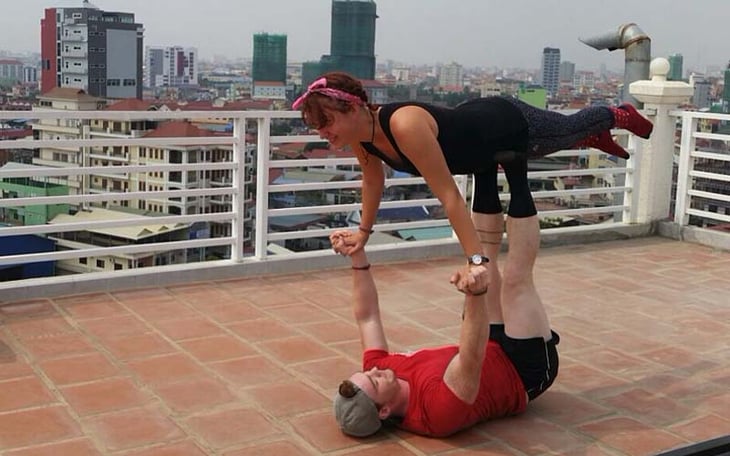 What is your citizenship?
United States
What city and state are you from?
Portland, Oregon
How old are you?
24
What is your education level and background?
Bachelor's degree
Have you traveled abroad in the past?
Studied abroad
If you have traveled abroad in the past, where have you been?
Sevilla, Spain; Tuscany, Italy; Lisbon, Portugal; Paris, France.
If you have studied abroad in the past, where did you study?
Sevilla, Spain
What sparked your interest in going to teach English abroad?
I was interested in traveling more extensively. It seemed like a great way to get to know a country and to go to the neighboring areas. I really love teaching and figured that the two would pair really well.
What were some of your concerns before teaching abroad?
My concerns were mainly superficial, like about getting shots before going or whether I would get along with my students. Nothing was too bad.
What did your friends and family think about you moving and teaching abroad?
My family was all very worried, as they grew up hearing about the Khmer Rouge in Cambodia. I think me telling them I was moving here was similar to what it would be if I had a kid who said "Mom, I'm going to go live in Afghanistan now." It worried them. I did my research though, and knew the country was safe now. All my friends were super jealous and loved the idea. I think it's a generational thing.

Why did you decide to get TEFL certified and choose International TEFL Academy?
I chose ITA because it seemed like they had the most rigorous course. I didn't want to walk into a classroom unprepared, and I thought they would be the best at providing that preparation.

Which TEFL certification course did you take?
Online TEFL Course
How did you like the course?
I really liked the course. I was out of school at the time, so it was nice to have a little academics back in my life. And the course was easy to fit into my work week. I think the tasks aligned really well with the curriculum; they allowed my time to practice the skills I was learning. While I had had teaching experience before, I hadn't taught English, so learning about different language teaching strategies was really beneficial for me.
How has your TEFL training helped you in your current teaching position?
I have used the training I was provided to not only teach better, but also to help in my volunteer work here. I help to train teachers in rural provinces, who do not have the best English, but teach English. I have been able to give them some pointers from the TEFL course that have helped them improve the quality of education they can provide to their students. So the TEFL course has been far reaching.

Which city and country did you decide to teach English in and why?
I decided to teach English in Cambodia in the city of Phnom Penh. I decided on Cambodia because it was somewhere neither me or my partner had been to. It was a brand new experience, and that was alluring. We both really wanted to explore Southeast Asia, and Cambodia seemed like the best option. It has a low cost of living, it is centrally located, and they have a great job market. Plus we wanted to go somewhere we would be able to help people. We really wanted to get involved with humanitarian work, and Cambodia is a country that is still emerging out of some difficult events. They seemed like the perfect fit for us.
How long have you been in this country and how long do you plan to stay?
We moved here in August, 2017, and plan to stay at least a year
What school, company, or program are you working for?
CIA First
During which months does your school typically hire?
August
Did you secure this position in advance of arriving?
No
How did you interview for this position?
In-Person Interview
What kind of visa did you enter on?
Work Visa
Please explain the visa process that you went through.
When arriving in Cambodia you get a visa that can be transferred to a work visa, not a T (tourist) visa. Then after about a month you go and get it extended. Most scooter rental places, or guesthouses can broker this for you, so you don't have to go to the embassy or airport yourself.
What are the qualifications that your school requires for teachers? Please check all that apply
Bachelor's Degree
What is the best way to apply?
Email
Tell us about your English teaching job!
I teach about 20 hours a week, but I am contracted for 40. So I get a ton of planning time at school. I get $2000 /mo which is really on the higher end here in Cambodia. But that has to do with the type of school. At an International School people generally can make a lot more. My students are high school students. With my partner we are able to save between $600-$1000 a month usually, and still take a trip each month and live pretty modestly. Cambodia has a ridiculous number of public holidays so while we do go on a lot of trips, we rarely have to take time off work.
How did you find somewhere to live and what is it like? Do you have roommates?
We found a place to live through Facebook groups. It turns out that most everything happens through Facebook, so it's a super easy way to get connected. So we first got SIM cards that work in our phones, then we used those and the Facebook groups to call around to people who posted places we liked. It took us a grand total of three days to find a place to live. We don't even have roommates. It's a great, spacious one bedroom with a rooftop pool and gym area.
Please explain the cultural aspects, public transportation, nightlife, social activities, food, expat community, dating scene, travel opportunities, etc...
Cultural aspects: Cambodia is a really interesting country, due to it's recent history. The Cambodian people are incredibly friendly, and always very willing to help you. The education system here was pretty off for quite a few years following the 1975-1979 events, and as a result there are not a lot of people who speak English well. But it is definitely up-and-coming and grows a massive amount every day! So I have no doubt that things will continue to develop.
Public Transportation: Getting around is pretty easy in Phnom Penh; there are tuk tuks, scooters, and taxis you can catch virtually everywhere. Or you can order a driver through PassApp (which is like Uber but for rickshaws). Going between cities can be accomplished on buses or vans for very cheap.
Nightlife: As travel in Southeast Asia is so affordable, there is a huge backpacker presence. As a result there is a ton of nightlife in most cities. I'm an early bird, so I don't usually go out, but I know it's a popular option for a lot of people.
Expat community: There is also a thriving expat scene here, for some of the same reasons. They frequently host get-togethers or events, and these are easy to access through Facebook groups. That's been a really nice way to get to know people we've found.
Dating scene: As I moved with my partner, I haven't tried my hand at the dating scene, but we hear that it is somewhat difficult as most of the people on tinder here are just passing through. But I do know people who have found each other through work at large schools, or staying at the same guesthouse on vacation.
Travel opportunities: Going places in Cambodia is affordable and fun; there is so much to see here. There is some of everything: jungle, city, beaches, etc.
Food: We also have really enjoyed the food, although sometimes street food doesn't agree with us. The Khmer food is similar to Thai or Vietnamese food in a lot of ways, but has its own unique flavor to it. One of my favorites is the Khmer Curry, but you shouldn't visit without trying the Amok (a curry, fish, and rice dish served in a banana leaf).
What are your monthly expenses?
We live in a pricey apartment, and pay $500/mo in rent. Our electricity is $0.25/KW, so usually comes to $60 a month. We budget $650 a month for rent and utilities just in case we run the air conditioning a lot, but rarely spend that. We budget $1000 a month for food, entertainment, and daily transportation too. But also frequently have leftover cash. A phone SIM card costs $2, and top up cards for minutes usually cost us $10 a month. I think it is a little easier as we share costs, like rent and food, but it would be very affordable alone as well.
How would you describe your standard of living?
We live a more upscale life. There are definitely cheaper apartments, but we wanted something more Western styled.
In your opinion, how much does someone need to earn in order to live comfortably?
I think someone would be able to live comfortably here on $1000/mo.

What advice would you give someone planning or considering teaching abroad? Would you recommend teaching in your country?
I would definitely recommend it. Especially to any American. It is so hard to see outside the states when you are there, and I think living and interacting with people abroad every day really helps to broaden my mind. That's something I think is incredibly valuable. Cambodia is a difficult place to move to if you've never traveled abroad before, because it is very different from the Western world. But I think it is incredibly hospitable, and really amazing place to live.
After volunteering for a year in the Denver Public School System, Kate felt like she needed a change. She and her boyfriend both got TEFL certified and set off on an adventure of a lifetime in the Kingdom of Wonder. Since then Kate has written extensively about her life teaching English in Cambodia as one of ITA's Writing & Content Ambassadors.
Want to Learn More About Teaching English Abroad & Online?
Request a free brochure or call 773-634-9900 to speak with an expert advisor about all aspects of TEFL certification and teaching English abroad or online, including the hiring process, salaries, visas, TEFL class options, job placement assistance and more.