must read
The Finances of Living and Teaching English in Germany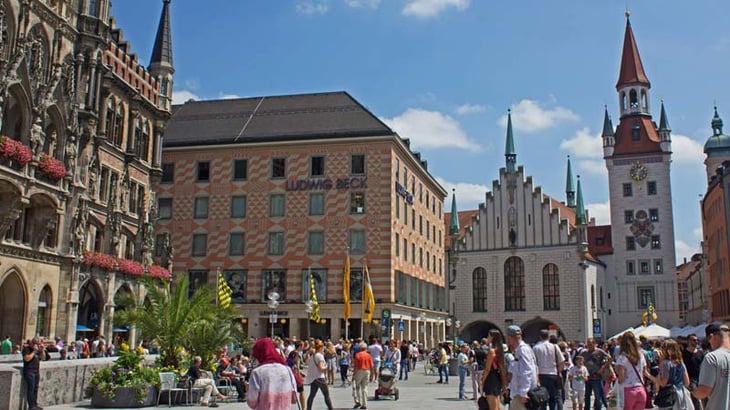 The cost of living in Germany is surprisingly reasonable compared to other European countries. Once you've decided that Germany will be your new home and certainly before you hop on a plane, create a list of all possible expenses you may have during your time abroad and compare it to your existing expenses. A great website to compare the cost of living is called: Numbeo.
As a freelance teacher living in Germany, you will most likely break even, and may not be able to save a lot during your time here. However, you will be able to live comfortably and still have enough to travel. Take advantage of how centrally located Germany is to other countries.
In the beginning, you will need to be prepared to fork out money for a rental deposit; your first month's rent, the cost to apply for your residence permit, and still have a decent amount in the bank to show the visa office. Be sure to have enough funds to cover your cost of living for the first three months (some cities longer) just in case you can't start working right away.
As a freelance teacher living in Germany, keep in mind that all expenses such as housing, health insurance, food, and entertainment are covered solely by the teacher. Typically, as a freelancer, there are no paid perks provided by the schools where you teach. You will also have to set aside money for taxes.
Now let's take a look at the finances of living and teaching in Germany.
You will most likely be paying for a cellphone, public transportation, some utilities, food, and entertainment. The overall cost for these items compared to major cities in the US is much cheaper. For example, you can get a prepaid monthly sim card with enough mobile data to last you each month for around 10 to 15 euros. A phone contract (2-year minimum) with a decent plan will cost about 30€. Under my current contract, I pay 14,99€ for unlimited talk and text with 6 GB of Mobile Data. Not too bad compared to the $100 a month I was paying back in San Diego.
Another thing to keep in mind is that even though the monthly public transportation pass can seem a bit high, it's still more affordable than owning a car and paying for car insurance. I would suggest during the first few months to buy daily passes to see if you would save by purchasing the monthly or annual pass. Germany is a very bike friendly place, so in the warmer months, you can bike to your lessons and save on the transportation costs.
Housing Costs in Germany
Should go without saying, but one of the most important things you will need is housing. Rental costs in Germany do range based on the city-region where you live. When looking for a place to live, it's a good idea to understand that in Germany, we have what is called warm rent meaning inclusive of some utilities - typically water and electricity according to your rental contract and cold rent, which is only the base rent paid to the landlord that usually does not include utilities. When renting a place, be sure to check upfront if there are additional costs for utilities that you need to pay out-of-pocket.
The most expensive cities in Germany to rent are Munich, Dusseldorf, Berlin, Frankfurt, and Hamburg. The lowest housing costs in Germany are Bremen and Leipzig.
I get asked all the time about how affordable it is to live in Berlin, the capital of Germany. Berlin used to be a place people moved to because rental prices were low. Nowadays, while it is still more affordable compared to other cities, the influx of people moving to Berlin is starting to push up rental prices.
According to Numbeo as of March 2019, Consumer Prices Including Rent in:
Dusseldorf are 11.75% lower than in Berlin
Hamburg is 6.90% higher than in Berlin
Hamburg is 0.09% lower than in Frankfurt
In Munich an apartment (1 bedroom) in the City Center is around 1,110€ compared to an apartment in Leipzig (1 bedroom) is around 520€. (source: Numbeo)
Teaching Opportunities
After working with hundreds of expat living and teaching in Germany, here are some of my top picks of best teaching opportunities.
Munich
Dusseldorf
Frankfurt
Berlin
Hamburg
Stuttgart
Yes, a majority of the cities listed above are considered to be the most expensive places to live in Germany, but the pay rates tend to be higher than in other cities.
The hourly rate and the amount of hours you will receive will vary depending on the where you teach. You'll find teaching rates offered as low as 12€ per 45-minutes, with most cities around 15€ to 25€ for general English. The major chains typically pay the least, followed by independent agents that will hire you to go out to schools or companies. The potential income really does vary on many different factors. I have seen teachers not that motivated earn as low as 500€ per month to teachers highly motivated making over 3.500€.
If you are working under a full-time work sponsorship permit, you should be receiving a stable 40-hour work week through one school. However, as a freelancer, you are required to work at multiple schools. Under a freelance permit, you should not be working a full-time schedule at any given school. If you are motivated enough and would like a full-time schedule spread between your different teaching contracts, then you can find it. It will take time to build your schedule, but it is possible to stay busy and make enough to live comfortable and travel. On top of working in language schools, you can try to teach privately, but this requires much more time and effort. Private teaching is not for everyone, and it's not something you can do right away without taking the time to build your student base. You can, however, if done correctly earn more on an hourly base teaching in the private sector.
Overall, Germany has a lot to offer teachers and is a wonderful place where you can enjoy a comfortable lifestyle in a country full of history and charm. Plan ahead, save up enough before you move here and remember that it will take a few months to get settled.
Read More: How much money can I earn teaching English in Germany?
Hailing from San Diego, Tamie had explored most of the United States but had never been abroad until age 35 when she embarked on a year of traveling, volunteering, and studying around the world. After earning her TEFL certification in Florence, Italy, & traveling through Europe, Tamie headed for Hamburg, Germany. In Hamburg, she not only taught English for 4+ years but also established her own business providing support and assistance to other English teachers with navigating the German visa process.
Want to Learn More About Teaching English Abroad & Online?
Request a free brochure or call 773-634-9900 to speak with an expert advisor about all aspects of TEFL certification and teaching English abroad or online, including the hiring process, salaries, visas, TEFL class options, job placement assistance and more.