teach english online
Teach English Online - DaDa Application & Interview Process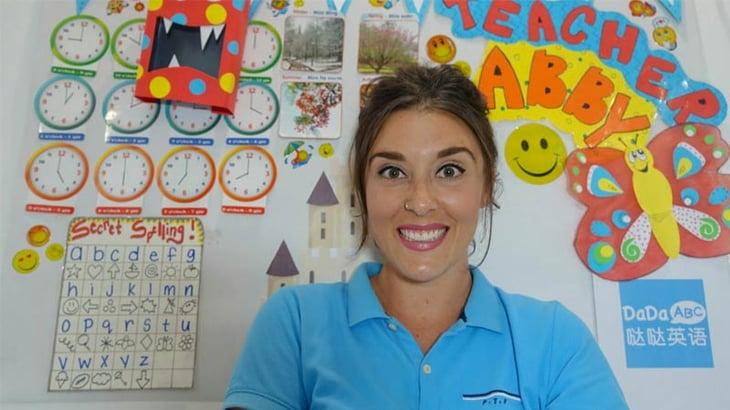 ** As of August 10, 2021, DaDa emailed this note to their teachers on how their business will be affected by China's new education regulations moving forward.

Want to teach English online with a top international company? Not sure how to get started? ITA alumna, Abigail Jacobs, shares with us the application and interview process for teaching English online with DaDa, a world leader in international online education. Here she shares her personal tips and advice for getting hired, as well as information on the visa that allows her to live and teach English online from Da Nang, Vietnam.
INTRODUCTION
My name is Abigail Jacobs. I'll be 32 in a couple months and I'm currently living and working in Da Nang, Vietnam. My boyfriend and I left the USA about two and a half years ago. We taught for a year and a half in Thailand. After that, we traveled for 7 months throughout SE Asia. We decided to live and work in Vietnam on a 12 month visa as it was time to save up some money again! I've been teaching English online with DaDa for four months and I love it!
VIETNAM - THE VISA
Vietnam offers a variety of visa options for US citizens. When I first visited Vietnam, I did so on a 3-month tourist visa and I was not working. When I returned, I did so on a 12-month business visa. This visa allows me to stay in the country for 12 months without having to do any "border runs". There are different lengths of tourist and business visas available, some may require border runs.
The 12 month business visa was the most expensive option. But I was more than happy to pay for it up front, because I hate border runs (!!!) and they end up costing more in the long run. E-visas are a very quick and popular option for coming to Vietnam. I had my visa arranged with the help of Ms. Oanh Ha with Go Viet Travel, a tour and visa service out of Hanoi. I found her through suggestions in Facebook groups, and she arranged my Vietnam visa while I was traveling in Bali. It was quick and efficient. I had an excellent experience.
**Please Note: I am not a visa expert. I am only sharing my experience. Be sure to do your own research on the visa options and requirements, as these things are subject to change! Also, it is your responsibility to research E-visa companies and find a trustworthy provider.
DaDaABC - THE REQUIREMENTS
Job Requirements:
DaDaABC requires that teachers are native English speakers with Bachelor's degrees. A TEFL Certification and teaching experience are not mandatory, but definitely helpful and can affect your rate of pay. Experience with children is especially helpful, as DaDa students are typically between 4 and 13 years old.
Hardware & Internet:
If you're interested in teaching with DaDa, you'll need a computer with a webcam or an HD webcam, a headset with a microphone, and a stable internet connection. For your internet connection, DaDaABC requires a minimum upload speed of at least 2mb/s and a download speed should be at least 10mb/s. I believe that using a WiFi connection is only acceptable if you are working from a Mac laptop or computer. [Read More: What are the Basic Requirements to Teach English Online].
Hours & Scheduling:
Teachers are required to work at least 2 hours per day and 2 days per week, within these time slots. A consecutive, two-day-minimum schedule is only allowed on weekends. DaDaABC has a set schedule and you choose the shifts that you want from these available time slots:
Monday - Friday: 6:00pm - 9:10pm (Shanghai Time)
Saturday and Sunday: 10:00am - 12:06pm; 2:00pm - 4:06pm; 6:00pm - 9:10pm (Shanghai Time)
[View Shanghai time conversions in US Eastern Daylight, Central Daylight, Mountain Daylight, Pacific Daylight, and Hawaii-Aleutian Standard Times.]
DaDaABC - THE APPLICATION PROCESS
The application and interview process with DaDaABC was really quick! After I applied, I was teaching and making money within a few days.
I filled out an online application through the DaDaABC website. The application requests the following information from you:
→ Full Name
→ Photo
→ Gender
→ Highest Degree Obtained
→ Nationality
→ Main Occupation
→ Country You Are Currently Living In
→ Mobile Phone Number
→ Email Address
→ Skype ID
→ Option to Upload a Resume [Read More: Teach English Online: How to Create a Killer Resume]
DaDaABC - THE INTERVIEW PROCESS
I was contacted shortly after to set up a Skype interview to talk about my qualifications and experience. After passing the interview, DaDa provided Internet connection testing and system training. My recruiter showed me how to use the teacher portal and the functions in the online classroom.
After the teacher portal was opened up and the Internet connection testing was completed, I was given access to loads of videos from other DaDa teachers. Once I watched those, I scheduled my teaching demo with a live student. The demo is 30 minutes in length and it is this teaching performance that determines your salary (TPR! TPR! TPR!).
After my teaching demo, I was extended an offer which I accepted and I was sent an electronic contract to sign. My contract was for 6 months, but I believe they're starting to push more for 12 month contracts.
DaDaABC - THINGS TO CONSIDER
Consider your schedule thoughtfully before committing. Be cautious of over-committing, especially if you plan on doing a LOT of traveling during your contract period. It's much easier to add hours after you've started. It's discouraged to try and decrease your schedule after starting, and there can be penalties for connectivity issues and missing classes. It's your responsibility to have a reliable connection.
A few things to consider if you think DaDaABC (or teaching English online anywhere) is right for you... It is required that you have good lighting and a suitable teaching environment. You need a place that is quiet and where you can focus on your student. No, it is not OK to teach while plopped out on your couch watching TV in the dark. No, you cannot teach while you eat in a noisy bar or restaurant. No, you cannot teach from an airplane. (Yes, I've seen these questions, for real.) This is still work. It is important you are respectful and committed to giving your students a quality, educational experience. They deserve your attention.
DaDaABC - ATTIRE & CLASSROOM SETUP
Wearing a sky-blue shirt with a collar is preferred during class. It doesn't have to be anything fancy or expensive. Just a basic, cotton polo shirt is fine. Also, give some consideration to your background and classroom materials. A plain, white background; while it is not distracting, is a little boring. Try to create a fun space for your students! That said - be creative! I've seen teachers cut up a shower curtain to teach in front of while traveling. I've heard of teachers setting up their "classroom" from a closet or a hotel bathroom!. Also, having some finger puppets and a few flashcards is great, especially for the younger students!
MOST IMPORTANTLY...
Don't be afraid to get silly and weird. Your new students will often be very nervous. Sometimes they are really young, or they've never met a foreigner before. Sometimes your students are a little older, and they are pushed so hard in so many different classes and activities.
It's your job to not only teach the material, but to keep your students engaged and entertained. Play games, sing songs, make goofy faces, have fun! Parents pay a lot of money for these classes and you are paid well for your time. Always be respectful of that and give your best to each student. Just like you, they have good days and bad. Create an environment they look forward to, and be a teacher they are excited to learn with! Have fun teaching!!!
After her corporate job in Arizona made travel almost impossible, ITA alumna, Abigail Jacobs, headed on out to teach English in Thailand for a year and a half. From there, she traveled throughout Myanmar, Laos, Vietnam, Cambodia, and Indonesia before heading back to live in Da Nang, Vietnam with her boyfriend and teach English online with DaDaABC. Abby now country-hops her way around Asia while still teaching online.
Want to Learn More About Teaching English Abroad & Online?
Request a free brochure or call 773-634-9900 to speak with an expert advisor about all aspects of TEFL certification and teaching English abroad or online, including the hiring process, salaries, visas, TEFL class options, job placement assistance and more.