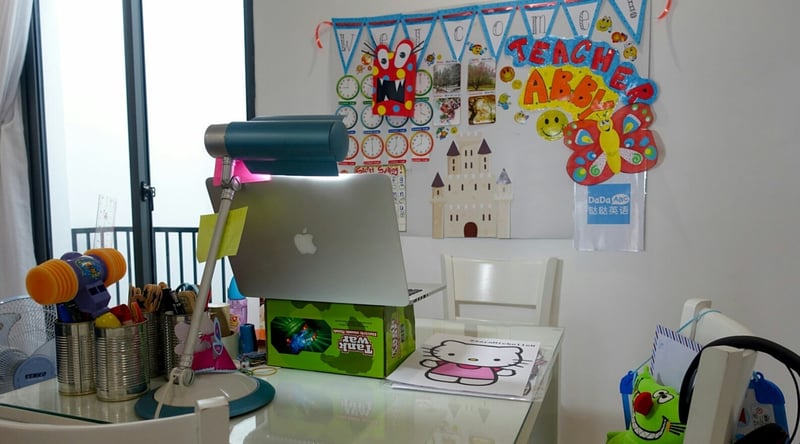 What were some of your concerns before teaching English online?
Will it be effective? Will I miss "interacting" with kids? I know how hands-on teaching little ones is, and I was afraid that a big part of learning would be lost if we weren't able to interact in person. I was terribly afraid that I wasn't a creative enough teacher to make the transition online. I was very concerned about how impactful online teaching would actually be. But I've found that the one-on-one time with my students is really effective.
Would I think up enough rewards? Am I entertaining enough? Would students like me enough to book me? (self-esteem issues, much?) At a school, kids are placed in those classes; teachers get work with no problem. With online teaching, the students choose their teachers. If they don't like the teacher, they don't take their classes. If teachers don't book classes, they don't make money. That was a little scary. But living here, I knew there were always brick and mortar options to fall back on.
From a selfish perspective, would I miss being around kids? Kids are fun! Singing and dancing and playing and being silly - what's better than that? To get my dose of "kid time", I continue to teach at a local center on Sunday mornings. I was teaching there before I started online, and I didn't want to walk away from them!
TEFL CLASS INFORMATION
Why did you decide to get TEFL certified and choose International TEFL Academy?
I knew teaching abroad would require some kind of certification. I just got online and started looking. ITA was certainly one of the first schools to come up in my search. Beyond that, I chose ITA because I got a great first impression from my advisor, Paige Lee. When we talked, she wasn't pushy and the experience didn't feel "salesy". I hate that feeling. I asked her about the accreditation and legitimacy of the program, the benefits of enrolling with ITA versus other places. I loved the idea of the job search guidance and assistance actually getting out there after completing the program. After all, that's when most of us need the most help! I felt really comfortable talking with her. I felt that she was honest and straightforward about my options and what I should expect moving forward. She told me when some of my 'wants' might be a little unrealistic! I found the country comparison guides very helpful! I didn't have a clue where I wanted to live when I first started researching a TEFL. Paige was able to offer perfect and attainable suggestions!
Which TEFL certification course did you take?
I took the online TEFL course and completed my practicum at an English center for adults in Mesa, Arizona.
How did you like the online course?
I really enjoyed it. It's been a while since I took it now; but I remember thinking it was more challenging than I anticipated - which I appreciated. I believe that ITA takes pride in producing prepared and competent teachers. My instructors were really great with feedback and I thought the coursework was interesting and relevant.
How has your TEFL training helped you with teaching English online?
TPR (total physical response) is the name of the game when it comes to children, especially online! I remember ITA really emphasized the importance of working TPR into our lessons as it is one of the most important methods for teaching kids especially.
TEACHING ENGLISH ONLINE - YOUR JOB
Why do you teach English online?
So many reasons!
I love the convenience. I have a little desk and a background set up on my wall. I teach in collared shirt and pajama shorts (let's be real, it's HOT in southeast Asia!). I can write up my student assessments from my balcony, a coffee shop or laying in my own bed!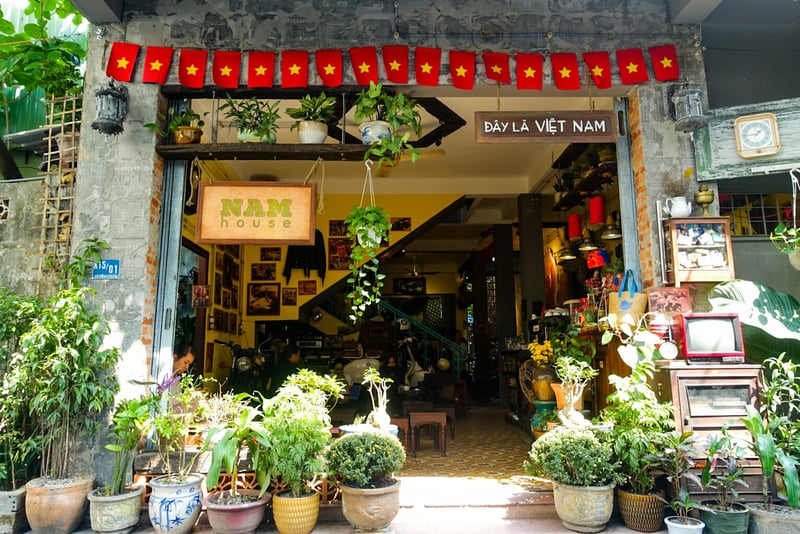 The hours are excellent (given where I live) and the pay affords me a great lifestyle (again - given where I live). I work less than part time and I make more than enough money to afford a very comfortable lifestyle here.
The stress levels are low! I'm a person that carries around a fair amount of excess anxiety. My B&M classrooms always had about 15 more kids than they should have actually been able to fit in there! Little ones don't always like to sit still, so I was always worried about a child running into the corner of a desk or falling out of their chair, getting hurt somehow. Teaching online allows me to be free of that worry and focus on the student in a really positive way. Bye bye, anxiety!
How did you learn about teaching English online?
I learned about teaching English online from other teachers I met while working in Thailand. Some of them were doing it on the side, some were working online full time.
Which company do you teach English online with?
I started first with VIPKid but it was taking quite some time for me to get bookings. So I switched to DaDa and I got booked up right away. Technically I'm still employed with VIPKid, and I pick up classes every once in a while, but my main work is with DaDa and I've been really happy with them!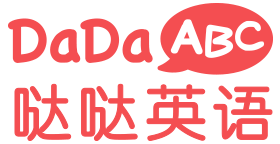 Please outline any specific requirements to teach English online with DaDaABC
DaDa requires that teachers are native English speakers with Bachelor's degrees. I believe they used to hire without a Bachelor's but they've started changing the requirements. A TEFL isn't mandatory, but I found it helpful to have. And while I can't necessarily confirm this, I have a feeling it helped me secure a better rate of pay.
You need a computer with a webcam or an HD webcam, a headset with a microphone, a stable internet connection and a sky blue, collared shirt. The minimum upload speed should be at least 2mb/s and the download speed should be at least 10mb/s.
Briefly explain DaDaABC's application and interview process
The application process for me was really fast. I applied online and completed a quick Skype interview to talk about my qualifications and experience. Then I was presented with a tutorial on the DaDaABC teaching platform, taught how to use all the functions, etc. The last step was scheduling a demo class with an actual student. The demo was 30 minutes and my performance helped determine my salary offer. I was happy with my offer and signed my 6 month contract (I think they're trying to push more for 12 month contracts now).
Is there a minimum number of hours you have to work per week/month, or is scheduling completely flexible and up to you?
The scheduling with DaDaABC is a little less flexible than some other companies, but it's very consistent and reliable. DaDaABC has a set schedule and you choose the shifts that you want from these available time slots:
Monday - Friday: 6:00pm - 9:10pm (Shanghai time)
Saturday and Sunday: 10:00am - 12:06pm; 2:00pm - 4:06pm; 6:00pm - 9:10pm (Shanghai time)
Teachers are required to work at least 2 hours per day and 2 days per week, within these time slots. A consecutive, two-day-minimum schedule is only allowed on weekends.
Is this your full time job, or a side hustle?
This is currently my full time job. But really, I work the same amount as I would with a side hustle so I'd say that's a pretty great full time job.
How many hours per week do you teach English online?
I teach English 17 hours a week online, plus a little extra to complete my assessments outside of class. I like to pick up a few extra classes when I have free time.
What do you love about teaching English online with DaDaABC?
The teaching flexibility with DaDaABC is fantastic! It's definitely something I truly appreciate about DaDaABC. The teaching pace is under my control. If I feel that a student is picking up concepts quickly, we can move a little faster. If they need to spend more time on certain slides, we can slow things down as much as needed. They really encourage free-talk and I spend lots of time getting to know my students. Some other companies require that a certain amount of slides MUST be covered within a certain timeframe. DaDaABC doesn't rush the teacher or students (most importantly) through the material. You really can tailor the learning experience for each of your students!
COUNTRY INFORMATION - FUN!
Why did you choose to teach English online from Vietnam?
My boyfriend and I spent 7 months traveling throughout Southeast Asia; 5 months motorbiking through Laos, Vietnam and Cambodia. Halfway through Vietnam, we spent about 3 weeks relaxing in Da Nang. It's a gorgeous city that sits right on a beautiful beach, has a small expat community (yay for tacos and pizza!), lightening fast WiFi and visas that offer a generous length of stay for US citizens. There are loads of English centers here in need of teachers and the cost of living is very affordable. After we finished traveling, we came back to Da Nang to live and work for a while before we set off on our next adventure!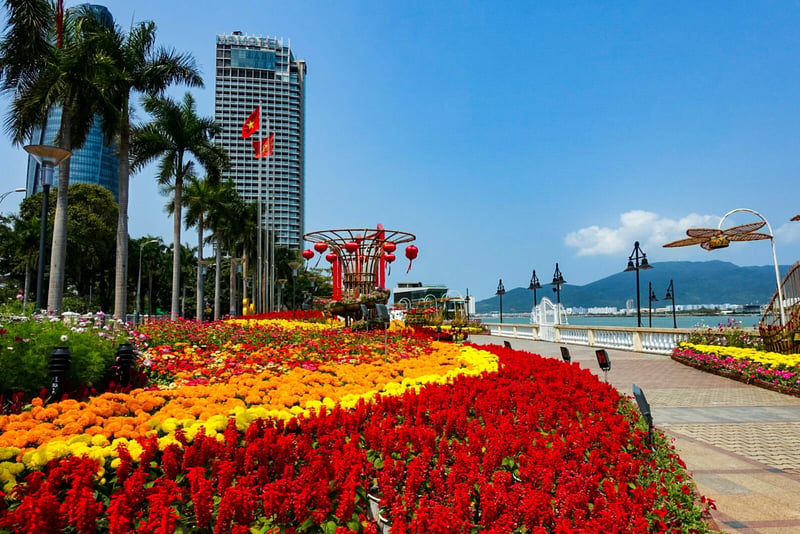 Please explain the cultural aspects, public transportation, nightlife, social activities, food, expat community, dating scene, travel opportunities, etc...
Da Nang is a city that has experienced a major tourism boom in recent years. We live in the beachside neighborhood of An Thuong. We have countless restaurants (both local and Western food), bars, spas, salons and the beach within walking distance of our apartment. Motorbike is definitely the most popular mode of transportation; cheap and convenient. Da Nang also has a public bus system that works quite well. The GRAB app is very popular here. You can hire cars, vans or motorbike taxis for a few USD to get most places in the city; very quick and reliable service.
The airport is just beyond the city center, maybe 15 minutes in a taxi (from anywhere in town) so catching a flight is really convenient! Flights around Vietnam are very cheap and the Da Nang airport is quite nice. Another popular option is to take motorbike trips (or train rides) up the Hai Van Pass to Hue. You can also drive inland toward the Ho Chi Minh Trail and see some SERIOUSLY insane scenery. The mountains in the north offer a landscape unlike anything I've ever seen, it's just incredible. Driving here isn't for the careless or faint of heart. But motorbiking this beautiful country was one of the most exhilarating and breathtaking things I've ever done!
Given that Da Nang is a beach town, surfing and water sports are quite popular here. There is a really nice boardwalk along the beach and promenades lining the river. A lot of people take walks, exercise, have coffee, snacks or beers and people watch. There is a growing yoga community and LOTS of volunteer opportunities. I have met a lot of new people who use volunteerism as a way to make new friends and do some good at the same time. There are Facebook groups that organize writing classes, language exchanges, art workshops, jam sessions, etc. The local people are exceptionally friendly and very proud to show their beautiful city to new foreign friends.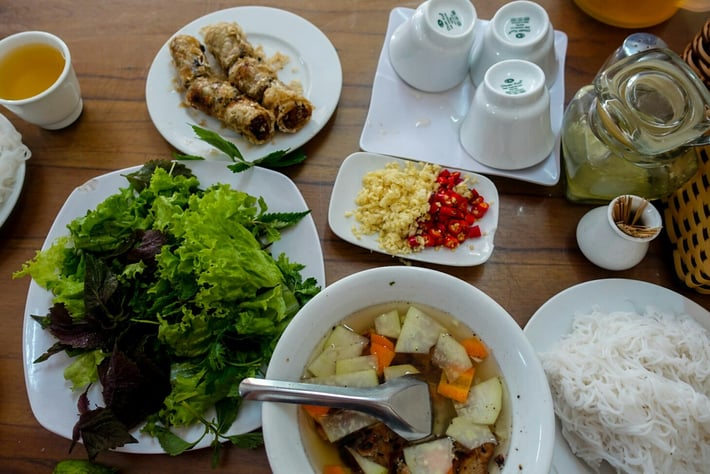 Da Nang is a great place to eat, or I wouldn't be here. My Quang (flat noodles with pork, shrimp, peanuts) and Banh Xeo (rice pancakes with shrimp and pork) are the dishes local to Da Nang. Beyond the Vietnamese standards (Pho and Banh Mi), you can get all the other regional dishes here as well. Bun Cha from the north, Bun Bo Hue and Cau Lau from central Vietnam, Banh Canh from the south, in addition to a million others that I haven't yet learned how to spell. Local food is very cheap, maybe $1-2 USD per dish. The Western food is a bit more, maybe $3-10 USD depending on what you want. One of the reasons I chose Da Nang is because, as much as I love eating local food, I desperately crave Western food from time to time. And in Da Nang, I can get what I want! Oh yeah, and beers are like... 65 cents (HEY-OH!).
LET'S TALK ABOUT MONEY...
What are your monthly expenses?
Living here in Vietnam is quite inexpensive. I share a 1-bedroom apartment with my boyfriend, with a small kitchen and living room area. It's brand new and has a beautiful view, WiFi included and housekeeping once a week (yup - you read that right!). We split the cost each month, so it's about $200 USD per person.
Phone service costs next to nothing; about $5 USD per month provides more than enough super fast data. Food, coffee and beer would average less than $10 USD a day. But I don't pay very close attention to what I spend on these things because they're so cheap. Some days I'll spend $10, other days I might spend $3! Filling up a tank of gas is about $2 USD and will last a little more than a week or so depending on how much I drive. Gym memberships are available for maybe $40 USD a month? Walk-in yoga classes are $5, definitely less if purchased in packages. Lady's haircuts are about $6 (at the fancy, foreigner salons!) and men's are maybe $3? I think $700 USD per month would cover a very comfortable standard of living in Da Nang.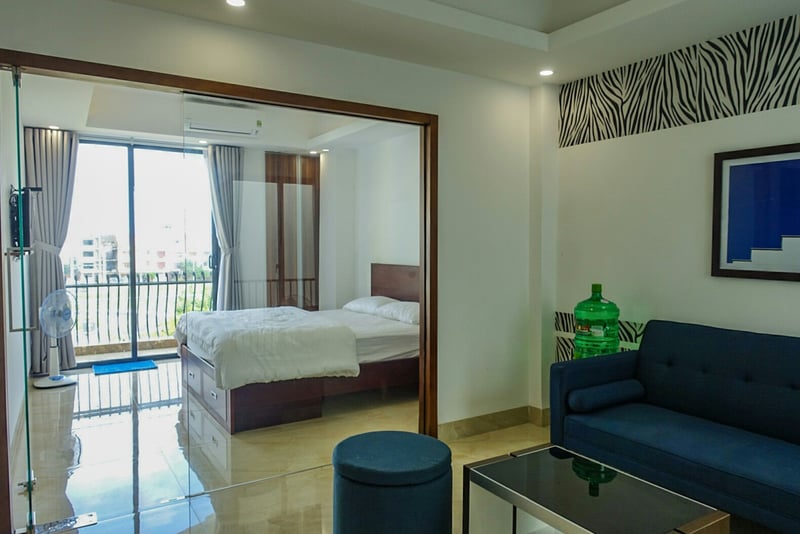 How would you describe your standard of living?
I'm very happy with my standard of living. I have plenty of money to do the things I want to do, and still save a fair amount. I don't have to work much to afford a very relaxed lifestyle. My apartment includes housekeeping once a week, so I hardly have to lift a finger, to be honest. I eat well, I can go out when I want and not worry about the cost of a taxi ride home. I can afford to pick up a lunch tab or a pedicure for my friends if I want to. People here are friendly and warm and the scenery is hard to beat. Life is good.
Does earning $USD from teaching English online (in oppose to earning in the local currency) mean you can afford to live a little more extravagantly in the country you are located?
Earning USD versus local currency doesn't make a big difference in Da Nang. There is a large market for teachers in local schools and English centers and they're paid well. The salary rate is comparable for the same amount of hours. For example, I work online about 17 hours a week. My boyfriend works the same schedule at an English center and we both bring home about the same amount of money. He gets paid in local currency, and I have USD deposited to my US bank account, but the amounts are basically the same.
Does teaching English online sufficiently support the 'digital nomad' type of lifestyle?
With a little planning, yes. You do have to be careful that you always have access to reliable internet. All of the online companies are pretty strict when it comes to teachers being accountable for their connection (duh). And because DaDaABC requires a contract and a schedule commitment, constantly traveling and working the maximum hours might be a little tricky. I would suggest working for a while somewhere with a low cost of living, saving your money until the end of your contract. Then scaling back to maybe 3-4 days a week for the next contract so you've got more time to travel. Adding hours is easy but removing them is discouraged. You wouldn't make as much obviously, but you'd give yourself more time to travel and explore on your days off.
In your opinion, how much does someone need to earn in order to live comfortably in Vietnam?
I think $1,000 USD a month would afford a very nice standard of living, with the potential to save a small amount. Anything over $1,000 USD would be even better!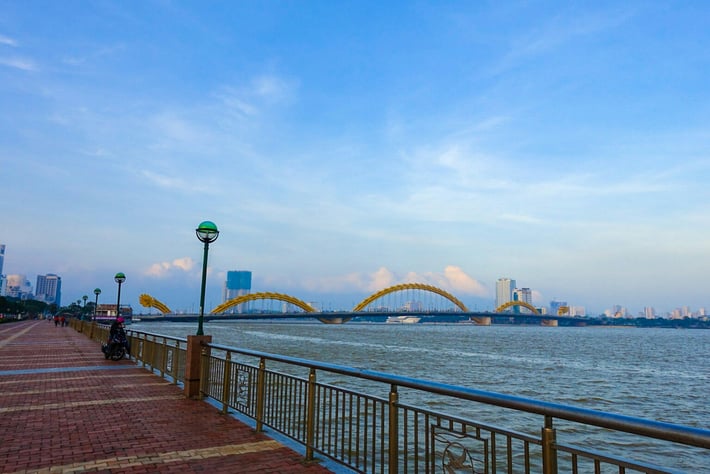 ADVICE FOR PROSPECTIVE ONLINE ESL TEACHERS
What advice would you give someone planning or considering teaching English online?
Get a Mac laptop or computer. Most companies don't allow a WiFi connection unless you have a Mac.
Research the companies and make an informed decision based on your priorities. If flexibility is of utmost importance to you, don't over commit to a schedule that you can't maintain. Additionally, ask questions about the teaching paces and methods. Some companies might require different styles from their teachers; going faster or slower, teaching groups of kids vs one-on-one, etc.
Would you recommend teaching English online from Vietnam?
I would definitely recommend teaching online from Vietnam, or anywhere in Southeast Asia for that matter. If you're living in the US, I think it would have to be considered a side hustle, because the cost of living is SO high, and the hours are for children in China.
Living in Asia means that my schedule is almost exactly the same as the kids I teach. So I don't have to wake up at crazy hours in the morning, or the middle of the night to work. I make plenty of money that allows what would be a side hustle in the USA to be my "full time" job in Vietnam.
Finish this sentence: You should teach English online if you…
...don't want to wear pants to work!
KIDDING! You should teach English online if you value one-on-one interaction with your students. This is not a job that you do because it's easy money. It is still hard work. It still requires preparation, patience and a commitment to your students. I am invested in my students and I've grown to know and care about each of them in a very short time.
You should teach English online if creating a meaningful connection with your students is important to you. You should teach English online if creating a relaxed and enjoyable quality of life for yourself is important to you, with no commute and a comfortable teaching environment. But really, you can totally wear pajama bottoms while doing all of these things!!!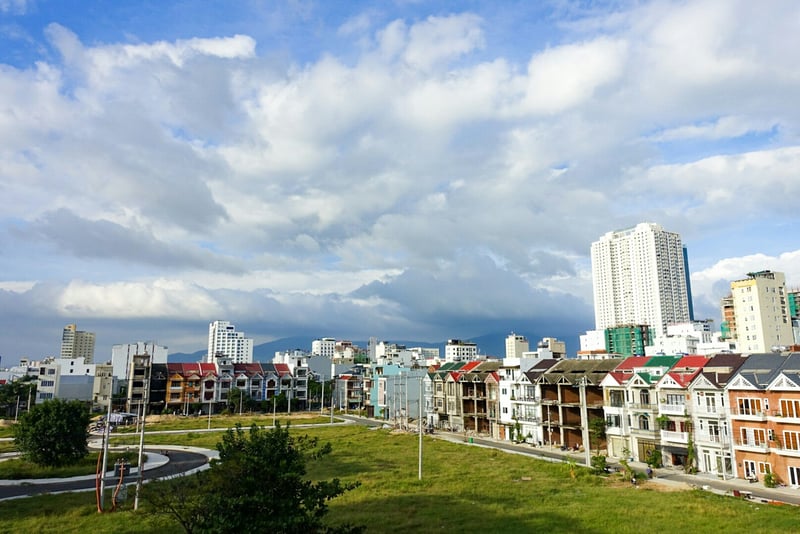 BACK TO TEACH ENGLISH ONLINE CORNER
Want to Learn More About Teaching English Abroad?
Request a free brochure or call 773-634-9900 to speak with an expert advisor about all aspects of TEFL certification and teaching English abroad or online, including the hiring process, salaries, visas, TEFL class options, job placement assistance and more.