ITA's 1st Annual Teach Abroad Film Festival Highlights International Education & Meaningful Travel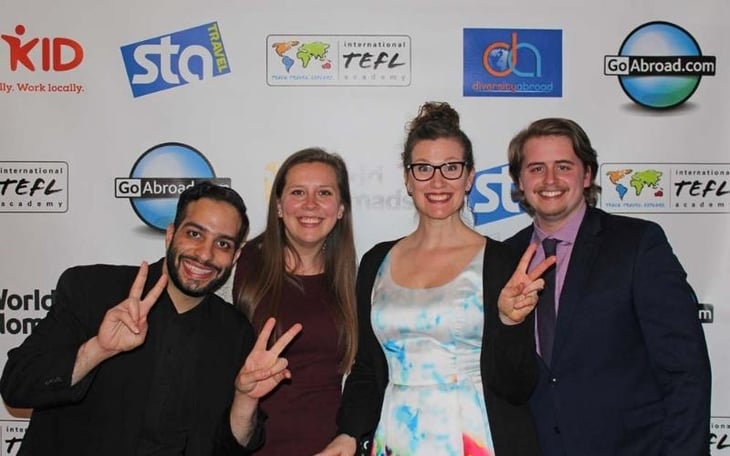 International TEFL Academy's (ITA) first annual Teach Abroad Film Festival took place on the night of April 4, 2019 at the Davis Theater in Chicago, Illinois.
Chicagoans were invited to watch 12 short films from ITA alumni finalists who thoroughly captured how teaching English overseas has enriched their life through meaningful travel, cultural exchange an international education.
International TEFL Academy's Teach Abroad Film Festival was the first film festival that highlighted the work of incredible people teaching English as a foreign language (TEFL) to non-native speakers around the world. There are roughly 1.7 billion people learning English worldwide and around 250,000 native English speakers working as ESL (English as a Second Language) teachers in more than 40,000 schools overseas. This Film Festival invited everyone to travel and see the world through heartfelt and inspiring stories from competing teachers, travelers, and explorers.
"Tonight we invite you to experience living and teaching English abroad through the eyes of our creative, passionate and globetrotting alumni," said Bruce Jones, ITA President, before an audience of more than 220 savvy travelers, expert teachers and film enthusiasts. "Each one has a unique story to tell, and we're thrilled to showcase our 12 finalists as they share their adventures overseas."
The Film Festival featured 12 films shortlisted from 49 film submissions of 3-8 minutes and included entries from Spain, Indonesia, Peru, Singapore, Vietnam, Kazakhstan, South Korea, Portugal and other nations across the globe.
Each film demonstrated the benefits of teaching English abroad through personal testimony, stunning travel footage and scenes from inside the classroom. An esteemed jury of 12 professionals from the international education, travel and film industries (including representatives from Northwestern, DePaul, Columbia College, Onion Newspaper, Univision TV & Tribune Publishing) selected the 3 winners based on storytelling, creativity, originality, cinematography, production and online voting.
Online voting was available to the public a day before the Film Festival and generated more than 3,000 votes in the 24-hour period that online votes were opened!
2019 Film Festival Winners
1. Allyson D'Amico - The Other Side (Grand Prize Winner, $2,500).
Allyson D'Amico, an ITA 2017 graduate from Connecticut who currently teaches English online in Bali, Indonesia, won the Film Festival Grand Prize with her movie, "The Other Side." Her film talks about breaking the mold in pursuit of chasing your dreams and discovering a life you could have only imagined. "If you had known me a year ago, I would have been just another miserable college graduate working 60 hour work weeks from the confinement of my 10x10 cubicle. Until I realized what could be on the other side," mentioned Allyson when she submitted her film. "The other side is not just about being on the other side of the world. It's more importantly about the other side of life you get to when you're not afraid of taking risks and its the person you become on the other side of struggle," she explained.
Allyson D'Amico - Grand Prize Winner
2. Tim Unaegbu - Teach. Travel. Explore.
(Second Prize Winner, $1,500).

Tim Unaegbu, a Canadian who graduated from ITA in 2017 and is now teaching English in Geochang, South Korea, won second place with his movie, "Teach. Travel. Explore." Tim's film focuses on the year he spent teaching in South Korea. "A man takes a look back at his time spent teaching in Korea. He thinks back to when he almost gave into the voices telling him not to go. Through his eyes, we see his memories, memories that would have been just dreams had he listened to the voices," Tim explained when he submitted his film for the Festival.
3. Jack Ross - Thank you Vietnam (Third Prize Winner, $750).
Jack Ross, an ITA 2018 graduate from Chicago who now teaches English in Ho Chi Minh City, Vietnam, won third place with his movie, "Thank You Vietnam." Jack's film captures his experiences traveling, teaching, and living in South East Asia. "From the mountains of Da Lat to the streets of Saigon, I've covered thousands of miles exploring everything this beautiful country has to offer," said Jack when he submitted his film for the Festival.
Honorable Mentions
Nazia Khan - Teach. Travel. Explore.
Nazia Khan, a Hong Kong native who graduated from ITA in 2018 and now teaches English in Kaskelen, Kazakhstan, won an Honorable Mention with her movie, "Teach. Travel. Explore." Nazia's film highlights her travels & teaching experiences. "My love for sharing knowledge, teaching and creating good memories for children drove me to travel and teach and I believe anyone whose a teacher should do the same. We have the power to share valuable knowledge with people around us and we should use it to bring people together and become international citizens," said Nazia when she submitted her film.
Lan-Dinh Ngo - Mentoring Future Leaders of Character in Vietnam.
Lan-Dinh Ngo, an ITA 2018 graduate from Massachusetts who now teaches English in Hanoi, Vietnam, also won an Honorable Mention with her movie, "Mentoring Future Leaders of Characters in Vietnam." "I have learned that being a teacher is not only about teaching the mechanics and the fundamentals of the English language, but also being a mentor and helping young children develop into future leaders of character," said Lan-Dinh when she submitted her film.
Amanda Kolbye - What Are You Waiting For?
Amanda Kolbye, another ITA 2018 graduate, left Texas to teach English online in South East Asia. Her film, "What are you waiting for?," also won an Honorable Mention. "There's not a better time than now to change your life and travel the world," Amanda explained. "By teaching English you can not only travel the world, YOU CAN CHANGE LIVES. And in turn, they will change yours. So what are you waiting for? Check off those bucket list items and live the life that once only existed in your dreams. And start making the dreams happen for people all around the world."
You can view all finalists' films, as well as all Film Festival Submissions, here.
A Fun Event For A Good Cause
The festival's mission was to highlight the work of incredible English teachers abroad who help make a difference through international education and cultural exchange. The goal was to empower those that view this as an unattainable desire, and let them know that it can be achieved. To help deliver this message, ITA's Teach Abroad Film Festival was held in support of The Foundation for Learning Youth & Travel Education (FLYTE). 100% of ticket proceeds (for a total of $1,804) were donated to FLYTE to strengthen international education, and support youth empowerment in underserved communities within the USA through transformative travel experiences.
Sponsors for the event include GoAbroad.com, VIPKID, World Nomads, STA Travel, and Diversity Abroad, with more to be announced in the lead up to the event.
Thank you to everyone who participated in this amazing event, and to our incredible alumni/aspiring film-makers for the time and effort put into sharing their amazing stories with us!
About International TEFL Academy
Headquartered in Chicago and with 25 locations worldwide, International TEFL Academy (ITA) is one of the most renowned TEFL (teach English as a foreign language) certification schools in the world. We certify 5,000+ people each year to teach English abroad and have an alumni network of over 35,000.
A passionate traveler from Brittany, France, Stephane has always been eager to explore the world. He lived in 4 different countries and traveled to 16 more. Professionally, Stephane cut his chops in the diplomatic world working on the press relations & social media team at the Canadian Embassy in Paris before relocating to Chicago where he now oversees video & alumni relations at International TEFL Academy. He is also a primary organizer of ITA's ground-breaking Teach Abroad Film Festival.
Want to Learn More About Teaching English Abroad & Online?
Request a free brochure or call 773-634-9900 to speak with an expert advisor about all aspects of TEFL certification and teaching English abroad or online, including the hiring process, salaries, visas, TEFL class options, job placement assistance and more.