One Step at a Time - Moving to Dusseldorf, Germany to Teach English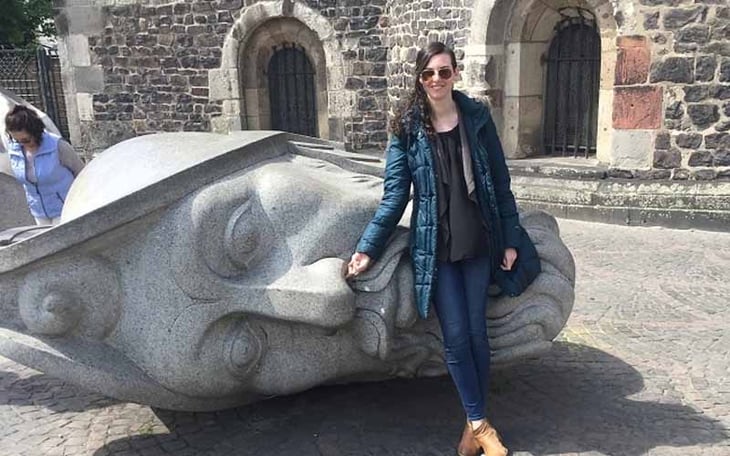 I couldn't believe it. Amidst a heavy slew of German words, I realized that my visa application was being accepted. Here we all were, smiling in this small, sunlit office, me now ready to navigate the professional world as an official, legal employee in Germany. There were moments during the meeting when I was certain my application would be rejected. I hadn't filled out the correct immigration form; the health coverage I had purchased was too short-term; yet, I could see smiles on the faces of those in the room. My world was effectively draped in silence, as all the words I could hear were straight gibberish. When I left the office with my visa officially stamped in my passport, I couldn't believe my luck.
It has been a little over four months since I made the decision to drastically change my life. I think others may look at people like us that travel and work abroad for a living and assume everything is easy. The stress and anxiety that I've experienced in the past few months, undoubtedly in part my own doing, has been more significant than arguably any other period of my life. Leaving a secure, comfortable job in a city where you're surrounded by friends and family, not to mention a language and culture that you understand, seems foolish and unwise to many. Maybe they're right. But the call to explore, learn and grow is just too great for a lot of us.
I realize now that when I started at the International TEFL Academy in Chicago, I was over preparing myself. Don't get me wrong—if you plan on making such a big move, especially if there are financial risks at hand, you'd better do your research.
But I remember trying to find housing for several weeks before I made the move to Europe and stressing out because I wasn't getting much of a response. I didn't realize until I was on the ground in Germany that it's because there's only so much you can do from far away.
People wanted to meet me in person. This was also the case with applying for jobs. Having faith that things will simply work out is a lot more than most of us would like to bear with all of life's other responsibilities, but taking that mitigated risk was essential to my success in starting a life here in Düsseldorf. Overall, it took me exactly two months from my arrival in Europe to receive my freelance visa. That includes securing housing, registering at my local Einwohnermeldeamt, opening a bank account, finding health insurance, and receiving job offers. It might seem overwhelming when you're just starting, but things can work out if you keep at it.
While I am thrilled that everything has worked out so well, I don't want to create false impressions that my life is great and perfect now. I'm just now starting to get my life together here, and I still have a lot of work to do. Along with the joy of being in a new country, I've again come to know the all too familiar culture shock we all know so well. One reason Germany was a good fit for me was because I wanted to learn a new language. However, that opportunity has also come with many challenges. It's not easy to read paperwork from the government about a specific tax you need to pay when you don't read the language or even understand what the tax is and how to pay it. Google Translate works wonders, but it doesn't explain to you how different systems work and what you need to do to comply with what is being asked of you. On the other hand, I'm so grateful for this experience that has shown me what immigrants in the United States go through every day, and that has even provided a reminder of what my students are subjected to on a regular basis in their jobs.
Moving to a new country is messy. It's not easy. It takes peace of mind, resourcefulness, optimism, and preparation, but above all things, it takes patience. I have to remind myself at the end of every day that I'm constantly making progress towards achieving normalcy in this place that makes no sense to me some days. But every day I'm also reminded of how fortunate I am to be able to have this experience at all.
Hannah Fox, 28, is originally from a suburb of Milwaukee, WI, but spent the past two years in Chicago working as a research assistant with a company doing International program evaluation and policy research. She has a passion for learning and teaching languages and has spent time studying and working in Rennes, France, and Buenos Aires, Argentina. She now lives and works in Düsseldorf, Germany.
Want to Learn More About Teaching English Abroad & Online?
Request a free brochure or call 773-634-9900 to speak with an expert advisor about all aspects of TEFL certification and teaching English abroad or online, including the hiring process, salaries, visas, TEFL class options, job placement assistance and more.