Making Local vs. Expat Friends in the Middle East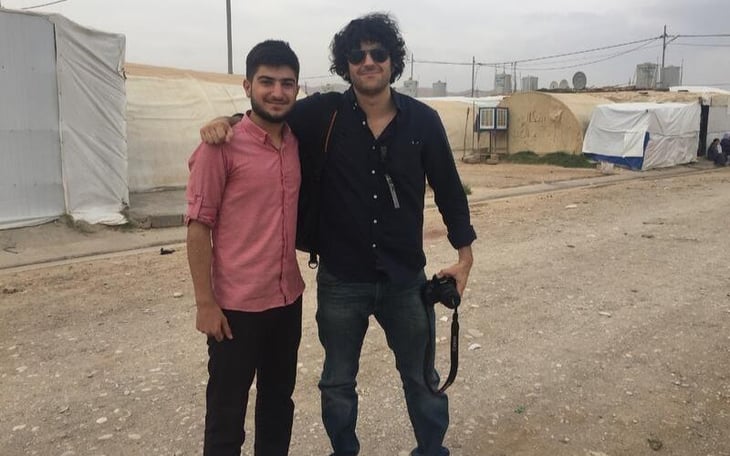 I met Yusuf and Mahmoud (names have been changed for privacy reasons) on the main drag of Mar Mikhael – one of the centers of Beirut's famous nightlife scene. But instead of going to a bar, we went to a small cafe tucked away in an alley that Mahmoud knew and swore by.
All the place had was Turkish coffee, water, and orange soda. The tables and chairs were plastic, and the walls asylum white. I knew to trust Yusuf and Mahmoud, though. Yusuf came to Beirut from Aleppo, Syria, a year or so ago, while Mahmoud was born and raised in Lebanon. They were my only two friends in the city with whom I spoke solely Arabic.
The lone cafe employee brought us our coffee and we got to sipping. To this day, it was the most delicious cup I've ever had. The joint's lack of decor didn't matter. We made it fun with our ridiculously strong coffee and conversation. Yusuf told me about his family who reluctantly lived in the government-controlled part of Aleppo, as the city was divided between government and rebel forces at the time.
That year, thousands of Syrians made their way to Europe in an effort to escape the war. Others, like Yusuf, stayed in Lebanon, Jordan, and Turkey. I was moved when Yusuf showed me a pic at the cafe that was on his phone of a bombed out building in Aleppo with graffiti on it that read "Aleppo is nicer than Europe. Don't immigrate." All that war and there were people still attached to the city.
When you teach abroad, you will have and need friends from your own country and similar places. However, it's crucial to make friends with locals and people from the region you're teaching in, too. Yusuf and Mahmoud made my time in Beirut, and having local friends like them will give you unparalleled insights into where you're teaching.
There is a lot to like about doing "expat-y" stuff abroad. It's comforting to have people who speak your language and come from your culture. I watch football (our football) every Sunday night at 8 p.m. in Erbil, which is the 1 p.m. kickoff in the states, with an American friend. In Amman, the European NGO workers always throw the best parties. Hanging with people from your part of the world will keep you sane and from getting homesick. And being strangers in a country can lead you to grow very close to other foreigners.
Making local friends is likewise important, though. Firstly, it's the best way to learn about the country you're teaching in. This education doesn't necessarily involve heartfelt convos about civil war over Turkish coffee. In Tunisia, my friend Amine introduced me to all the best food spots that only Tunisians knew about. I hadn't lived until I tried lablebbi – a thick stew of chickpeas, water, bread, eggs, Tunisian hot sauce, tuna, and, when you request it, lamb brains.
In Jordan, I had many American friends – even a pop mashup cover band of fellow American teachers. However, I also enjoyed rocking out with my friend Sami, the odd player, to classical Arabic music. And I learned firsthand about Arab chord structures and scales by doing this.
Your personal development and education will be greatly enhanced by making local friends, and it will also make you a better teacher. It's important to understand the world your students live in, and their perspectives.
In Tunisia, I once had a somewhat difficult conversation with my students about foreign military interventions in the Muslim world. They said something along the lines of the U.S. and Western countries create false flags to justify wars in the region, wars which are then used to extract resources and subjugate people. Not everyone I know in the Middle East and North Africa thinks this way at all, but many do. It did make me feel uncomfortable as an American to hear this at first, but I took it as a learning opportunity. I was exposed to a different and not uncommon line of thinking.


When far more tense topics arose during my time teaching in Jordan and Iraq, I was prepared to manage the conversation to help the students improve their speaking skills.
Hearing about my roommate's experiences in Baghdad during the Iraq War, getting a Kurdish history lesson from a colleague over delicious tea, having a friend vent about his frustrations being gay in Jordan, these are all invaluable cross-cultural experiences I've been lucky to have. They made me a better person, teacher, and later, journalist. All were made possible by the friendships I made with locals. Be sure to make local friends abroad.
Adam Lucente is a journalist and English-language teacher from New York City. He learned Arabic in college and has since taught in Tunisia, Jordan, and the Kurdistan Region of Iraq. As an ITA Alumni Ambassador, Adam has shared many of his experiences and insights with others interested in teaching in the Middle East through numerous articles.
Want to Learn More About Teaching English Abroad & Online?
Request a free brochure or call 773-634-9900 to speak with an expert advisor about all aspects of TEFL certification and teaching English abroad or online, including the hiring process, salaries, visas, TEFL class options, job placement assistance and more.