TEFL job
How to Write a Killer Resume for Getting Hired to Teach English Abroad
Looking for some guidelines to write your TEFL resume? Follow our top tips, along with a TEFL CV example, to create a killer resume that will get you hired to teach English abroad.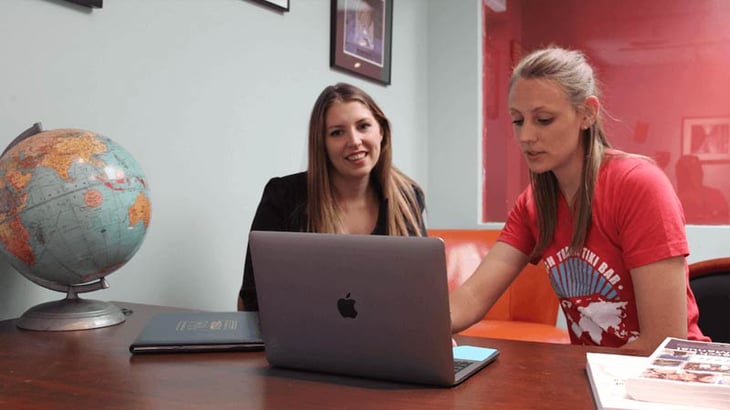 The Inside Scoop on How to Write A Resume that Will Get You Hired As an English Teacher Abroad
There's an old cliché that "You never get a second chance to make a first impression" and when you apply for jobs teaching English abroad - or just about any job for that matter - your resume, or "CV", can make or break your chances of getting an interview and ultimately the job you want. Here are some key points to help you put together a killer resume that will greatly enhance your prospects of getting the job you want teaching English abroad, whether it be in China, Spain, Argentina or anywhere else.
*Note: This article is an excerpt from the 350-page International TEFL Academy (ITA) Job Search Guidance Manual that is provided exclusively to International TEFL Academy students and graduates as part of their lifetime Job Search Guidance. It was prepared by expert job placement advisors in the Student Affairs Department at ITA, who provide personal assistance to hundreds of students and graduates each year with their resumes and cover letters in addition to other aspects of the job search and interviewing process.
The TEFL Resume Basics
While putting together your international resume, always remember that you are marketing yourself as an English teacher who is prepared to move to a new country, adapt, and serve the needs of your students and the school that hires you.
You should highlight any and all teaching experience, training experience, and international experience you have. You must also be prepared to provide personal information that is not typically required in the United States or other countries, including your racial background, your age, and your marital status. You may also see the abbreviations listed for a CV. This is Curriculum Vitae (it is Latin for "Course of Life").
When to Use a Curriculum Vitae (CV):
When should job seekers use a Curriculum Vitae, rather than a resume? In the United States, a Curriculum Vitae is used primarily when applying for academic, education, scientific, or research positions. It is also applicable when applying for fellowships or grants.
When looking for a job in Europe, the Middle East, Africa, or Asia, expect to submit a CV rather than a resume. Keep in mind that overseas employers often expect to read the type of personal information on a curriculum vitae that would never be included on an American resume, such as date of birth, nationality, and place of birth. Note: privacy laws common in the U.S. and Canada do not apply in foreign countries.
The Differences between a Resume and a CV
There are several differences between a curriculum vitae and a resume. A curriculum vitae is a longer (up to two or more pages), more detailed synopsis of your background and skills. A CV includes a summary of your educational and academic backgrounds as well as teaching and research experience, publications, presentations, awards, honors, affiliations and other details. As with a resume, you may need different versions of a CV for different types of positions.
Top TEFL CV Guidelines
Highlight your educational, academic pursuits, as well as public service and examples of your ability to adapt and work with others. Note that your educational background may be given more attention than your actual work experience.
If you are not a native English speaker, highlight and emphasize your fluency and work any work or academic studies that you have accomplished in English.
List your education, skills, certification, and coursework in a clear and concise manner.
Always include your country code with your telephone number.
Use basic and simple formatting and avoid complex graphics or anything else that may not translate when viewed on an alternate (or more primitive) operating system. Italics and font changes should be avoided.
Remember that not everybody who reads your resume is a native English speaker, or even a fluent English speaker, so avoid non-education-related jargon and avoid abbreviations like "Mgr." or "V.P." Use "Manager" or "Vice President."
Include a photo, preferably a professional-looking headshot. In Asia in particular many schools are keen to know that potential teachers look professional.
Basic TEFL Resume Format
The following list will help you understand how to make your TEFL resume stand out:
1. Add Your Personal Information
List your name, contact information, citizenship/nationality, any work/residency visas that you may hold (particularly in the country where you seek employment), gender, age, and marital status. This is listed at the top left of your resume. It may seem unusual or intrusive to an American but this is standard around the world for international jobs.
2. List Your Education And Certificates
Include any and all programs, degrees, certifications, and other formal training programs that you attended in-person or online. This section is where you want to put your TEFL certificate on your resume.
Where to put TEFL certification on your resume?
Highlight your TEFL Certification, including the number of hours, hours of practicum at or near the top of the education section of your resume or cv. Note that the course is internationally accredited and meets or exceeds all international standards.

Additional tips:

List your highest-level qualifications first.
Be specific and detailed about the institution, major, campus location, date of completion of final degrees listed.
If you are applying for an ESL Teaching assignment and do not have an Education Degree, mention courses taken in related fields including English literature, journalism, public speaking and foreign languages.
3. Highlight Your Skills
Summarize your skills in education, foreign languages, computers, animation, sales, and any other areas. Example: HTML, Adobe, Quark and Flash Programmer. Fluent in Spanish, working knowledge of German.
4. Share Your Career Experience
List your past employers, job titles, and dates of employment for each position you have held over the past 10 years.
Bear in mind that many foreign companies and institutions are very keen on job titles.
Be very clear and concise in your descriptions.
List your work experience starting with the most recent or relevant assignment.
For each position, list your Job Title (using universal career titles), list the start and end dates, list the Company's name and its location, and be sure to highlight any relevant accomplishments and accolades as well responsibilities.
You may be right out of college and have little job experience. Highlight relevant activities to teaching, i.e. teaching or working at a summer camp, tutoring. Don't forget to list your volunteer work in an ESL classroom for your practicum. Paid or free experience is still the same experience.
5. Add in Extracurricular Activities and Accomplishments
List the things you like to do in your spare time, particularly if they involve teaching, coaching, public service and mentoring others. Many potential employers want to make sure that when you come to a country you are outgoing, independent, and can find your own way. List any accolades or recognition you have received and other achievements, whether it be climbing a famous mountain, completing a marathon, or winning a writing contest.
6. Provide Professional References
While they are not mandatory, they are a good addition to the International Resume. There is no need to list your current employer unless you want them contacted. Try to list at least three references that you know well. Provide their name, title, company/school name, telephone number (include country code) and email address.
Sample Resume To Teach English Abroad:
John Bentley is Co-Founder & Senior Writer for International TEFL Academy (ITA), the world leader in TEFL certification for teaching English abroad. A graduate of Harvard University and the Medill School of Journalism at Northwestern, John is a recognized expert in the field of TEFL. His articles have appeared across the field's top websites, including GoAbroad.com, StudyAbroad.com, InterExchange, GoOverseas.com, Adventure Teaching, & many others. He has also spoken as an expert on Teaching English Abroad & TEFL certification at major conferences like MeetPlanGo and Lessons from Abroad (LFA) in Portland & San Diego.
Want to Learn More About Teaching English Abroad & Online?
Request a free brochure or call 773-634-9900 to speak with an expert advisor about all aspects of TEFL certification and teaching English abroad or online, including the hiring process, salaries, visas, TEFL class options, job placement assistance and more.