But I Don't Speak Arabic! Teaching English in the U.A.E.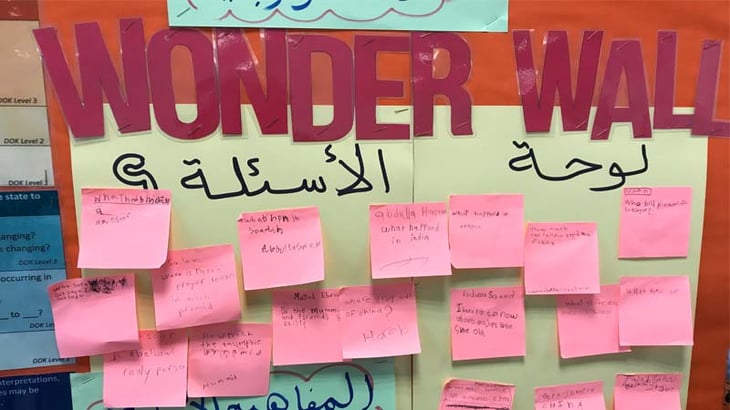 When I graduated from International TEFL Academy's Chicago Class, I felt like it was the first time I really mastered the English language - with all of the grammar rules and new knowledge about location of letters on your tongue, I was ready. So naturally, I embarked on a journey to a country that, for lack of a better word, spun my brain around.
The UAE is 12(ish) hours away from home, here night is day and day is night. Books open backwards and reading happens right to left. I saw this as a new spin on life. I still am on a quest to learn as much as I can about Arabic and its relationship to the culture and religion of the region.
I started where I felt most comfortable - numbers. I learned the Arabic numbers by listening to kindergarten songs and singing them to my students (much to their dismay). I also found great motivation when I bought myself a watch with Arabic numbers on its face. After mastering my numbers (1-12), I then practiced the Arabic alphabet, the Abjad, very slowly. I wanted to ensure that I could form the letters properly and know their sound. There are four letters I cannot say and probably will never be able to.
Some quirks about Arabic - there are essentially no vowels, there's no punctuation, accents get put on letters and change the sound and use of the letter completely. My favorite part, because it feels like magic to me, is all letters have 3 different shapes depending on their placement in the word. Also, every once in a while there is a wow (the name of a letter) added to the end of the word for seemingly no reason. I've tried to understand why this happens but my brain cannot comprehend.
I'm still pretty terrible at Arabic. However, after 2 years, if I get an Arabic text, I open the book in the correct direction. I can also sound out a word if I have some serious wait time (although, I won't know what the word is but I'll know the letters!) I know some colors, how to say my profession, how to say come here, sit down, thank you, you're welcome, hurry, among other random phrases that are helpful to know in school and around the community. Fun fact, due to the nature of being a teacher in a middle school boys environment, I also know all of the bad words!
The thing about living in the United Arab Emirates, is you don't really have to know Arabic to survive. The country is essentially bilingual. Almost all signs are in both English and Arabic and the unofficially agreed upon language for service is English (most of the workers in retail stores and restaurants are not from an Arabic background). So although you will do just fine in the UAE without any understanding of Arabic, I still recommend trying to learn a little bit of the language. The more I learn, the less my head spins, and the more I understand about the culture.
Related Resources:
A Seattle native who's heart is in Chicago, Katie holds an elementary education degree from Loyola Chicago. Since earning her TEFL certification from International TEFL Academy she first taught English abroad in Mexico before heading to the Middle East to seek new adventures in Ras al Khaimah, United Arab Emirates (U.A.E.). While teaching in the U.A.E. she also served as an ITA Alumni Ambassador, publishing numerous articles and videos about her experience teaching English in the heart of the Middle East.
Want to Learn More About Teaching English Abroad & Online?
Request a free brochure or call 773-634-9900 to speak with an expert advisor about all aspects of TEFL certification and teaching English abroad or online, including the hiring process, salaries, visas, TEFL class options, job placement assistance and more.