Classrooms Around the World - Teaching English in Ras al Khaimah, UAE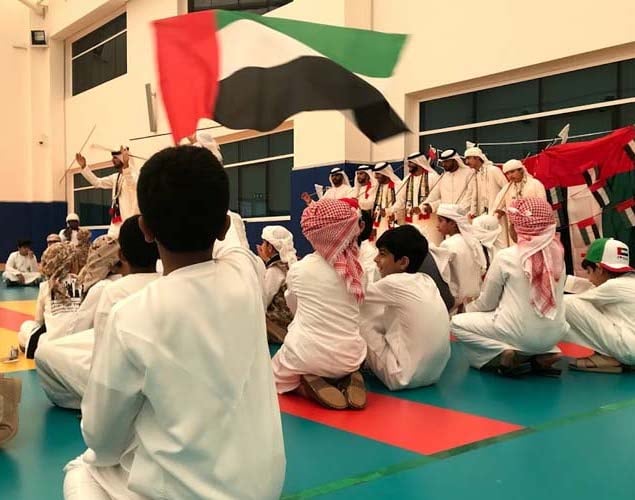 In 7 years of teaching, my classroom has doubled as a hallway, has had broken windows with no AC in the middle of the summer, has contained just a white board and a few chairs, had technology available with all the supplies I need and been filled with growing minds. My physical classroom here is similar to any class setting I've seen in the US, just a bit newer than what I'm used to and with lesson broken desks.
My mom, who is also a teacher, used to tell me "kids are kids anywhere" so your passion for teaching can move with you. My students and their view on learning are, to me, the biggest difference in my teaching experience here. Looking back at it, my first year here I definitely experienced some culture shock working with the group of students I work with. This was equal parts because I previously worked at a refugee school and am now working with a group of very affluent students and being in a school where religion is very prevalent. The biggest difference is I teach only boys in a country where men are "VIP" (as my students would say) and it takes a bit more work for me, a woman, to get their attention. To me, that's just another challenge accepted.
A quick disclaimer, I may divulge some information that's different. I think it's important, especially when reading about the Middle East (considering our turbulent understanding in the West), that we approach our differences setting aside any "I'm normal, you're weird" bias we have. This is what I had to do to get over my culture shock within the school. None of the things that happen in my school are wrong they're just different from what I'm used to.
When I accepted a position teaching English in Ras al Khaimah, at an ib school (an IB offers an education for students from age 3 to 19, comprising of programs that focus on teaching students to think critically and independently, and how to inquire with care and logic), I was fully prepared to go completely ib and all of the work that the program implies. Essentially, all English subjects are taught within a unit - and it is to be largely student led, not teacher lectured. This means a lot of planning and prep work. I had to adjust my expectations when I came to the school; there were a few months where I felt like I wasn't even teaching.
The UAE is incredibly proud of their culture and the advances the country has made in their 46 years as a union. As they should be, it's incredible. Because of this, their cultural and religious holidays take precedence even over teaching from time to time. For example, December 2, is their National Day. Students put on a large celebration for the parents and the community. Girls usually do a traditional dance and the boys perform in various army related skits. Preparation for National Day takes around a month and students miss a lot of class time for it. My first year this was mind blowing, but this year I was prepared and I knew how to easily adjust my mindset. This is just to serve as an example.
Now, the missing of class time may be deemed as unnecessary but in a lot of ways, Education takes the back burner to the bigger picture of the union. This could frustrate you, as it did me, or it could push you to be even more engaging and make your students really want to learn. It's a challenge, for me, to engage 20 boys every day while considering that they are boys who would rather play football and they're all counting down to when they can join the army (this is mandatory). I taught my students the idiom "time flies" and a day where they tell my class time flies feels like a day where I really did my job.
It's within my teaching style to be hands on and active with my students. I also learn better if I move around, so I allow my students many opportunities to get up and move. This set me up to do well with a class of 10 and 11 year old boys who need to move. Being able to move beyond the worksheet into ib takes a lot of preparation and perseverance. I had to teach my students how to learn, all come from a school where it worksheets and memorization. If I put books or materials in front of them they had to learn what to do with them, and now 7 months into the school year, my students finally completed their first inquiry completely on their own.
A challenge I face everyday is how to appropriately teach the English language as I'm also busy teaching the lines of inquiry for the ib program. The school is working on a program for the English language to assist all of our students because all are non-native speakers. For the time being, I implement the strategies I learned taking my onsite TEFL class and my past experience to ensure students can access the language and be successful.
Above all else I think patience is the most important quality of a teacher, especially abroad. I have to be patient with the things I don't understand, the class time that's missed, the pace of learning and the things I just don't understand. Teaching can be very frustrating, it can also be incredibly rewarding and this comes when you learn your students needs and push them to be their best.
Just a few facts:
→ Dress wise, I do not have to cover.
→ Students take Islamic, Arabic, UAE Social Studies in the Arabic language.
→ My students pray after eating lunch.
→ Boys and girls separate at grade 5 (this is not true at all schools).
A Seattle native who's heart is in Chicago, Katie holds an elementary education degree from Loyola Chicago. Since earning her TEFL certification from International TEFL Academy she first taught English abroad in Mexico before heading to the Middle East to seek new adventures in Ras al Khaimah, United Arab Emirates (U.A.E.). While teaching in the U.A.E. she also served as an ITA Alumni Ambassador, publishing numerous articles and videos about her experience teaching English in the heart of the Middle East.
Want to Learn More About Teaching English Abroad & Online?
Request a free brochure or call 773-634-9900 to speak with an expert advisor about all aspects of TEFL certification and teaching English abroad or online, including the hiring process, salaries, visas, TEFL class options, job placement assistance and more.