How to Prepare Yourself to Live & Teach English in the UAE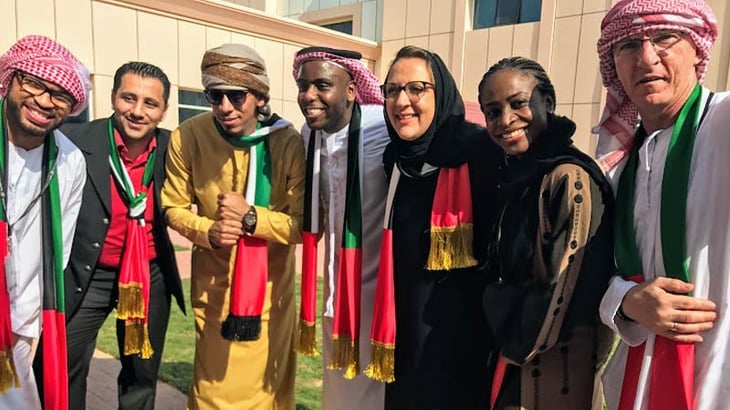 When you sign up to get TEFL certified through ITA, the intention is, of course, to move abroad. I had made it a certainty that my only option was to move. Before taking the class in the summer I had quit my teaching job in Chicago and knew a move was a necessity.
While completing my ITA course in Chicago, I knew that my goal was to eventually make it to the UAE. For a few reasons. I had visited my friend teaching here the year before and went from an extreme dislike, bordering on detest, to a serious fascination in 48 hours. Also, money. I worked as a charter school teacher in Chicago for 5 years, went to a private university and had 3 surgeries and a serious stack of bills. Being a financially "independent" (and up until this point, irresponsible adult) I knew I couldn't just runaway without considering money. I knew I would need some prior experience abroad to qualify for the UAE- so I accepted a 10 month, moderately paying position in Peru.
I moved my things from Chicago to my moms house in Seattle. I convinced my mom to take care of my cat while I was living abroad, got my necessary vaccines and was ready to leave for Peru. I honestly had no idea what to expect and my anxiety for the flight, the position, everything grew each minute. And, then, the lovely reality of how messy a move can be happened. Two days, that's right, two days, before I was boarding a plane to Peru for a job I had accepted 8 weeks prior, my position was cancelled. This left me financially and job wise, at 0. So I worked 3 jobs for several months in order to be able to afford a flight to Mexico where I lived and worked for 5 months before accepting my position in Ras al Khaimah (RAK), which started 3 weeks later.
Since the experience in Peru taught me to expect the unexpected, I felt that my time in Mexico and my preparation for RAK was a hail Mary pass where I was just hoping for the best. The position in RAK came with a flight and a pre-created visa so I had very little unknown to worry about and very little time to form any anxiety.
The most important step I had to do to prepare was get my documents attested. To become a legal teacher in the U.A.E. and ensure your entrance visa you have to get your documents attested. I had to acquire original copies of my High School diploma and transcripts (gulp, who keeps that on hand), University diploma and transcripts and an employment verification letter from previous employer. Since I was in Mexico I was lucky that my mom was able to gather the documents quickly. Some of the documents, the employment verification and high school transcripts were difficult to acquire, but with persistence, all were collected. In order to make the process easy from abroad I had a company assist with the attestation process, Authexperts. Since the U.A.E. requires an additional step than most countries, notary, state, US and U.A.E. stamps, the process ended up costing me $700 USD. I was asked for these documents right away, so I was glad I spent the money or I could have been on a flight back home, immediately.
Aside from attestation and ensuring I had appropriately modest clothing, I combated some questions from family and friends about my choice to move to the Middle East. I still get these, about my safety, my reaction to religion, my level of modest, etc. Honestly the most valid question I get is how do I survive without tacos, because that's my biggest challenge here. I am sure no matter where you go, your family and friends will have questions and concerns and you'll find that it is your responsibility to "prove" you'll be okay. Because you will be OK.
I could give you tips on what to bring with you, what you'll find is hard to find here and what is easy and you can leave at home, but I've covered that in some of my other posts and think that mentally preparing to move abroad is more important than the items you bring. Especially to the U.A.E. where basically everything is available and there are no size issues or need to bring comfort food (tacos don't travel well).
Honestly, the best way to prepare for your move abroad is to get excited. You are gearing up for what will be the adventure of a lifetime, you'll never return to the person you were before moving abroad so be excited for yourself and the opportunities you are inviting into your life. You'll experience the world from a completely different vantage point than you are used to, and you'll learn how to balance where you are from to where you are going. You'll come to realize what we learn as fact, may not be as set in stone as we had come to believe. If you are coming to the U.A.E., it's also okay to be excited for the money, because trying to be financially independent and smart, does involve being able to pay off bills and pay for your future adventures with "real money", not your credit card. I am amazed at how much my life, my ambitions, my view on the world and my experiences have changed since moving here. It's something you can never truly prepare for, never completely put into words, but only a select few, who take the chance, will feel the switch and the opportunities that comes with it.
A Seattle native who's heart is in Chicago, Katie holds an elementary education degree from Loyola Chicago. Since earning her TEFL certification from International TEFL Academy she first taught English abroad in Mexico before heading to the Middle East to seek new adventures in Ras al Khaimah, United Arab Emirates (U.A.E.). While teaching in the U.A.E. she also served as an ITA Alumni Ambassador, publishing numerous articles and videos about her experience teaching English in the heart of the Middle East.
Want to Learn More About Teaching English Abroad & Online?
Request a free brochure or call 773-634-9900 to speak with an expert advisor about all aspects of TEFL certification and teaching English abroad or online, including the hiring process, salaries, visas, TEFL class options, job placement assistance and more.