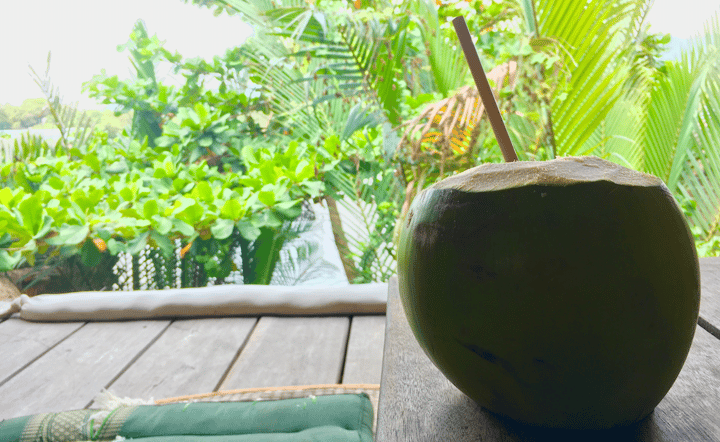 By Kate John
Phnom Penh, like all of Cambodia, is somewhere you want to make sure you're well hydrated. It's something about that ever present tropical heat. That said, why stick with just water? There's a lot going on in the Kingdom of Wonder in terms of beverages. From worldwide classics to local treats, Cambodia does have it all. So, let me take you on a drinks tour of Phnom Penh.
First stop, water. There's concern when moving to a developing nation about the safety of the tap water. And I would say that it a safe thing to worry about. Phnom Penh water is probably cleaner than Flint, Michigan, but it's no gem. I'd make sure to get purified water for drinking, but it is safe to use the tap to cook, shower, and brush your teeth. I buy a large blue water cooler style bottle every week or so for drinking, which costs a dollar each time. It's good that it's so cheap too, because you'll want to drink a lot of water here. The heat makes people sweat a lot, so it is always good to stay extra hydrated. So water is not a huge concern! Expect to pay very little, and you only need to be moderately cautious.
Next up, coffee, the lifeblood of mornings. Coffee is actually grown in Cambodia, so it's fairly easy to find nice, locally sourced coffee. There are small coffee carts everywhere around the city (both stationary and mobile) that offer iced coffee with sweetened condensed milk in it. Khmer people take their coffee with a lot of sugar in it, so if you're not a fan of sweet, ask for "tik tik sugar" or just order an Americano. In addition to coffee carts there are also numerous small business cafes and chain stores, we even have a Starbucks! So coffee is easy to find, and if you stick with something simple, it is usually pretty affordable too.
While coffee may be ordinary, we start getting more specific to Southeast Asia when we get to fruit-based beverages. The lovely climate here in the tropics gives us a bountiful fruit access. Some Cambodian specialties are side-of-the-street carts that sell fresh squeezed juices, especially orange or grapefruit. There's also fresh coconuts vendors that will chop open a coconut for you for the excellent price of $0.75. If street vendors aren't your favorite, there are many smoothies and juices available in cafes and restaurants, but these do cost a little more.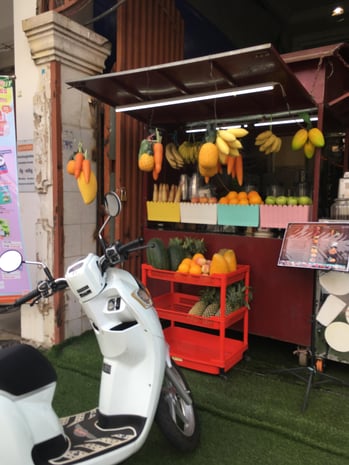 Last but not least, we have hit 5 o'clock somewhere. That's right, alcohol! Let me be clear though, happy hour is not just 5-6pm here, many bars have upwards of 7 hours that have discounted prices. Even if they don't, a lot of things are much cheaper in Cambodia than the US, take for example, beer. You can get a draft Cambodia or Angkor beer for $1 at most small bars, or a can for $0.50 in a grocery store. Cocktails are similarly very affordable, unless you're at one of the more upscale bars (on a rooftop). Wine tends to cost more, seeing as it is all imported because grapes don't grow in Cambodian climates.
Besides the basics, there are a few craft breweries that are starting to come onto the scene, these cost a bit more than the local cheap beers, because they import their hops. There is also a rum distillery in town that distributes to many local bars. I recommend visiting their tasting room, only open on Thursdays, to get a taste of Cambodian made rum with locally sourced sugar cane and flavorings. The distillery, Samai, makes a great Kampot pepper spiced rum cocktail. Alcohol is easy to find here, and many social gatherings take place in bars.
There's a lot to drink here. You will have ample opportunity though, seeing as you'll need a lot more fluid intake than you're likely used to in the US. So enjoy a coconut, or some nice Mondulkiri coffee!

After volunteering for a year in the Denver Public School System, Kate felt like she needed a change. Her and her boyfriend both got TEFL certified and set off on an adventure of a lifetime in the Kingdom of Wonder. Kate is one of ITA's Writing & Content Ambassadors.
---
Want to Learn More about Teaching English Abroad?
If you are excited about teaching English from either the comfort of your own home or anywhere in the world, contact us about TEFL certification options and get ready for a great adventure!
Related Resources: