must read
Your Digital ITA TEFL Certificate: The What, Why, & How?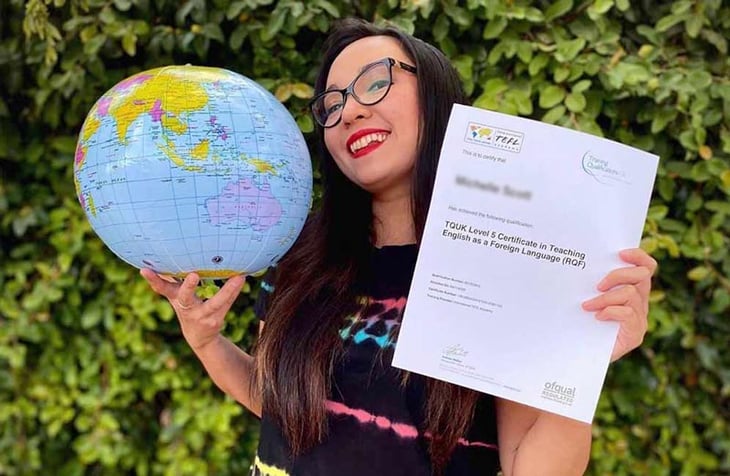 So, you've completed your TEFL coursework and blown through your 20 hours of practicum... congrats! You're well on your way to realizing your wildest teach abroad (or online) dreams. First, however, one critical step remains: making sense of your TEFL certificate.
This small but mighty document opens the doors to endless English teaching opportunities across the globe and online, so understanding the ins-and-outs of what your certificate entails, how it's delivered, and where it can be used is crucial. Read on to learn more!
How do I get my certificate?
You will receive your certificate after successfully passing your 150-hour online TEFL course and completing your 20-hour practicum requirement. Still confused? Let's break that down further!
Part I: The 150-Hour Online TEFL Course
In order to pass your online TEFL course, you will need to receive a final grade of 70% or higher, and complete the Final Project with a grade of 70% or higher.
Part II: The Practicum
ITA requires that all students complete a practicum, or 20 hours of hands-on work experience with English language learners. Once your practicum is complete, you'll be responsible for submitting two assignments on Moodle. The first is a 550-word writeup describing your practicum experience, and the second is the Practicum Completion Form. Once these two items are turned in and your TEFL course is complete, you will receive your certificate!
When will I get my certificate?
Great question! Your practicum assignments are reviewed within 10 business days of submission. Once the review is complete, you will receive an email from Student Affairs either requesting more information about your practicum, or confirming that your practicum has been approved. Following that approval message, your certificate will be delivered digitally to your inbox within 7 to 10 business days from our accreditor TQUK.
What is on my certificate?
Your certificate will list your official Level 5 Certification in Teaching English as a Foreign Language, your qualification number, award date, certificate number, and training provider (that's us!). The second page of your certificate file will contain your official course transcript (more info on that below!).
Will I get a transcript?
You'll find your official course transcript on the second page of your digital certificate file. This transcript contains a list of the units you completed during your online course, as well as your final course grade.
Where will my certificate be recognized?
Your certificate will be recognized by schools and employers around the globe - lucky you! Hiring bodies seek out TEFL teachers who have been trained to a high level with a certification accredited by an awarding organization. Your level 5 certification accredited by TQUK ensures that you'll be a top candidate in the TEFL teaching market.
What is TQUK?
Training Qualifications UK, or TQUK, is an awarding organization that externally monitors and approves our curriculum for accreditation. This way, we can ensure all our courses meet international standards of quality and deliverance. TQUK is officially recognized and regulated by the Office of Qualifications and Examinations Regulation (Ofqual), the British government body responsible for maintaining educational standards in the United Kingdom.
Will my certificate expire?
No! Your TEFL certificate is good for life. No need to renew it or re-take your TEFL course (unless you want to, of course!).
I heard I'll be receiving a digital certificate... is this true?
You heard correctly! Your official TEFL certificate will be delivered to you digitally via email from our accreditor TQUK.
What if I need a physical copy of my certificate?
No problem! The beauty of a digital certificate is that you can print it out from anywhere in the world, at any time. Just download your certificate, ensure "Fit to Page" is checked, and print it out on good cardstock paper for a formal touch!
Why am I getting a digital certificate?
Our paperless certificate system ensures that your certification process is smooth and streamlined. Read on to learn more about just a few of the advantages a digital TEFL certificate offers...
It's quick and efficient. We want to get you started on your teach abroad or online adventure as soon as possible! Thanks to our paperless system, you'll receive your official, accredited certificate much faster than if you had to wait around for a physical copy to come in the mail. The turnaround time between your practicum approval email and digital certificate delivery is around 7-10 days. Compare this with the 4-6 weeks it would take to receive a hardcopy certificate in the mail, and you see why a paperless delivery is the obvious choice!


It allows for flexibility. Regardless of where you are in the world, you'll always be able to pull up your certificate online and print it as many times as you need. This alleviates the headache of losing a single hard copy, having to pay a reprint fee, and then waiting around for a replacement certificate to come in the mail. Speaking of the mail…


It's reliable. With a paperless system, your certificate will never be damaged or lost in the mail. Enough said!


It makes job applications a breeze. You'll be able to seamlessly upload your certificate to applications online, and send it over to recruiters and schools abroad without the hassle of mailing or scanning your document. Plus, you can send your official certificate to as many organizations as you want! With a digital file, it's easy to cast a wide net when applying to positions... there's no stopping you now!


It's green. Love trees? So do we! With a digital certificate, you can feel good about cutting down on the paper waste associated with printing out and mailing a physical certificate.



It sets you up for hiring success!

Some employers ask that your certificate be verified. Traditionally, this process entails reaching out to your TEFL school, submitting a request to verify your certificate, and then waiting for the school to provide a verification number to your employer. With a digital certificate, this process is streamlined. Save time and stress by simply sending your employer to tquk.org. Click "Fast Support" on the right side, and then "Verify Certificate" to verify with the click of a button!
Founded in 2010, International TEFL Academy is a world leader in TEFL certification for teaching English abroad & teaching English online. ITA offers accredited TEFL certification courses online & in 20+ locations worldwide and has received multiple awards & widespread recognition as one of the best TEFL schools in the world. ITA provides all students and graduates with lifetime job search guidance. ITA has certified more than 40,000 English teachers and our graduates are currently teaching in 80 countries worldwide.
Want to Learn More About Teaching English Abroad & Online?
Request a free brochure or call 773-634-9900 to speak with an expert advisor about all aspects of TEFL certification and teaching English abroad or online, including the hiring process, salaries, visas, TEFL class options, job placement assistance and more.