Top 10 Reasons to Teach English in Seoul, South Korea
High salaries, great standard of living and so much more. Learn why you should consider teaching English in Seoul, South Korea.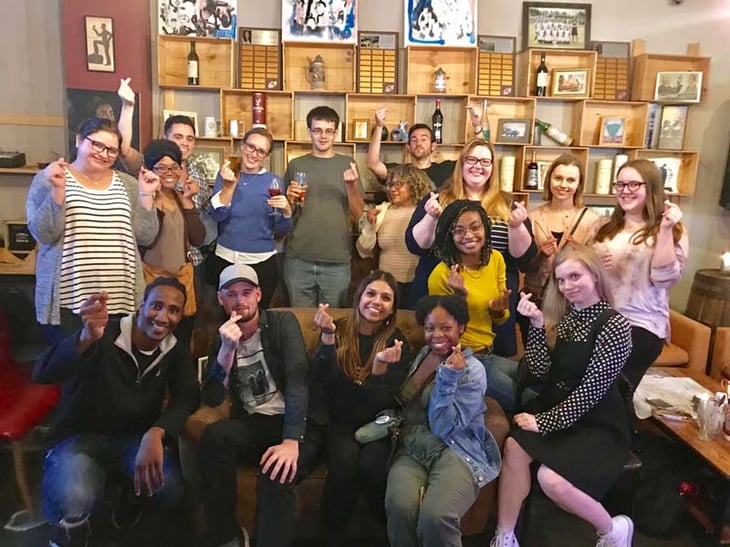 Since 1948, Seoul has been the capital of South Korea as well as its cultural, political, and economic heart. Occupied twice during the Korean War by Communist forces, the city was extensively rebuilt and is now one of Asia's most appealing metropolises and largest English teaching markets. A city with the best in modern technology, delicious green-tea tiramisu, and the rare opportunity to indulge in live octopus (tentacles and all), it is also one of the most lucrative places in the world to find work with a TEFL certification.
A popular choice for first-timers and experienced teachers alike, in South Korea the joys of eating, drinking, and merrymaking are in abundance. With a TEFL certificate, your English teaching job in Seoul, Korea will allow you to save upwards of $ 1,000 USD per month, all while taking advantage of what the city has to offer.
How to Teach English in Seoul
In order to find a job teaching English in Seoul, you will need a TEFL certification and a 4-year college degree. Being native in English is expected to find a TEFL job. The average salary for an English teacher in Seoul is about $1,150 - $2,650 USD per month.
Here are just a few reasons why Seoul is a great city in which to work as an English teacher.
10. Great Fast Food
In Seoul, McDonald's wheels Big Macs and McNuggets to your door 24 hours a day. The real stars, however, are local fare ranging from take-out 'gimbap' (Korea's version of maki rolls) and dried squid ('Oh Jing Oe Chae Mu Chim') to fried chicken ('yangnyeom chikin'), which is famous for its thin, crackly skin and distinct seasoning.
9. The City Stays Up Late
The streets of Gangnam, Hongdae, Dongdaemun, and many others in the city are filled with crowds until the early hours of the morning. Here in Seoul, Internet cafes, restaurants, arcades, and shopping centers hum with activity throughout the night. Night study rooms can be rented by the hour, and operators at the 120 Dasan Center will provide answers to any question you might have for free, 24 hours a day, in English or Korean.
8. Luxury Spas ('Jjimjilbang')
A must-see Seoul fixture, the "spas" in South Korea offer a beguiling blend of spa services and entertainment. Many of these multi-storied pleasure palaces are open 24 hours, giving patrons access to whirlpool baths, massage parlors, mineral rooms, TV rooms, as well as cafes and restaurants, any time of the day. In these temples to good health and rejuvenation, you can also compete in a game of mini-golf, rest atop a rooftop garden or sit in a quiet movie theater. Some even provide their customers with overnight amenities. Ranging from glitzy and stylish to cozy and compact, Seoulites flock these spas year-round.
7. Beautiful Green Spaces
Each morning housewives ('ah-jumas') and their husbands ('ahd-ju-shees') can be seen hiking to greet the dawn from atop of the hills that ring the city. The complex of buildings at Changdeokgung, used as palace grounds well into the 20th century, holds patches of dense woodland and tranquil lily ponds. Seoul is bursting with hidden swathes of greenery, making it easy to escape the urban atmosphere and relax in a silent refuge.
6. "Bang'n" Culture
Translated to mean "room" in English, there are "bangs" of endless variety throughout Seoul. South Koreans gather in 'norae' bangs, or karaoke lounges, to sing and show off the latest dance moves, then retreat to DVD bangs to relax and watch movies. There are board game bangs, Internet bangs, and every incarnation in between.
5. Great Transit
Catch a ride on one of the sleekest, cleanest, and most efficient subway systems in the world, joining the millions of South Koreans who whizz about the city at lightning speed each day. Bus lines traverse even the smallest streets, and taxis are cheap enough to get you to most destinations without breaking the bank. South Korea is also home to one of the highest-rated airlines in the industry, Korean Air, which offers direct flights to destinations throughout Asia as well as further afield in Europe and the Americas. Because of its small size, it's possible to see Korea in its entirety on small weekend trips while working teaching English.
4. Korean Kids
South Korean youth culture - especially in the realms of pop music and street style- sets the bar for cool throughout Southern Asia. The Hongik district in particular is known for its hip clubs, edgy shops and youthful atmosphere. South Korean children often attend private, after-school academies called hagwons, to improve their English and prepare for English proficiency exams. Many jobs in South Korea require a high score on English proficiency tests since business throughout Asia and the world is typically conducted in English. Teaching jobs in South Korea are most often found in Korean elementary schools, high schools, and private hagwons.
3. 'BiBimbap' and Barbecue
In Seoul, you can't walk down the street without inhaling the heady scent of charcoal fire and sizzling meat. 'Bibimbap' (literally meaning 'mixed meal') is another popular South Korean dish. It's typically served as a bowl of warm white rice topped with 'namul' (sautéed and seasoned vegetables) and 'gochujang' (chili pepper paste), with a raw or fried egg and sliced meat (usually beef) added on top. In Korea, dining is a social affair - dishes are typically priced in units of four and shared by large groups of friends.
2. Salaries and Benefits of Teaching in Seoul
Demand for English teachers in South Korea, including in Seoul, is high and still growing. Schools throughout the country will arrange and pay for both accommodations and airfare. They will also provide a generous salary, making it easy to send money home or put it away for travel.
Teachers in Seoul often live in brand-new apartment buildings, fully furnished with Western comforts. Taking into account the lowered cost of living, while working as an English teacher in South Korea you can save up to 75% of your wages - often over 1,000 USD each month.
There are over one thousand English language schools serving Seoul's large population, and each month an estimated 2,000-3,000 new teaching positions become available.
1. The Number One Reason to Teach English in Seoul is Yours to Discover!
Will you take cooking classes, martial arts lessons, or learn to speak Korean while working overseas? Will you backpack through Cambodia, Laos, and Thailand on your vacations? Will you return to Asia, and reunite with old friends and students? One thing is for sure - you will have embarked on a remarkable journey and have lived, traveled, and worked as a local overseas. Your life will be forever changed.
Founded in 2010, International TEFL Academy is a world leader in TEFL certification for teaching English abroad & teaching English online. ITA offers accredited TEFL certification courses online & in 20+ locations worldwide and has received multiple awards & widespread recognition as one of the best TEFL schools in the world. ITA provides all students and graduates with lifetime job search guidance. ITA has certified more than 40,000 English teachers and our graduates are currently teaching in 80 countries worldwide.
Want to Learn More About Teaching English Abroad & Online?
Request a free brochure or call 773-634-9900 to speak with an expert advisor about all aspects of TEFL certification and teaching English abroad or online, including the hiring process, salaries, visas, TEFL class options, job placement assistance and more.