teach english online
5 Tips For Improving Your Online Teacher Rating
Online teacher and ITA alumna, Denise Nickerson, shares five tips to help online ESL teachers increase their online rating to set themselves up for student-booking success.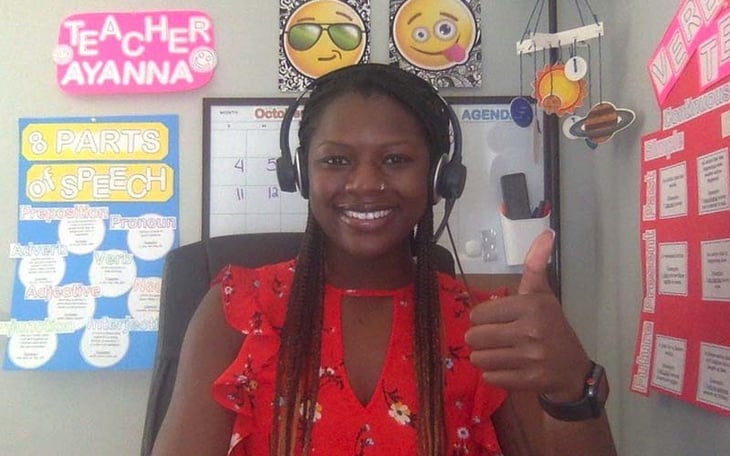 Becoming an effective online teacher requires a lot of trial and error, and unfortunately in the midst of those trials, your teacher rating can sometimes take a pretty significant dip. For those who currently teach English online (and for those who are interested), you may already know that your teacher rating plays a huge role in both how many online platforms allow your profile to appear on their site, as well as how many students book with you.
From a business standpoint, your teaching rating is arguably one of the most important factors in how well you will succeed on a platform, however, on a more personal level, it's also one of the most valuable tools you can use to help build your confidence and improve as a teacher.
Here are 5 tips to help you improve your online teacher rating that I've learned from working as an online English teacher.
1. Be professional and prepared
It may go without saying that when you're teaching English online, first impressions are everything. In fact, according to research, within the first seven seconds (yes, seven seconds) of meeting, people will have a solid impression of who you are - and some research suggests it takes about a tenth of a second for people to start determining traits like trustworthiness.
When you're teaching online in your home environment, it can be really easy to slip into that relaxation mode. Sweat pants, dim lighting, messy hair, believe me, I've been tempted. However, it's so important to remember that on many online platforms, the students who are sitting down with you each day are paying their money to learn from a professional.
Therefore, it's so important to treat each session, even sessions with longtime students, with a sense of professionalism, which includes keeping a tidy environment, making sure your equipment is always working before each session, dressing in an appropriate and professional manner, and having your materials prepared beforehand. Trust me, even the most relaxed of students will appreciate your willingness to go above and beyond for them and you'll establish a deep sense of trust with your students. You'll be boosting your teacher rating in no time!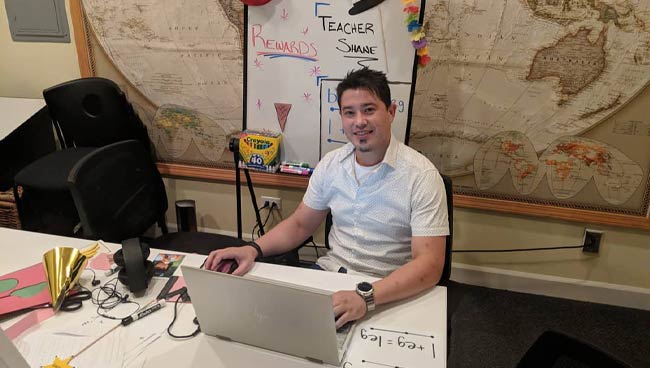 2. Keep up with the latest news and trends
As many of us know, in order to learn a new language you need to speak it - lots of it. And while every platform offers a different way to approach conversations with its students, they all share the same understanding that the amount of teacher talk time should be to a minimum, and the students should be taking the reins. One of the easiest ways to increase student talking time is to talk about the latest news and current trends.
For platforms like Cambly, where students have predominantly conversational-based learning, this is key in improving your teaching rating. Not only is it fun, but you realize it's a lot more interesting for students to learn a new language that allows them to express their thoughts and ideas than it is to have them practice their skills on topics of little to no interest to them. And honestly, it's way more fun for the teachers too!
Think about some popular trends happening and try to incorporate them into your classroom. For example, Squid Games became an arguably unexpectedly massive hit, and for many people, it's an interesting topic of conversation. If you're teaching adults, why not include a Squid Games-esque theme in your English lesson that week? New COVID variant? Yeah, you can believe everyone has heard about it and has an interesting opinion and insight to share on it.
Teaching children? Video games, Marvel, and Disney are always a safe bet. Find what's the latest and bring those into your lesson. The more you keep your students engaged, the more you create genuine dialogue that helps build the student-teacher relationship, the more likely your students are going to want to book lessons with, and the more highly they'll think of you, as their teacher and as a friend.
3. Welcome student feedback & respond to it
Are your teaching ratings low and you're wondering what you can do to improve them? Ask your students! Your students will give you valuable insight as to how they feel both their learning and the classroom experience are going. They may tell you they'd like you to focus more on providing a variety of content, they may feel lessons feel rushed, they may want you to be more hands-on - whatever the case may be, a happy student equals high ratings.
Create some time at the end of your lessons to ask your students how they felt about their experience and listen to their feedback. I know this can be difficult for some, but feedback is truly the most valuable way to improve in any profession. And if you feel like asking for general feedback is too broad, you can come up with a set of questions for specific areas of your lessons you're looking to improve on, such as the pacing, topic, visual aids, etc.
While you may not be able to adjust every single part of your lesson to cater to one student specifically, you can take a general census and see if there are any common trends or themes that seem to be lacking in your lessons. From there, you can work on improving even just one of those aspects, which can make a huge difference. Your students will appreciate you taking the time to ask them about their experience and feel a sense of ownership in their experience when you welcome feedback and respond to it in a positive manner.
4. Diversify your classroom offerings
It's really easy to keep into a certain "flow" when teaching online, especially if you've been teaching on a specific platform for a while. Day after day, lesson after lesson, the classroom experiences can start to blend into one another. What worked for one lesson, one student, is starting to work for another and another, and soon you're just starting to realize you don't really need to do much changing anymore. If it's not broken don't fix it, right? Well, not so much.
While this method may work for a while, it's important to always diversify your classroom offerings, no matter how small the tweaks are. Expanding outside of your comfort zone pushes you as a teacher, and it helps improve the trajectory of your student's learning growth. Set a plan for yourself to change your lessons up each month, perhaps according to a certain theme, the weather, trends, news, etc. If you showed a video the last two weeks, try playing a game instead. Had a student read an article out loud the week prior? Try to have them write one this week. Your students will appreciate having a wide variety of learning offerings that both challenge and entertain them.
5. Focus on building lasting relationships
Of course, all of the above advice is really in vain if you don't take the time to get to know your students and build lasting relationships. One of the greatest aspects of working with students from around the world is that you get to meet so many unique personalities and perspectives on life. Many people, especially adult learners, want to learn English for such a wide variety of reasons, whether for career advancement, to visit the U.S one day, or to just make some more English-speaking friends. The reasons and whys are so vast, but you learn so much in a day talking to so many different people.
Take the time to build relationships and listen to your students' stories - they may reveal a deeper need for learning English, or they may reveal another way that you can help them turn their dream into a reality. The more you put genuine care into learning about your students, the more they grow to appreciate you - as a person and as their friend.
Denise Nickerson is a 30-year-old outdoor educator and online English tutor from New York. After spending the last several years working as a Social Media Manager, Denise decided she needed a change in her life. She began working with children outdoors and fell in love ever since. Her TEFL experience led her to fall in love not only with the ITA community but with teaching in general. Denise currently serves as an ITA Alumni Board Member. She plans to teach in South Korea in the Spring of 2022.
Want to Learn More About Teaching English Abroad & Online?
Request a free brochure or call 773-634-9900 to speak with an expert advisor about all aspects of TEFL certification and teaching English abroad or online, including the hiring process, salaries, visas, TEFL class options, job placement assistance and more.