The Pros & Cons of Teaching English in Madrid, Spain
This article provides both the positives and negatives of living and teaching English in Madrid, Spain to help you make an informed decision before moving your life over there.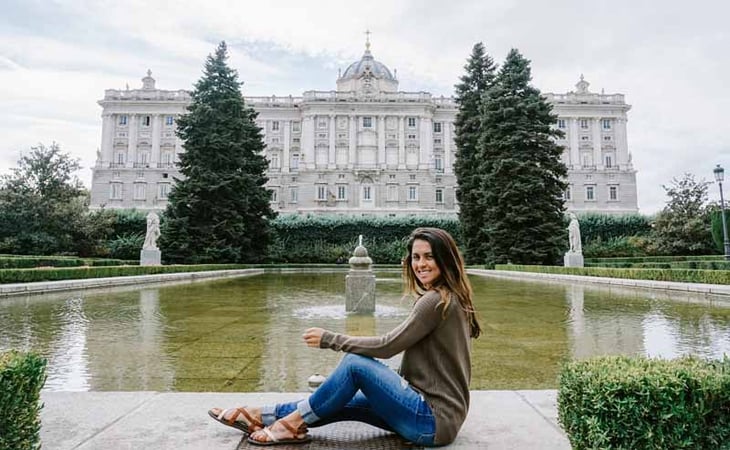 A career in teaching ESL (English as a second language) can expand your opportunities to go abroad. No matter which country you choose, it will be one of the most rewarding experiences of your life. I chose to start my teaching abroad experience with International TEFL Academy in January of 2018. I took their 11-week online TEFL course and started teaching online that same summer. I chose to move to Spain after a 6-week backpacking trip around Europe and chose Madrid specifically for the large job opportunities and the desire to improve my Spanish language skills.
Now, three years later, I'm still enjoying my experience in Madrid and don't see myself moving anytime soon. That goes to say that this experience wasn't easy. There are numerous things I love about Madrid and Spain that I wouldn't want to live without, but there are other things that I still get frustrated with, but yet are completely out of my control. Let's dive in and discover the pros and cons of teaching English in Madrid.
The Pros of Teaching English in Madrid
1. Numerous Job Opportunities
The job opportunities to teach English in Madrid are almost endless. If you don't have a placement in a Government program before you arrive, don't stress too much. Once you're on the ground, research jobs on job boards like LingoBongo and connect with other teachers who just arrived to express that you're looking for work.
2. There are a lot of foreigners
Everywhere you go in Madrid, you'll hear many languages spoken. There is a large foreign community of not only English speakers, but many other languages. Madrid is a melting pot giving you a great opportunity to learn and experience more than just Spanish culture.
3. You'll pick up basic Spanish quite quickly
If you put forth the effort, you can pick up basic Spanish pretty quickly. You will have to use it every day, at the supermarket, the bank, and at your school (to some extent). If you prioritize learning the language and remain open to the cultural aspects, numerous activities will be easier and you'll be much more comfortable.
4. Affordable cost of living
You can make a decent salary teaching in Madrid whether you get a monthly salaried job or an hourly paid job. Private classes typically range from €12-€25/hour ($14-$29 USD) and if you are an Auxiliar de Conversación your salary can range from €850-€1300 ($983-$1,500 USD) depending on what region you are in. With wages like this, you can live comfortably and cover all your expenses like rent, utilities, phone bills, grocery shopping, etc. If you are someone who likes to travel and go out a lot, take on a few easy private classes to supplement your income.
The Cons of Teaching English in Madrid
Madrid is a great place to live and teach, but it is not all sunshine and rainbows. There were numerous challenges when I first arrived three years ago, and I still experience some challenges today. It does get easier with time, but some things are nonetheless forever frustrating. Here are the cons of teaching English in Madrid:
1. Disorganized teaching schedules
Especially when you first arrive, you may have a teaching schedule that is all over the place. First classes in the morning, then a large mid-day gap, and then you find yourself not getting home from your last private class until 9 pm. This is quite common since making money is a priority. But the strain of a crazy schedule throughout the full academic year does take its toll.
2. Bureaucracy
The nightmare of bureaucracy is not specific to Spain. Wherever you go outside your home country, you're sure to encounter this. A booming capital where some hundreds of thousands of foreigners reside, Madrid is notorious for slow processing times and misinformation when it comes to any type of paperwork. It can take many months for a visa to process which by that time, it's time to renew already. It is recommended to either consult with a lawyer or speak with someone who has been in the same position as you to get their take. After some time here, you will get the hang of it!
3. Not as many Spanish people speak English as you may think
I quickly learned the common misconception that "a lot of Spaniards speak English so you won't have a problem". This is not completely true. There is no doubt that the bilingual education initiative here greatly improved English language skills in recent years, but it is mostly the younger population that has greater English skills. You will notice that the younger generations are more eager to speak English and interact with foreigners who don't speak Spanish than those of an older generation (of course, this isn't completely true across the board and there are always exceptions).
Of course, you come to Spain to learn, to improve your Spanish skills, and to integrate into the culture to some extent, that's the goal! Make sure to not have the expectation that the majority of people speak English here.
4. Hard to integrate with Spanish social groups
As a non-native Spanish speaker, it is already difficult to make friends with people who don't speak English. But even with Spaniards who speak English, you'll find that it is still hard to fully integrate into their close social groups. This results in foreigners grouping together, especially with those who speak the same language, which is great for comfort but impedes the cultural immersion experiences you could have.
In conclusion, there are both positive and negative aspects of teaching English in Madrid. I personally can't recommend it enough, even with the difficulties, but it is completely up to you what you want to make of the experience and just how open you are.
Salina Owens is a 27-year-old English teacher from Texas. She moved to Madrid, Spain in 2018 to pursue an English teaching career and gain international experience. She received her undergrad from the University of Arkansas and a Master of Arts in International Education from the University of Alcalá. In her free time, she travels frequently and works as a freelance travel content writer.
Want to Learn More About Teaching English Abroad & Online?
Request a free brochure or call 773-634-9900 to speak with an expert advisor about all aspects of TEFL certification and teaching English abroad or online, including the hiring process, salaries, visas, TEFL class options, job placement assistance and more.