Teaching English in Phuket, Thailand: Alumni Q&A with McKenna Vanderbeek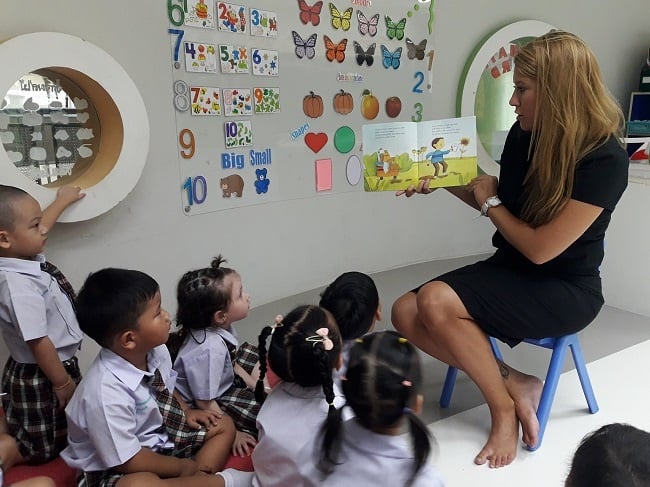 TELL US ABOUT YOURSELF
What is your citizenship?

United States

What city and state are you from?

New York, New York

How old are you?

26

What is your education level and background?

Bachelor's degree
Have you traveled abroad in the past?
Some international travel with friends, family, business, etc.

If you have traveled abroad in the past, where have you been?
Italy, Greece, Spain, Japan, Thailand, France
What sparked your interest in going to teach English abroad?

I had always been interested in teaching, and in living abroad, as I wasn't able to study abroad during college, so I started doing some research and realized this could be a huge opportunity! There are so many countries where the children could benefit so much from learning English, and I wanted to be a part of that journey for them.

What were some of your concerns before teaching abroad?

I was nervous about safety mostly. I knew I wanted to be in Thailand, and I didn't know how safe it would be in the beginning. I was also nervous about finding a job. I was nervous it would be too risky coming over here jobless and having to figure everything out.

What did your friends and family think about you moving and teaching abroad?

My family and friends were really supportive. Of course my father was a bit concerned with the safety issue as well, but once he got on board he was really excited for me. My friends were sad that I was going to be gone for a while, but they were all really excited, and some of them have even planned trips to come visit!

TEFL CLASS INFORMATION
Why did you decide to get TEFL certified and choose International TEFL Academy?

I figured getting TEFL certified was my first step towards actually teaching abroad. I did some research and saw that most countries require you to get a TEFL certification, or at least it makes finding jobs a lot easier. I chose ITA because of the online course. I wasn't ready to quit my day job, so being able to take the course online was extremely helpful and allowed me to take the course on my own time throughout the week.
Which TEFL certification course did you take?

Online TEFL Course

How did you like the course?

I liked the course and found it very interesting. Creating lesson plans was challenging but fun, and I liked having to do that, as I knew as a teacher that was something I'd be doing quite often. I thought the practicum (live practice teaching) was a great experience too and appreciated all the resources ITA gave me to find practicum locations.

How has your TEFL training helped you in your current teaching position?

My TEFL training has helped me in many ways. For one, in the practicum portion, it was great to see how other teachers taught their classes. I could see what they focused on and what they thought wasn't as important.

Which city and country did you decide to teach English in and why?

I decided to teach English in Thailand in the city of Phuket. I had traveled to Thailand with my family about 15 years ago and remember having a wonderful time. I went to Bangkok and Phuket. While I thought Bangkok could be a lot of fun, I wanted something very different than New York, and wanted something a bit more "off the map". I wanted to be immersed in a culture that was very different than home, yet safe and enjoyable. I also quite enjoy the beach, and Phuket has some of the most amazing beaches in the world :).
How long have you been in this country and how long do you plan to stay?

I've been in Phuket for three months and plan to stay for at least a year.

What school, company, or program are you working for?

Kajonkietsuksa, Kathu campus English Programme

During which months does your school typically hire?

Feb - Mar

Did you secure this position in advance of arriving?

No

How did you interview for this position?

In-person interview

What kind of visa did you enter on?

Tourist Visa

Please explain the visa process that you went through.

I went to the Thai consulate in NYC to obtain a tourist visa. I need to provide them with passport photos, my flight info to Thailand and exiting Thailand, my accommodations in Thailand, and proof of money in my bank account. I dropped it off one day, and picked it up the next. It was quite simple.

What are the qualifications that your school requires for teachers? Please check all that apply

- Bachelor's degree
- TEFL Certification
- Native English speaker

What is the best way to apply?

In-person
Tell us about your English teaching job!

Hours: I work from 7:45 - 4:30 each day (M-F), with a couple of breaks throughout the day.
Salary: Teachers at my school typically get paid between 35,000 THB and 40,000 THB, equivalent to about $1,000 USD.
Savings: I'm able to save about $200 USD each month.
School: The school I work for is a Thai private school. They have many campuses throughout Phuket.
Students: I teach Kindergarten (K1 specifically) so the students are 3-4. There are some kids that are Thai-Thai, some Thai-foreign, and some that are full foreign.
Vacation: As for vacation time, we get the typical Thai holidays, and a week in April and a week in October. We also get a week around Christmas.

How did you find somewhere to live and what is it like? Do you have roommates?

I saw an apartment building close to the school when I was interviewing, so I went in and asked to see a place. Next thing I knew I was moving into the building! The complex is beautiful, with 1 and 2 bedrooms and a beautiful pool and fitness facility. I don't have any roommates.
COUNTRY INFORMATION - FUN!
Please explain the cultural aspects, public transportation, nightlife, social activities, food, expat community, dating scene, travel opportunities, etc...

Culture: There are many unique cultural aspects in Thailand. They call it the "Land of Smiles" for a reason. People are very friendly, and don't ever show when they're upset. They don't like to lose control so they keep straight faces pretty frequently. Thai people are extremely friendly and helpful. They like to converse with foreigners and help in any way they can.

Public transportation: There isn't much public transportation in Phuket. They have buses, or songthaews, for very cheap, but they only run from Phuket town, which may be inconvenient.
Nightlife: There are many bars in Phuket, specifically in the Patong area, or close to any of the beaches on the west coast. There are a lot of fun beach bars and bars with great sunset views. Phuket has cabaret shows as well, with many ladyboys!

Food: The food is delicious, though VERY spicy. I never liked spicy until I came here, now I love it! There is a lot of chicken and pork, and some seafood as well. One can definitely find Western food here pretty easily too.

Expat community: There is a strong expat community here, and people from all over the world. My school specifically has many foreign teachers, and a lot of the schools have English programmes with many farang (foreigners).

Travel: One can travel to many different places quite easily from Phuket. There are many direct flights that aren't too expensive, and Phuket's International Airport is quite nice.
COUNTRY INFORMATION - MONEY
What are your monthly expenses?

Rent/utilities: My rent is about 9,000 THB ($270 USD) per month which is quite average here. Electricity is about 1,000 THB ($30 USD).

Food is relatively cheap if you find the local places. One of my favorite little Thai restaurants has most meals for 60-80 THB ($1.80- $2.40 USD), which is on the cheap side, but a good local price.

Social activities/drinking is a bit more expensive. Beer is the cheapest thing, but I don't drink it unfortunately. Wine is average 150 THB ($4.50 USD) and cocktails are even more expensive.

Phone/internet: WiFi is pretty great on the island, and I have a Thai sim card for my phone. I also pay monthly for a motor bike. I pay 2,500 THB ($75 USD) per month and 70 THB ($2 USD) to fill up my gas tank.

How would you describe your standard of living?

My standard of living is pretty great. After I pay all my expenses, I have money left over to go out on the weekends.

In your opinion, how much does someone need to earn in order to live comfortably?

Someone needs to earn 35,000 THB ($1,055 USD) or more to live comfortably.


ADVICE FOR PROSPECTIVE ENGLISH TEACHERS
What advice would you give someone planning or considering teaching abroad? Would you recommend teaching in your country?

Do it! It's a great experience to get to learn a different culture and to award these people with the opportunity to learn English and explore the world. I would recommend teaching in Phuket if one loves the beaches and the relaxed way of life.
Founded in 2010, International TEFL Academy is a world leader in TEFL certification for teaching English abroad & teaching English online. ITA offers accredited TEFL certification courses online & in 20+ locations worldwide and has received multiple awards & widespread recognition as one of the best TEFL schools in the world. ITA provides all students and graduates with lifetime job search guidance. ITA has certified more than 40,000 English teachers and our graduates are currently teaching in 80 countries worldwide.
Want to Learn More About Teaching English Abroad & Online?
Request a free brochure or call 773-634-9900 to speak with an expert advisor about all aspects of TEFL certification and teaching English abroad or online, including the hiring process, salaries, visas, TEFL class options, job placement assistance and more.