teach english online
Teaching English in Krabi, Thailand: Alumni Q&A with Kristina Lopez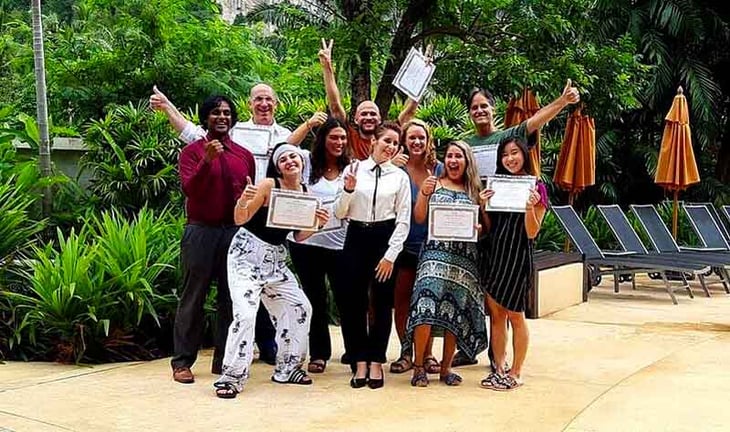 What is your citizenship?
United States
What city and state are you from?
Baldwin Park, California, USA
How old are you?
25
What is your education level and background?
Master's Degree
Have you traveled abroad in the past, if so, where?
Yes, I stayed fairly local when I traveled abroad previously. Mexico was a favorite destination for my mom so I went to Mexico at least every year to explore a new city. My first solo trip abroad was to the Dominican Republic. Then I went to Thailand with my family and fell in love and came back for good!
What sparked your interest in going to teach English abroad?
I was in Thailand wishing there was a way I could stay here more permanently. I was already a teacher in the states and had never even considered that I could teach abroad. After asking someone to take a picture of me in the ocean on my last day in Thailand, we started talking and she was the one to mention to me how easy it would be to have my own classroom anywhere in the world I wanted. That same week when I came home, I immediately applied to get my TEFL certification in Thailand.
What were some of your concerns before teaching abroad?
I was worried about leaving all my friends and family. But I already lived a few hours from my family and only saw them during the holidays so it wasn't a huge concern. I didn't really have any. I just knew I wanted to do it so I was going to make it happen.
What did your friends and family think about you moving and teaching abroad?
They were so surprised to hear my plans. Some family members wondered why and thought I should wait. Some were excited and thought I was so brave to do it. Now they all can't wait to come visit me.
Why did you decide to get TEFL certified and choose International TEFL Academy?
I already had a teaching credential but did not have too much experience teaching english as a second language. I Googled a TEFL course to look into it and saw ITA come up. At first they just had the Chiang Mai TEFL course and I really wanted to be on the beach so I kept looking. Nothing seemed to catch my eye as much as ITA did. The second time I went and looked into it the next day, they had just released the Krabi course for the first time. So I knew it was meant to be!
Which TEFL course did you take?
The in-person TEFL course in Krabi, Thailand. (Please note, ITA no longer offers this course).
How did you like the course?
I learned so much more about teaching english as a foreign language from the one month course than I ever did from my credential program and the few classes I took for ESL students. I had great instructors and felt like I could really apply what they taught me easily since they gave me so many opportunities to practice.
How has your TEFL training helped you in your current teaching position?
I actually ended up teaching at an international school so all my students speak English fluently. It did help me teach my younger students as it gave me lots of ideas on how to approach the curriculum with them as it was very similar to teaching it as a second language in terms of how much they know and how they learn.
Which city and country did you decide to teach English in and why?
After taking my TEFL course in Krabi I ended up staying here. I've been here so far for 9 months and have no plan to leave. I wanted to be by the beach so when I took my course here, it gave me a whole month to explore and I fell in love with the area and the people I met.
What school, company, or program are you working for?
I work for Singapore Genius School of Krabi and I also teach English online for VIPKID.
During which months does your school typically hire?
Summer months from May-August
Did you secure this position in advance of arriving?
No. I wanted to see the school I would be working at before actually applying.
How did you interview for this position?
In-person interview.
What kind of Visa did you enter on?
I entered on a tourist visa.
Please explain the visa process that you went through.
I was worried about it but it was actually pretty simple. I had to get a local background check since I had visited Thailand already. My school sent all the paperwork to the education department. Then informed me of when everything was ready. I took all the documents that included my contract, info about the school, a local Thai background check, a state background check, copies of my degrees and transcripts. I hired a company to take me on a visa run to Malaysia. I stayed overnight there and explored Penang while they took my paperwork for me and went to immigration. They came back with my passport and work visa approved and I went back to Thailand and started working that Monday. My school would not let me work until I had my working visa.
What are the qualifications that your school requires for teachers?
TEFL certification, Bachelor's Degree, and a Native English Speaker.
What is the best way to apply?
In-person.
Tell us about your English teaching job!
Right now with schools closed due to COVID-19, I teach online for 2 hours a day on Monday, Tuesday, Thursday, and Friday. With my Thailand teaching job, however, I first started teaching long hours, from 8:30am - 6:30pm. I was paid 32,000 baht (roughly around $1,000 US), but I was miserable! I was able to get my boss to agree to me working part time from 8:30-12:00 which works a lot better for me. But my pay is now only 15,000 baht ($470 USD). It is definitely not enough to save as that barely covers my rent and bills. But I teach online too, which brings in the income that I need to save. The school is a private language center that is soon to be turned into a school, the construction is happening now. I only have 12 students, from 6 - 14 years old. We get paid vacation time and luckily we celebrate western holidays so I still get Christmas off.
How did you find somewhere to live and what is it like? Do you have roommates?
I joined a couple of Facebook groups in the area I was at and posted that I was looking for a place. I looked at a couple of houses and found one that worked for me. It's about a 5 minute drive down to the beach. Its a 2 bedroom 2 bathroom house, full kitchen, living room, small yard with a gate which was what I needed because I had a dog. It's a western style home so I feel very comfortable in it. It was also only a year old so it was very clean. I only pay $400 a month in rent. I don't have a roommate but now live with my boyfriend who helps out with the bills.
Please explain the cultural aspects, public transportation, nightlife, social activities, food, expat community, dating scene, travel opportunities, etc...
I do live in what's considered a pretty touristy city, Ao Nang. I like this though because I get a combination of Thai and western culture. My boyfriend is Thai so he takes me to all the local areas which gives me the chance to be part of the Thai culture. But I can also head down the street into any bar and meet travelers stopping by. I pretty much have a place to visit all over the world now with all the people I've met! There are other expats here but I don't know too many as they don't hang out where I do.
We have lots of bars to explore and many of them have live music which is one of my favorite things to do on the weekend. There's an area by the beach called Center Point which has a lot of little bars and a larger bar at the top where most people tend to go to dance as its one of the only places, it's as close to a club as you'll get out here. It's a lot of fun though. My boyfriend's family also owns the bar so free drinks and dancing on the stage all night for me! Hah.
Ao Nang is where lots of people come to visit as a starting point to visit different islands nearby. There are so many islands to visit and are pretty close by, an easy ferry trip over. Tourists can get by on tuktuks and everyone who lives here pretty much rides a motorbike to get around.
What are your monthly expenses?
Rent - $400
Utilities - $100
Food - $200
Social Activities - $100
Transportation - $20
Travel - $100-$300 depending on where I want to go
I could definitely save more on food, travel and social activities, but I like to go out often.
How would you describe your standard of living?
Very comfortable! I have no worries about paying for anything and pretty much do whatever I want to do. I also live very close to the beach for a very affordable rate. There's no way I could have this back in California.
In your opinion, how much does someone need to earn in order to live comfortably?
To live comfortably? $1,000 a month would be fine.
What advice would you give to someone looking to teach English abroad?
My advice would be to do as much research about the country and school you are going to be working at. Don't just accept any position because it is there, but look into the reputation of the school and the work conditions. I would recommend Thailand but definitely be wary of anyone who wants to hire you right away without even caring about your qualifications.


Kristina Lopez received her in-person TEFL certification in Krabi, Thailand and fell in love with the area so much she decided to permanently stay there. She teaches at an international language center part-time in Krabi Town and spends the rest of her time helping others organize and plan their move to teach abroad and get hired in the country of their dreams. Find her on Instagram at @heykristinamichelle.
Want to Learn More About Teaching English Abroad & Online?
Request a free brochure or call 773-634-9900 to speak with an expert advisor about all aspects of TEFL certification and teaching English abroad or online, including the hiring process, salaries, visas, TEFL class options, job placement assistance and more.