Teaching English in Bangkok, Thailand: Alumni Q&A with Kirsten Iverson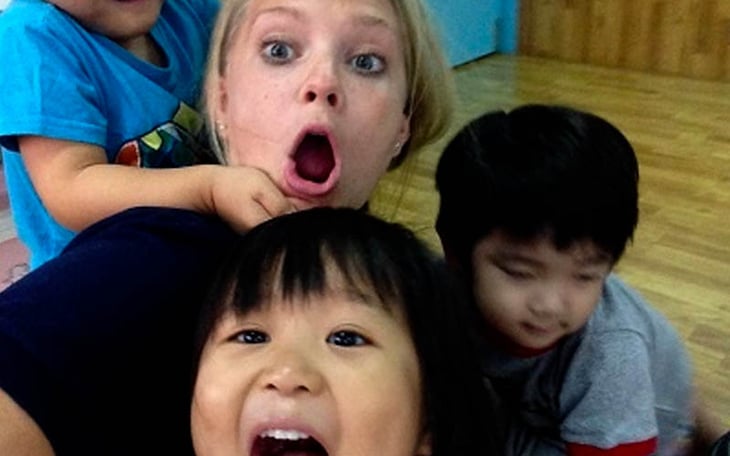 What is your citizenship?
United States
What city and state are you from?
Chicago, IL
How old are you?
25
What is your education level and background?
Bachelor's Degree
Have you traveled abroad in the past?
Studied abroad
If you have traveled abroad in the past, where have you been?
United Kingdom, Spain, Portugal, Italy, Germany, Holland, Peru, Mexico.
If you have studied abroad in the past, where did you study?
Tarifa, Spain; Alicante, Spain
What sparked your interest in going to teach English abroad?
I love traveling, meeting new people, and learning about new languages and cultures. As soon as I graduated college I regretted not getting my degree in Education. Teaching English abroad was the perfect mix for me to gain experience teaching and be able to travel more.
What were some of your concerns before teaching abroad?
Money, making new friends, learning the language, finding a job, getting a visa/work permit
What did your friends and family think about you moving and teaching abroad?
My friends were very excited and couldn't believe it, they were very supportive. My family was amazingly supportive as well but also concerned about my safety and my future.
Why did you decide to get TEFL certified and choose International TEFL Academy?
I decided to get TEFL certified because I read and researched that it would give me the best possibility of getting a good job. I have worked with kids in all my previous jobs but never in a formal teaching setting, so I wanted to learn more about lesson planning and classroom management.
I choose the International TEFL Academy because it has an amazing reputation. I drove by the office in Chicago everyday on my way to work and seeing that office was one of the main inspirations for me to go abroad. I met with an advisor there and it confirmed for me that I wanted to get my certification through them.
Which TEFL certification course did you take?
Thailand InPerson TEFL Course
How did you like the course?
My course was different than most because it started in Cambodia and finished in Thailand. It was unique to start out in Cambodia because it is a country I never knew much about and probably would not have chosen to travel to. The course was great because they organized awesome excursions for us like going to Angkor Wat and Sihanoukville. After the 2 weeks in Cambodia we went to Pattaya, Thailand.
This course stood out to me because we also got lessons in Thai. The class size was very small and they gave us a lot of advice and tips. It wasn't just about learning how to teach but learning how to live in Asia and what to expect and look for when finding a job.
I also loved the practicum teaching. I got to teach in a Kindergarten about an hour outside of Pattaya and it was so different than Kindergartens in the US, it was outside in a courtyard type setting with just fans (hot, hot, hot) but it was authentic and the kids were adorable, we had no materials. It really prepared me for anything. In comparison to other people who I have met here, this course went above and beyond.
How has your TEFL training helped you in your current teaching position?
TEFL training has helped me in my current teaching position because I learned a lot about organizing lesson plans, how to include the essential elements for teaching a foreign language - reading, writing, listening and speaking. I learned a lot of warmers and activities as well as how to manage a classroom.
Which city and country did you decide to teach English in and why?
I decided to teach English in Bangkok, Thailand because I thought I would have the best chance of finding a job. Bangkok stood out to me as a giant metropolis that was easy to travel to other countries and cities from.

How long have you been in this country and how long do you plan to stay?
5 months. At least a year probably more.
How did you secure your English teaching job?
I found the job on ajarn.com. I sent them an email with my resume and cover letter and then was asked in for an interview, followed by a demo lesson.
What school, company, or program are you working for?
Seeh Phinong International Kindergarte
How did you get your work visa?
My school is amazing and helped me with everything. It can be quite a complicated process in Thailand and I highly recommend working for a school that will not only pay for the costs but help you in securing the visa and work permit.
I needed my original diploma, transcripts, TEFL certificate, medical certificate, lots of photos, copies and signatures. Basically you have to get a non-b immigrant visa first, once you have that you have to apply to the Teachers Association and they have to approve you. Once you are approved you can apply to get your work permit which is tied directly to the school. Then you extend your non-b to be valid for a year. Every 90 days you also have to do visa checks. Luckily my school also takes care of this.
Tell us about your English teaching job!
I work for an International Kindergarten which is mostly Japanese students! There are 3 sections at the school: Japanese, International and Thai. My title is ESL Kindergarten Teacher. I teach lessons to the Japanese and Thai sections. The kids are aged 2-6 years old. I work from 8:30am-4pm. (with a lot of Thai holidays and class cancelations) I am paid about $1,200/month. I also get insurance and they pay for my taxes. I am able to save around $500/month. I have lots of vacation time! They have 3 main breaks (ALL PAID) each are around a month or more long: March/April, December/January, August/September.
How did you find somewhere to live and what is it like?
I found somewhere to live by walking around Bangkok and looking on Facebook. They have lots of groups for Bangkok like "Take over my lease" and "Desperately Seeking". I was looking at lots of postings in the groups before I came to get an idea of what to expect, but I heard it was best to wait till you arrive so you could see the place in person. There are so many places to live in Bangkok you can literally walk down the street and into an apartment complex and ask to see a room. For me, location was the most important thing. First I found the area I liked then I found my apartment. I live with my boyfriend in a brand new apartment with a pool and gym! It is something I would never be able to afford in Chicago.
Please explain the cultural aspects, public transportation, nightlife, social activities, food, expat community, dating scene, travel opportunities, etc...
THAI CULTURE: Thailand has a rich culture and it is ALL ABOUT FOOD. Thai people are always eating and wherever you look wherever you go you will find delicious food. In the mornings Monks walk around the city barefoot receiving offerings. Thai's are trustworthy and honest people. They leave all their goods in their stalls over night with just a blanket over it. It makes me feel very safe to live in this environment.
PUBLIC TRANSPORTATION IN BANGKOK: Public Transportation is great I mostly use the BTS comparable to the L in Chicago. It is modern and inexpensive. It costs me less than a dollar to get to work. They have lots of buses, but traffic is horrible and the buses do not have air conditioning! Motor bikes taxis are everywhere and also cheap and fun! Ordinary taxis are low cost too.
SOCIAL LIFE: Bangkok is so international you could live the same life you lived in the US here, (if you had a US salary). They have clubs, bars, everything. If you want to live a more local lifestyle, you can just walk around the city at night, that's when it really comes alive. All the vendors are out and you can walk down the street just looking side to side gazing at everything. Have a beer in front of a 7-11, go out to eat at a hot pot restaurant that stays open all night. My favorite thing to do is hanging out at the night market by my place. They have life bands, amazing thai food and lots of locals. There are lots of meetups around the city. From soccer to volleyball, cooking classes, yoga, meditation, you can find anything you are interested in.
FOOD: The food is soooo good and soooo cheap. Pad thai for a dollar? Yes please! There are so many desserts and lots of fresh fruit. I have a goal to try a new fruit every week and I still haven't tried them all. Don't be scared of street food!
EXPAT LIFE: The expat community is huge. You can meet people anywhere. Like I said above the expat community is huge and Thai people are very friendly.
TRAVEL OPPORTUNITIES: Travel out of Bangkok is cheap and easy. There are two airports in Bangkok, lots of bus terminals, mini buses and trains.
What are your monthly expenses?
Rent-$250/month
Food- $1.50 for street food, $10 in a restaurant
Social Activities- $150
Transportation-$30/month
Phone-$7/month for smart phone plan with wifi
Travel-depending if I go on a trip $150-$300
How would you describe your standard of living?
High.
In your opinion, how much does someone need to earn in order to live comfortably?
$1000 / month.
What advice would you give someone planning or considering teaching abroad? Would you recommend teaching in your country?
My advice is do it! Living in new places opens you up to so many things. It broadens your view of the world and makes you a better person. I have learned so much from traveling and from teaching. The kids teach you and you learn about the culture and the language from them in the best way possible. The thing I am most proud of in my life is my ability to jump out of my comfort zone and travel.
Yes, I would. Thailand is an incredible place. The food, the people, the cost of living and the opportunities are fantastic.
Kirsten is an ESL Kindergarten Teacher in Bangkok, Thailand. Sick of freezing winters, short summers, and an office with no window, she moved to Asia to teach and travel. She can be found on the back of a motorbike taxi hanging on for dear life, trying to order coconut shakes in Thai, or lounging by the pool.
Want to Learn More About Teaching English Abroad & Online?
Request a free brochure or call 773-634-9900 to speak with an expert advisor about all aspects of TEFL certification and teaching English abroad or online, including the hiring process, salaries, visas, TEFL class options, job placement assistance and more.