diversity abroad
Teaching English in Hsinchu City, Taiwan: Q&A with Prisca Saint-Hilair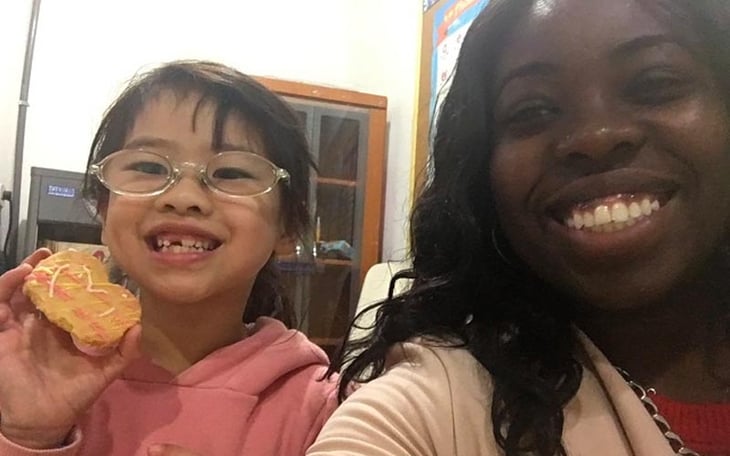 What is your citizenship?
United States
What city and state are you from?
Delray Beach, Florida
How old are you?
24
What is your education level and background?
Bachelor's degree

Have you traveled abroad in the past?
Some international travel with friends, family, business, etc.

If you have traveled abroad in the past, where have you been?
Puerto Rico; Haiti; Nicaragua; Dominican Republic; Bali, Indonesia.
What sparked your interest in going to teach English abroad?
My interest in teaching abroad was sparked by mentoring in the past and looking for ways to travel, have a lighter work schedule, immerse myself in other cultures, and give back.
What were some of your concerns before teaching abroad?
Some of my concerns included location safety, communication/language barrier, work/social life balance, and transportation.
What did your friends and family think about you moving and teaching abroad?
My family and friends did not believe that I would leave the country, especially alone, and for a year or more. I spent a year preparing everyone and constantly reminding them that I would be leaving. After a few months, they understood that I was serious about leaving, and they were supportive
Why did you decide to get TEFL certified and choose International TEFL Academy?
I chose international TEFL Academy because of the amazing reviews and benefits that were provided such as an advisor, a professor that would respond quickly, communication with classmates, and most importantly having an alumni network even after finishing the course.
Which TEFL certification course did you take?
Online TEFL Course

How did you like the course?

I liked the course. However I had issues with my practicing submissions. There was a system glitch at the time, and my practicum didn't upload and I was unaware. My professor and classmates were great. You can either work along with the course guide or work ahead as far as you would like!

How has your TEFL training helped you in your current teaching position?
I feel as though my TEFL training has helped me significantly when dealing with students of different age groups and learning how to lesson plan.
Which city and country did you decide to teach English in and why?
I decided to teach English in Taiwan in Hsinchu City. A friend recommended this school to me. Although under different owners, this is an amazing company to work for.
How long have you been in this country and how long do you plan to stay?
I have been here for 11 months. I plan to stay another year at the same school.
What school, company, or program are you working for?
Neurolink English Academ
During which months does your school typically hire?
The company typically hires year round.
Did you secure this position in advance of arriving?
Yes
How did you interview for this position?
I did not interview for the position. I was hired directly from my resume because I had a welcoming smile.
What kind of Visa did you enter on?
Tourist Visa
Please explain the visa process that you went through.
My school managers took care of the visa process and paperwork for me. They took care of all of my paperwork. I entered Taiwan with a tourist visa. You will need the original FBI background check (the laws have changed), TEFL certificate, diploma, and passport size photos.
What are the qualifications that your school requires for teachers? Please check all that apply
- Bachelor's degree
- TEFL Certification
- Native English speaker
What is the best way to apply?
Recruiter
Tell us about your English teaching job!
Hours: I work 25-30 hours a week and am guaranteed a minimum of 90 hours a month, but I always work more if I have not requested time off
Pay: 600 NT/hour is the pay. And if you renew your contract you are given a raise
School type: I work for a children's after school program, a cram school
Vacation time: I can request vacation time whenever I would like as long as it's at least a month in advance so they can find a cover teacher.
How did you find somewhere to live and what is it like? Do you have roommates?
My school managers help me with anything whenever I need help. When new teachers arrive, they are paired with one or two managers, and they help us look for housing, furniture, communicate with the landlord, shop for house hold items, set up a bank account, etc.
Please explain the cultural aspects, public transportation, nightlife, social activities, food, expat community, dating scene, travel opportunities, etc...
Public transportation in Taiwan is amazing. If you don't know how to drive a scooter, public transportation is extremely cheap. Every mode of transportation is in Chinese and English. The train and bus station schedules can be looked up online or seen posted on the walls in designated locations. There are several bus apps per city of for the county giving each stop, routes and prices and more.
Food is very easy to find; however, if you're unwilling to adapt to Taiwanese eating, there are plenty of Western restaurants to indulge in. They have Taiwanese and Western restaurants that cater to vegetarians and vegans as well.
Nightlife: My city is small, so nightlife isn't that great. Unless you're into bars. However the expat community and social aspect is really nice.
Dating scene: I'm not too familiar with the dating scene however. Tinder, Plenty of Fish, and Coffee Meets Bagel are the dating apps that are popular.
What are your monthly expenses?
Rent: $200USD
Utilities/phone: $55 USD a month.
Food: $100-200 USD depending on if I'm eating out or cooking. But buying Taiwanese food is really cheap. A large meal can be about $2 USD
How would you describe your standard of living?
Moderate/fancy
In your opinion, how much does someone need to earn in order to live comfortably?
$1000 USD is more than enough for someone who enjoys a lot of shopping, Western food eating, going to the movies, and drinking.

What advice would you give someone planning or considering teaching abroad? Would you recommend teaching in your country?
I would recommend looking into different schools, areas, and asking what branches are located where. Ask how many foreign teachers are present at the school, what assistance the school provides new teachers, etc. Something that's really important I learned the hard way: learn and understand the tax rate in which foreigners are taxed.
Prisca's interest in teaching abroad was sparked by past mentoring, looking for ways to travel, have a lighter work schedule, immerse herself in other cultures, and give back. After taking ITA's 11-Week Online TEFL Course, Priscilla decided to teach English in Hsinchu City, Taiwan with Neurolink English Academy.
Want to Learn More About Teaching English Abroad & Online?
Request a free brochure or call 773-634-9900 to speak with an expert advisor about all aspects of TEFL certification and teaching English abroad or online, including the hiring process, salaries, visas, TEFL class options, job placement assistance and more.