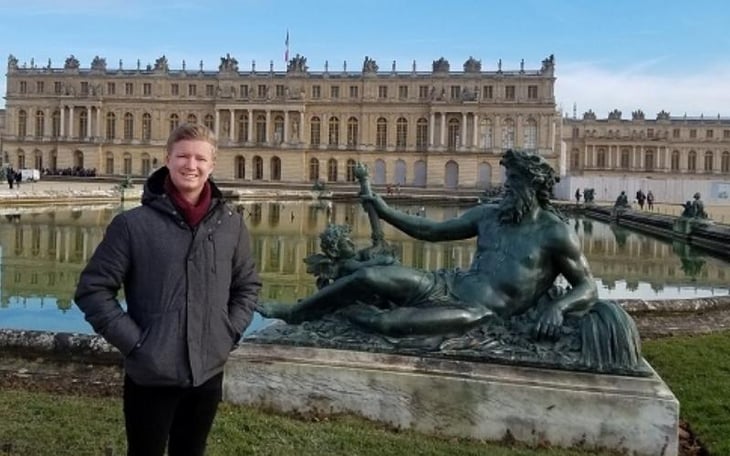 Mérida, Spain English Teaching Q & A with Adam Young
Written by: Adam Young
Last Updated: April 22, 2021
What is your citizenship?

United States

What city and state are you from?

Cincinnati, OH

How old are you?

23

What is your education level and background?

Bachelor's degree
Have you traveled abroad in the past?
Studied Abroad

If you have traveled abroad in the past, where have you been?
Canada, Costa Rica, Spain, France, Portugal, Morocco, UK, Ireland, Belgium, Italy
If you have studied abroad in the past, where did you study?

Spain, Costa Rica

What sparked your interest in going to teach English abroad?

I fell in love with Spain the first time I went to Barcelona at 16 years old, and then a few years later while studying in Granada, Spain, I found out about an opportunity to return to the country as a teacher following graduation. And ever since then, I haven't looked back.

What were some of your concerns before teaching abroad?

Finances, Missing my family

What did your friends and family think about you moving and teaching abroad?

Supportive, but also concerned and a bit sad that I was leaving them.


TEFL CLASS INFORMATION
Why did you decide to get TEFL certified and choose International TEFL Academy?

I have loved working as a teaching assistant, but I came to realize that if I wanted to advance further in my career, I needed a TEFL certification. And I loved that International TEFL Academy is so competitively priced AND can be completed online.

Which TEFL certification course did you take?

Online TEFL Course

How did you like the course?

I loved the course. The tasks were well-designed; the teacher was always available (though I did disagree with some of his grading), and the practicum was a great capstone to the course.

How has your TEFL training helped you in your current teaching position?

The skills that I have learned have helped me tremendously as a teaching assistant, both inside the classroom and in planning lessons outside the classroom, and I look forward to continue using this knowledge as I advance in my teaching career.

Which city and country did you decide to teach English in and why?

I chose to teach English in Spain, and I taught in the city of Mérida. I was placed here by the government after applying.
How long have you been in this country and how long do you plan to stay?

1.5 years, indefinitely

What school, company, or program are you working for?

Cultural Ambassadors Program (Auxilares de Conversación)

During which months does your school typically hire?

January-March

Did you secure this position in advance of arriving?

Yes

How did you interview for this position?

There was no interview

What kind of visa did you enter on? Please explain the visa process that you went through.

So I specifically don't have a visa, as I have double citizenship with the US and UK and can live in Span visa-free as a European. However, other Americans in the program have a visa, though I can't speak as to how the process functions.

What are the qualifications that your school requires for teachers? Please check all that apply

- Bachelor's degree
- Native English speaker

What is the best way to apply?

Apply online
Please include any application resources (website, email, etc.) or other information here:

Read more about the Cultural Ambassadors Program

Tell us about your English teaching job!

HOURS: 12 hours/week

SALARY: 700 euros per month (approx. $765 USD)

SAVINGS: Given how much I travel, I would not be able to save much money on only this salary. Luckily, it's very easy to find side jobs giving private lessons, so total I save about 300 euros ($325 USD) per month.

SCHOOL: I work at a public High School, and then in the afternoon as a side job I work at a private English Academy.

STUDENTS: Students at the high school are from ages 12-18; at the Academy from 3-12

How did you find somewhere to live and what is it like? Do you have roommates?

I found my flat by searching online and it is a quite nice three bedroom, two bathroom flat in the city center with a nice kitchen, for just 300 euros (approx. $325. USD) total split between 2/3 people! I have a roommate who is also an American English teacher here in Mérida.



COUNTRY INFORMATION - FUN!
Please explain the cultural aspects, public transportation, nightlife, social activities, food, expat community, dating scene, travel opportunities, etc...

Spain is a great country with some of the most friendly people in the world. Public transportation is great- buses and trains are abundant- and the nightlife is fantastic in larger cities, though not so much where I live as it's quite small.
However, there are still plenty of social activities to do such as language classes (I'm going to start a French course in the fall), outdoor activity clubs, you name it and you can find it if you search hard enough. Spanish food is amazing, though repetitive- bread, cheese, the best hams, seafood- what's not to love? Travel is also easy, using airlines like EasyJet and Ryanair. In all, I'd recommend Spain to anyone!

COUNTRY INFORMATION - MONEY
What are your monthly expenses?

Rent - 150 euros/month (approx. $163 USD)
Food - 100 euros/month (approx. $110 USD)
Social activities - 150 euros/month (approx. $163)
Phone - 30 euros/month (approx. $32.75 USD)
Travel - 300 euros/month (approx. $327.50)

How would you describe your standard of living?

High

In your opinion, how much does someone need to earn in order to live comfortably?

700 euros/month (approx. $765 USD)
ADVICE FOR PROSPECTIVE ENGLISH TEACHERS
What advice would you give someone planning or considering teaching abroad? Would you recommend teaching in your country?

Make sure to save up money and invest in some basics like games, flashcards, story books, etc. Secondhand stores and bookshops are perfect for this. Do your research online before you ever leave. I'd highly recommend Spain!
A native of Cincinnati, OH (he also holds citizenship from the UK), Adam fell in love with Spain the first time he went to Barcelona at 16 years old. A few years later, while studying in Granada, Spain, he discovered that there are opportunities to return to the country as a teacher following graduation. And ever since then, Adam hasn't looked back.
Want to Learn More About Teaching English Abroad?
Request a free brochure or call 773-634-9900 to speak with an expert advisor about all aspects of TEFL certification and teaching English abroad or online, including the hiring process, salaries, visas, TEFL class options, job placement assistance and more.