Teaching English in Singapore: Alumni Q&A with Brittany Schultz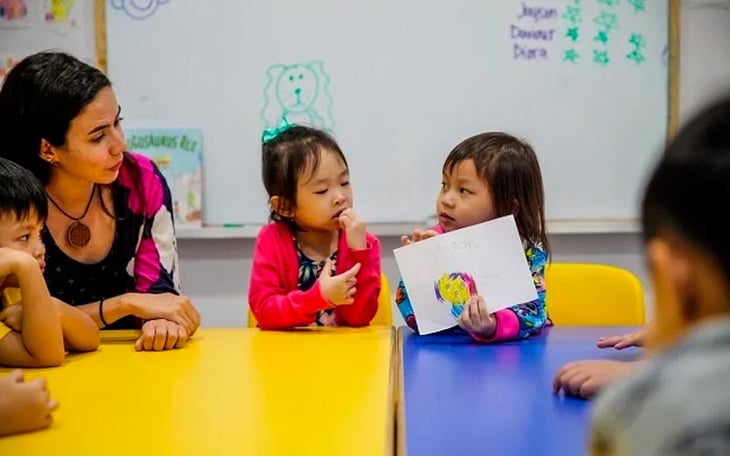 What is your citizenship?
United States
What city and state are you from?
Tucson, Arizona
How old are you?
24
What is your education level and background?
Bachelor's degree

Have you traveled abroad in the past?
Taught English abroad previously
If you have traveled abroad in the past, where have you been?
My boyfriend and I have traveled a lot in Europe, Asia, and the US, and a bit in Mexico and Ecuador.
What sparked your interest in going to teach English abroad?
I spent a year traveling with my boyfriend after we finished at University. During this time we volunteered in different countries doing various jobs, one of which was teaching English in Vietnam. We had already considered teaching English full-time, but this experience really solidified that idea. So when we finished traveling for the year, we went back to the states for a few months and got our TEFL certifications while teaching online.
What were some of your concerns before teaching abroad?
We were worried about the start-up costs, making friends, and any language barriers.
What did your friends and family think about you moving and teaching abroad?
My family was already used to me being out of the country for long periods of time, so it wasn't a big shock for them. Some of them were sad to be so far away again, but in general they were supportive of my decision. My friends were mostly excited because now they have an excuse to travel to Singapore!
Why did you decide to get TEFL certified and choose International TEFL Academy?
We looked through SO many different TEFL certification programs before we chose ITA. In the end, the reason we chose ITA was because of the support they provide. It was the only company that had people I could speak with over the phone before signing up and the only company that provides lifetime support. There are a ton a cheap options online, but the quality is generally poor. ITA connects you with alumni who can offer valuable advice and this is how we found our job!
Which TEFL certification course did you take?
Online TEFL Course

How did you like the course?

I enjoyed the online course because I could take it at my own pace and work at the same time. The instructor was good and responsive. The material was manageable and useful. I have previous teaching experience, so some of it I already knew, but it was still helpful to revisit.

How has your TEFL training helped you in your current teaching position?

The grammar section was a good refresher for my current position.

Which city and country did you decide to teach English in and why?
I decided to teach English in Singapore. We have been to other countries in Asia and love traveling this region. We chose Singapore because it is in a central location with a great international airport, so it is cheap to travel from here. There is also a high quality of life and everything is so convenient. Most people speak English and there is a great public transportation system. We also chose Singapore because the pay is good and we are able to save a lot.
How long have you been in this country and how long do you plan to stay?
We arrived to Singapore in May 2018 and began teaching in June. We have been teaching for four months now and plan to stay for a total of two years.
What school, company, or program are you working for?
My English Schoo
During which months does your school typically hire?
They hire year round, but have a lot of positions open in December.
Did you secure this position in advance of arriving?
Yes
How did you interview for this position?
Skype/Phone Interview
What kind of Visa did you enter on?
Work visa
Please explain the visa process that you went through.
The visa process in Singapore can be complicated for the employer, but it was very easy for us. Our employer did all of the paperwork and got our visa application approved before we arrived. When we got here, we had to have a medical check-up and go to a government office to get the official visa. Our employer paid for everything. In order to get a working visa, you must have a Bachelor's Degree, and it is easier to get if you are under 30 years old.
What are the qualifications that your school requires for teachers? Please check all that apply
- Bachelor's degree
- Native English speaker
What is the best way to apply?
Email
Tell us about your English teaching job!
Work Hours: I work 36 hours per week but only teach for a maximum of 29 hours. Wednesday, Thursday, and Friday 2-9pm. Saturday and Sunday 9-6pm. We have Mondays and Tuesdays off which is great for us because everything is less crowded on these days! We occasionally have an additional meeting to attend in a week.
Pay: We make $4,300 per month (about 3,200 USD). We also get monthly bonuses if we have a higher number of students. My boyfriend has less students, so he doesn't get the monthly bonus. But I have ~125 students, so I get an extra $300 sgd every month. There is also an end of contract bonus if you complete the 2-year contract.
Savings: We have been able to save a lot living here. We each save at least $1,500 sgd (a little over $1,000usd) per month. Some months when we travel or buy plane tickets we save a bit less. We are able to save this much because we don't spend a lot on alcohol or going out. It is expensive to drink here, so it would be easy to spend a ton on that.
School: The school we work for in an English Tuition Center. So the kids come here in addition to their regular school. Each child comes once per week for 90 minutes. The Singaporean parents are very concerned about their children's academic abilities and enroll them in many tuition centers. Most of the students already know English, so we teach them how to read (for the younger ones) or writing and grammar skills (the older ones). My company has 10 locations across Singapore. One major perk of this company is that all of the lessons are already created, so there is minimal lesson planning. I am also able to complete all of my grading during working hours, so I never have to take my work home with me!
Students: We teach children ages 3-12. The younger students are being taught sounds and reading skills. The older students are being taught writing, grammar, and speaking skills. We have a maximum of 10 students per class and we teach them for 90 minutes.
Vacation Time: We are technically allowed 15 days off our first year and 20 in our second. But the school is closed for six weeks out of the year (one week in spring, one in summer, one in fall, and three in December) and you can choose to take all of that time off. At the end of the contract, we owe back any additional days we took off. We also get public holidays off throughout the year. We will be taking off all of the vacation time and just taking the money out of our bonus at the end of the two years. One of the reasons we chose this job is because of all the vacation time. We are able to travel every three months!
How did you find somewhere to live and what is it like? Do you have roommates?
We found this job through ITA Alumni, Kelsey Ax, and we asked her a TON of questions throughout our moving process. She recommended the neighborhood we live in now and we love it. There is a website called property guru which has hundreds of places for rent. We contacted an agent through this website and set up viewings in the neighborhood we wanted to live in. The process was quite easy and our company puts each teacher in a hotel for the first five days while they look for a place. Because I came here with my boyfriend, we were about to get our own apartment together. Most of our friends who arrived alone rent a bedroom and share a flat with others. Some of them live with other teachers and some of them live with random roommates. Our flat has two bedrooms, a small kitchen/living room, two balconies, and a bathroom. We have a shared swimming pool and lounge area. We are within a 10 minute walk to the MRT (train system), the grocery store, and a library.
Please explain the cultural aspects, public transportation, nightlife, social activities, food, expat community, dating scene, travel opportunities, etc...
Culture: Singapore is a diverse country and is mostly populated by Chinese, Indian, and Malaysian Singaporeans. It is nice to be surrounded by so many different cultures because we get to see different celebrations and holidays. The Mid-Autumn Festival was last month and we ate tons of mooncakes and watched children carry their lanterns around Gardens by The Bay.
Public Transportation: Singapore has mastered the public transportation system! The MRT (train network) goes to most places across Singapore. There are also tons of buses that you can take if the MRT doesn't go where you want to go. The buses and MRT are clean, safe and efficient. There are also taxis and Grabs (like Uber) everywhere. We love the ease of transport and that we never have to drive or worry about how to get somewhere.
Nightlife: There is everything you could want in terms of nightlife in Singapore. However, it is quite expensive to drink alcohol here. If you don't mind spending a lot, then you can go to amazing rooftop or waterfront bars all around the city. There are also smaller/cheaper bars and hawker centers (outdoor food courts) that you can go to. The city is vibrant and we like to spend the evenings just walking or cycling around the beautiful downtown area.

Social Activities/Expat Community:

It was very easy for us to make friends when we arrived here. We met people through work and through a website called meetup. However, the people we met through meetup typically have different working hours than us, so we don't get to see them often. We spend most of our free time with our fellow teachers who were all very warm and welcoming. We like to cycle around town or at the beach, go hiking, gather for food and drinks, or have BBQs.

Dating Scene:

We arrived as a couple, so we are not involved in the dating scene. But we know a lot of friends who are on Tinder and haven't had any trouble finding dates!
Food: The food in Singapore is AMAZING! We are both vegetarians, and we were concerned about being able to find food here, but it has been a breeze. You can find everything from Michelin Star restaurants to $2 meals in Hawker Centers. There is basically any kind of food you could dream of. We like to eat in Hawker Centers which are cheaper outdoor food courts. They are always busy and lively! The food from the food stalls here is rated in cleanliness and safe to eat.
What are your monthly expenses?
Rent: We pay $2100 sgd for our apartment (about 1500 usd). Since we split the cost, it ends up at $1,050 sgd each ($760 usd). Our friends who rent rooms pay between $700 and $900 sgd per month.
Utilities: We pay $15 per month on our sim cards for data and calls. $40 per month on wifi. $120 for electric and water. When we split it up, it ends up at about $100 each ($70 usd).
Food: We cook at home and bring food to work on weekdays, and we eat out on our days off. We spend about $100 per week on food each. That's a total of $400 each on food per month (about $290 usd). You could spend a lot more or less depending on your eating habits. Since Singapore is an island, everything has to be imported. This means that things like cheese and Western brand foods are more expensive.
Social Activities: The things we like to do on our weekends are often free or very cheap. We like riding our bicycles (we paid $180 for each bike) around Singapore. We also like to gather with friends for food or drinks. If you like to go out to bars and clubs, then it can be pricey. We sometimes rent beds on the beach, go to museums, the zoo, or other attractions that cost money. I would say we usually spend less than $300 per month on social activities.
Transportation: I spend about $100 per month on transportation because I have a longer route to work. My boyfriend spends only $50 per month on it

Travel:

Each month is different. You can get really cheap flights to other parts of Asia. We recently traveled to Taiwan and had a cheap holiday there. We've just bought tickets to Australia for xmas and those were $600 sgd round-trip
Other: We have a spotify subscription and always end up spending money on random extra things. This could add up to about $200 per month.
Our first month here we had to spend a lot of money on down payments for rent and utilities; we had to buy things for our house and all the start-up necessities. However, our boss gave us a loan that we quickly repaid once we started working.
Total Spent Per Month: About $2,200 sgd ($1600 usd) plus extra for traveling every few months. Maybe $1000-2000 once every three months.
How would you describe your standard of living?
Our standard of living is very high in Singapore. We live in a lovely apartment, and we don't have to worry about money. We get to travel regularly and have already made good friends. Singapore is also a very safe place to live, which adds tremendously to our quality of life. I feel safe walking home alone at night and taking taxis by myself.
In your opinion, how much does someone need to earn in order to live comfortably?
As an individual moving here, the pay we get is great! It is enough to cover all expenses, travel, and still have some to save. Since we are a couple sharing our expenses, it is even more comfortable for us.
What advice would you give someone planning or considering teaching abroad? Would you recommend teaching in your country?
Teaching and living abroad is an incredibly rewarding experience and if you are considering it, I'd say there is no better time than now! It is important to be sure that you are committed to teaching to your best ability and realize that this is a serious job, not just a paid holiday. As long as you're okay with that, then go ahead and get started! It is a good idea to have some money saved up so that you're prepared for the upfront costs. Especially if you're going to a job that won't give you a start-up loan. If you can arrive a week or more before your training starts that would be ideal! Then you can settled in a bit and get adjusted before rushing into training and work. I would 100% recommend living and working in Singapore! It is a beautiful place and super easy to transition to. The job and lifestyle are wonderful.

After graduating from college, Brittany spent a year traveling and volunteering in different countries doing various jobs, one of which was teaching English in Vietnam. She had not really considered teaching English full-time, but that experience solidified that idea. After returning home to the US after her one-year travel adventure, Brittany and her boyfriend got TEFL certified with ITA and moved to Singapore to teach English to children ages 3-12.
Want to Learn More About Teaching English Abroad & Online?
Request a free brochure or call 773-634-9900 to speak with an expert advisor about all aspects of TEFL certification and teaching English abroad or online, including the hiring process, salaries, visas, TEFL class options, job placement assistance and more.