Teaching English in Moscow, Russia: Alumni Q&A with Jessi O'Neill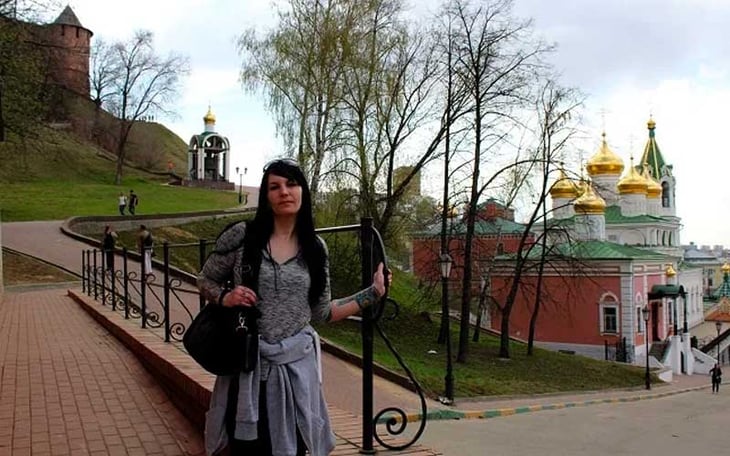 What is your citizenship?
United States
What city and state are you from?
Mobile, Alabama
How old are you?
35
What is your education level and background?
Bachelor's degree

Have you traveled abroad in the past?
Some international travel with friends, family, business, etc.
If you have traveled abroad in the past, where have you been
Throughout Europe
What sparked your interest in going to teach English abroad?
After finishing my degree in 2003, I had ended up with a wholly unsatisfying career, both personally and financially. I've always been prone to burnout from a rigid work schedule and have never been able to stay put in any single city, and so I have moved around a lot. My mother is the one who actually suggested that I consider teaching English abroad. It had never crossed my mind because teaching is not my background. When I (finally) looked into it, I realized that it was not just some volunteer thing that college kids do between semesters - but a real, viable career option. It was like discovering I had wings!
What were some of your concerns before teaching abroad?
My biggest concern was finding myself in a bad situation and having to jump ship, losing a lot time and money and having to go back home and start over from scratch. Moving overseas the first time is a really big deal, especially in your 30's. I decided to save everything I could so that in the worst case, I could quickly move on to another job.
My second concern was more psychological. I'm actually terrified of public speaking! But it turns out that lecturing at a podium to a hundred bored students is not what teaching English is about.
What did your friends and family think about you moving and teaching abroad?
Everyone was completely supportive. I had always moved around a lot, so it was no huge change for me to be away from home. My parents love to come and visit me.
Why did you decide to get TEFL certified and choose International TEFL Academy?
I decided to get certified so that I would have an edge when applying for jobs overseas. I know there are programs you can do on site, but doing the program online gave me time to mentally and financially prepare myself, instead of jumping in head first. I chose International TEFL Academy because they are well-established, had a ton of information online and were completely transparent about what I could expect from being certified with them.

Which TEFL certification course did you take?
Online TEFL Course
How did you like the course?
The course was great! I was able to easily communicate with the school and my instructor. I would log in for the lecture and she would present the material and we could discuss things. It was just like a normal classroom, except I was at home in my PJ's.
My practicum (live practice teaching) was a fantastic experience. I volunteered with the local refugee center and got to work with a lot of amazing people. I actually stayed on after the practicum was complete until I left the country for my first job.
The information and materials I was given have been extremely helpful and three years on I am still referring to them. The Job Search Guidance book you will receive is a gold mine of information.
How has your TEFL training helped you in your current teaching position?
My TEFL training was really helpful. I felt way more confident starting out. Not only did it help me get my first job, but I was able to start at a higher pay than people who started as interns.

Which city and country did you decide to teach English in and why?
I decided to teach English in Russia in the city of Moscow because they have really excellent job opportunities for new teachers. It was a perfect fit.
How long have you been in this country and how long do you plan to stay?
I stayed for a year, then moved to Prague, and now I am back in Moscow. I plan to stay in Russia for the foreseeable future.
During which months does your school typically hire?
Summer - the new term starts in September.
Did you secure this position in advance of arriving?
Yes.
How did you interview for this position?
Skype/Phone Interview.
What kind of Visa did you enter on?
Work visa.
Please explain the visa process that you went through.
Getting any type of visa to Russia is a major, time-consuming, and expensive pain. However, if you go through a big school like Language Link, they are able to make the process as easy as possible. Set aside at least two months to get your work visa, or be prepared to pay through the nose to have it expedited.
What are the qualifications that your school requires for teachers? Please check all that apply
- Bachelor's degree
- Native English speaker
What is the best way to apply?
Apply online
Tell us about your English teaching job!
Hours: I worked about 30 hours per week. Under contract you can be required to work a lot more and at ungodly times, but I didn't know anyone with a horrible schedule.
Salary: Pay was fine. They school provided housing and food is cheap here.
Savings: Because I had saved about $5000 before going, I was able to save a huge chunk of what I earned working - about $8,000. People who come over without savings are able to break even every month.
School: Language Link is a big private school operating mostly in Moscow, though there are schools in other parts of Russia as well. The pay isn't the best in town, but it's reputable, stable, and there is a good support system in place. They also provide certification so you can have even more qualification when you finish your contract with them.
Students: Students are a mixed bag. You can get everything from preschoolers to adults in various class sizes. No classes are larger than 12 students. You may be required to travel to other branches or even to individuals.
Vacation: You will get a lot of mandatory vacation time in Russia. Just when you come back from one holiday, it seems there is another!
Moscow is a huge city and it is quite hard to get around without Russian language. It is not like the rest of Europe, and you cannot get by on English. Before you decide to go, at least learn enough Russian to read and use the alphabet.
How did you find somewhere to live and what is it like? Do you have roommates
The school provided housing (with a roommate) so it was really easy - a driver picked me up at the airport and took me to my flat. The housing was decent and I had everything I needed. It was far from luxurious, but perfectly respectable.
Please explain the cultural aspects, public transportation, nightlife, social activities, food, expat community, dating scene, travel opportunities, etc...
Moscow is a strange city. It is truly enormous and on a scale that is hard to imagine. It is more like the industrial zone of Pittsburgh than the quaint streets of Amsterdam. It is also ugly outside the center. It is essentially a vast ocean of apartments linked by sidewalks which is joined at the center by Red Square.
Culture: Russians are good people who do what they say they will do. You will quickly notice that nobody seems to smile here. It is not considered normal to smile at strangers and people will become uncomfortable if you smile at them. Also, ladies, don't smile at men - it can send the wrong message. Oh and invest in new socks. You have to take your shoes off in peoples houses - after you get used to it, you will think Americans are brutes for stomping around the house in dirty shoes!
Nightlife: There is no nightlife that I am familiar with because there are no bars - just restaurants that serve alcohol. There are events and occasions and concerts, so there is plenty to do if you have a purpose, but you can't really just go "hang out" in Moscow. Plus, you won't want to because of the cold.
Transport: The public transport is amazing here. You simply must see the metro - it is the most beautiful in the world! Also, taxis are really cheap, and you can pay just about anyone to take you somewhere, but women traveling alone should use caution and only take registered cabs.
Food: Ok. I have to be honest. Russian food is pretty bad. A lot of pickling, mayonnaise, and weird preparations for fish. On the plus side, forget Whole Foods. Russian food is really healthy, cheap, and high quality. Imagine 40 different types of raw honey. Did I mention healthy? I lost 15 lbs one month after I moved here! Try the borsch, it's always good.
Expats: As far as I know, the expat community is pretty small here, especially Americans.
Dating: There will be plenty of opportunities to meet people here, and speaking Russian will help. I met my husband here, and in fact he was my student. We have a four-month old son together.
Travel: You may get opportunities to travel, and Russia is quite beautiful in the countryside and small towns. However, you may find it is difficult to get around outside of Moscow. You will, however, have a multi-entry visa and Europe is just a quick, cheap flight away.
Anything else? : A few things come to mind. First of all, Russians are proud of their history. The collapse of the Soviet Union was traumatic, and the 1990's were a very difficult time. It's best if you keep flippant comments about the Soviet Union to yourself. Don't get caught using, buying, transporting or selling drugs. This could end very badly for you. If someone invites you to their dacha (country house), you should go and be prepared to spend the night!
What are your monthly expenses?
Rent: Depends. Housing in Moscow is very expensive compared to salaries. Stick to schools that provide housing. Otherwise expect to spend at least $400/month on a flat or $750 to live nicely.
Food: Food, including restaurants, is pretty cheap compared to the West. You could probably get by on $100 a month for food.
Social Activities: You can do a lot for free here, but a night out can be expensive as you have to go to the center.
Phone: Super cheap! $10-$20/month
Travel: This depends. Public transport is cheap, but it adds up if you use it every day. Budget for at least $2/day.
Other: Clothes! You will have to buy snow boots and a good coat. The shoes can be pretty cheap, but you need to have at least $250 for a proper coat. Winter clothes are not negotiable - consider it an expense. Medical care and medicine is cheap and Americans are not required to have health insurance of any sort. Your job may provide it for you.
How would you describe your standard of living?
The standard of living here in the city is basically on par with the rest of Europe, but a bit lower than the US. You will have to wash your own dishes, and you can kiss your clothes dryer and AC goodbye, but otherwise it's basically the same. Outside of the city, living can get a bit rustic.
In your opinion, how much does someone need to earn in order to live comfortably?
As far as how much you need to earn to be comfortable, everything depends on your housing situation. I do not recommend arranging your own housing unless you speak Russian and know what you are doing. My guess would be that you need about $800 a month to be comfortable in Moscow.
What advice would you give someone planning or considering teaching abroad? Would you recommend teaching in your country?
I recommend going to Russia if you really like the idea of going specifically to Russia. It's not for everyone, and it helps to know a bit of the language, but there are great employment opportunities. You will get really good teaching experience, and you can probably save a bit too.

After finishing her degree in 2003, Jessi had ended up with a wholly unsatisfying career, both personally and financially. She has been prone to burnout from a rigid work schedule and has never been able to stay put in any single city. Her mother suggested that she consider teaching English abroad. When Jessi finally decided to look into it, she realized that it was not just some volunteer thing that college kids do between semesters - but a real, viable career option. She got TEFL certified through ITA and moved to Moscow, Russia to teach English to children.
Want to Learn More About Teaching English Abroad & Online?
Request a free brochure or call 773-634-9900 to speak with an expert advisor about all aspects of TEFL certification and teaching English abroad or online, including the hiring process, salaries, visas, TEFL class options, job placement assistance and more.