Lima, Peru English Teaching Q&A with Caitlin Self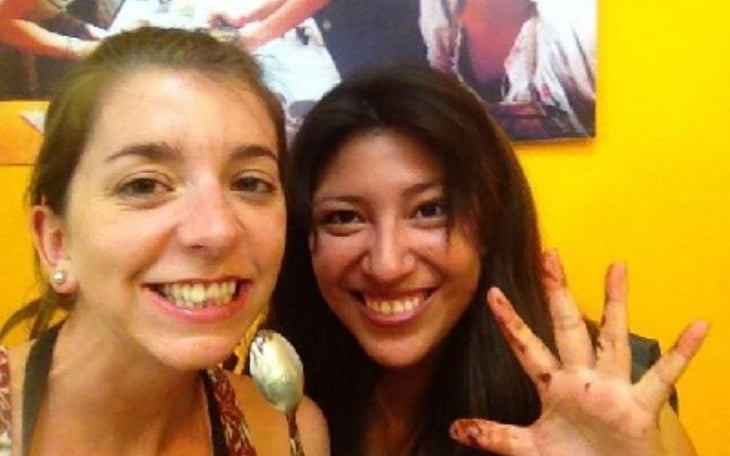 What is your citizenship?
United States
What city and state are you from?
San Diego, CA
How old are you?
25
What is your education level and background?
Bachelor's Degree
Have you traveled abroad in the past?
Some international travel with friends, family, business, etc.
If you have traveled abroad in the past, where have you been?
Portugal, England, Ireland, China, Japan, Vietnam, Thailand, Hong Kong, Cambodia, Malaysia, Indonesia
What sparked your interest in going to teach English abroad?
Traveling throughout Southeast Asia made me want to continue traveling, and this way I can make money doing it!
TEFL CLASS INFORMATION
Why did you decide to get TEFL certified and choose International TEFL Academy?
We choose International TEFL Academy because it required practicum hours, and it seemed pretty legitimate compared to other programs.
Which TEFL certification course did you take?
How has your TEFL training helped you in your current teaching position?
I believe it has helped tremendously because almost all of the applications required proof of a certification of some sort and in my interviews here in Peru there were always questions about the course.
TEACHING ABROAD IN LIMA, PERU
Which city and country did you decide to teach English in and why?
I am teaching English in Peru, because of surf, food, and Spanish.
How long have you been in this country and how long do you plan to stay?
I plan to stay for 1 year.
How did you secure your English teaching job?
I basically scoured the internet for job openings and teaching centers. I used Google, Craigslist, ExpatPeru, LivinginPeru, and any other random site I could find.
What school, company, or program are you working for?
I'm actually working for 3 different companies in order to fill my schedule.
Summit Education - https://usummit.com/
English Life Peru - http://englishlifeperu.com/
El Tulipan - https://www.eltulipanperu.com/
How did you get your work visa? If you didn't get a work visa, please elaborate on working under the table without a work visa.
I did not get a work visa, and haven't had issues yet in regards to payment. One of my jobs asks that I find a recibo, which is some sort of a Peruvian tax receipt, so that they can claim their taxes, but they are finding a way around it.
Tell us about your English teaching job!
My schedule isn't completely full yet, but I'm working about 15 hours right now. The pay is anywhere from 20 soles an hour to 27 soles an hour. I'd recommend trying to find a company that pays 25 soles. I'm working at multiple institutes because no single company could give me more than 1 or 2 classes. One of my classes is with a 12 year old girl, and the rest are with business adults, mostly at their company's office. I have one class that is taught via Skype. As for vacation time, they just ask for 2 weeks notice before you take vacation, and to try and find a substitute if you can.
What I want to share: Keep interviewing, even after you've found a great company. Different companies focus on different things. 90% of the companies here can give you 2 classes a day, before 9am and after 6pm...but nothing during the day. I continued accepting interviews and positions, and now have some of my days filled as well, which is great. The pay is not very good, and saving is hard, but it is really very cheap to live here, so it's more than enough to survive. I'm frugal!
How did you find somewhere to live and what is it like? Do you have roommates?
We found a place on airbnb.
COUNTRY INFORMATION - FUN!
Please explain the cultural aspects, public transportation, nightlife, social activities, food, expat community, dating scene, travel opportunities, etc. about your country:
Cultural aspects: Very cool, everyone is very nice, though we are in the safest area and haven't had any problems.
Public transportation: Scary! There is a North-South metropolitano that is very reliable, and then Combis and Micros, which are mini buses, that go in all directions for just 1 sol. The schedule is almost nonexistent, and it is a challenge to find the right bus, but a fun challenge and it works out. The only thing is that culturally, Peruvians don't like to say no...so they might give you the wrong directions, or let you get on the wrong bus, simply because they don't know how to say no or 'I don't know.'
Nightlife: Haven't gone out much, but it is relatively expensive to drink alcohol here, compared to everything else! Beer prices are about the same as they are in the States.
Social activities: Haven't explored enough yet...but we went on a bike tour, which was great, about $25 a person with our South American Explorers Club discount.
Food: Amazing! It's been a great experience tasting and making food. I'm taking a cooking class in a few weeks!
Expat community: Pretty good. We have been to the SAE Club a lot for maps and guidance and Internet when ours isn't working well.
Travel opportunities: Haven't quite looked into it, but very good from what I've heard.
COUNTRY INFORMATION - MONEY
What are your monthly expenses?
Rent/utilities: $380 for two people to rent a room in a 4-bedroom apartment in the center of Miraflores, including all utilities.
Food: Probably about $175 a month for two people, but we shop at the local market for meat and produce. The grocery stores are much more expensive.
Social activities: N/A would be a lot though if we were going out.
Transportation: $20-$30 per month
Phone/communication: Prepaid phones and service are the same as the States. Phone for about $30.
Other: Water! That's a big one. It's like $30 a month.
How would you describe your standard of living?
It's pretty decent. The location is AMAZING, but we share 1 bathroom and 1 kitchen with 3 other people AND their significant others. It's okay though, we live frugally and have all we really need.
In your opinion, how much does someone need to earn in order to live comfortably?
You should shoot for 25 soles an hour in this country to live comfortably.
ADVICE FOR PROSPECTIVE TEACHERS IN LIMA, PERU
What advice would you give someone planning or considering teaching abroad? Would you recommend teaching in your country?
I would say make sure you do a lot of research on the program and the country before making any decisions.
Caitlin Self is a long-time writer, runner, and eater, with a voracious appetite for travel. After years as a citizen in San Diego, she finally made the leap to become an Expat in South America. She's currently teaching English as a second language to business professionals in Lima, Peru. Once she's traveled the entire world, she hopes to do it again. Next on her list: teaching English in Japan.
Want to Learn More About Teaching English Abroad & Online?
Request a free brochure or call 773-634-9900 to speak with an expert advisor about all aspects of TEFL certification and teaching English abroad or online, including the hiring process, salaries, visas, TEFL class options, job placement assistance and more.