no degree
Teaching English in Panama City, Panama: Alumni Q&A with Nicky Irber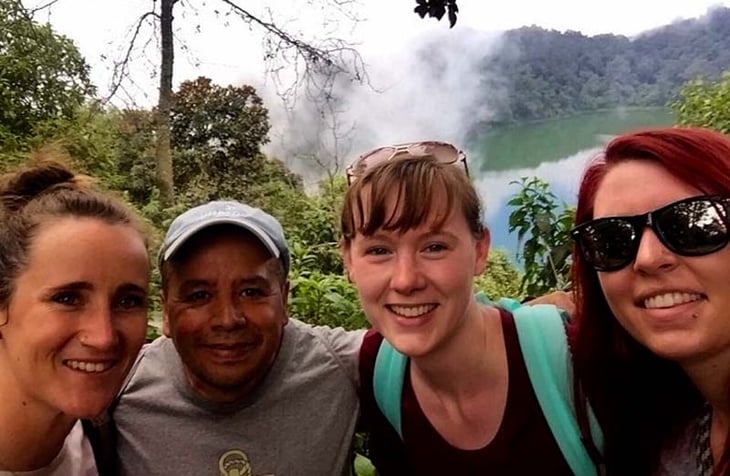 What is your citizenship?
United States
What city and state are you from?
Cottage Grove, Minnesota
How old are you?
25
What is your education level and background?
Associates degree

Have you traveled abroad in the past?
Some international travel with friends, family, business, etc.

If you have traveled abroad in the past, where have you been?
Costa Rica, Nicaragua, Guatemala, Honduras, England, Iceland, Panama, El Salvador, Mexico, Colombia, and the Dominican Republic.
What sparked your interest in going to teach English abroad?
Since I was about seven years old, I knew I wanted to leave the United States. In August 2016 I decided to quit my job, get rid of everything I had in Chicago and travel for a year. Before I started traveling, I started looking into ways I could live a life abroad permanently. This is when I discovered that I could become an English teacher. When looking into the process I discovered the TEFL course is easy to find and inexpensive.
What were some of your concerns before teaching abroad?
My only real concern was if I was going to enjoy teaching or not. Before the course I really did not know English grammar. I can speak and write fluently, but I did not know the rules behind what I was doing. This is what scared me the most.
What did your friends and family think about you moving and teaching abroad?
My family knows I am a free spirit, and I was bound to pack my bags and leave eventually. My friends were also not surprised since they know the love and passion I have for traveling. It was only natural my next step was to find a way to leave the United States to travel and work. Luckily, both my friends and family have been a great support.
Why did you decide to get TEFL certified and choose International TEFL Academy?
After thorough research online, naturally I decided to go with International TEFL Academy. What really got me was the affordable price, choice of location for classes, and the lifetime job assistance.
Which TEFL certification course did you take?
Costa Rica - Heredia.
How did you like the course?
Melanie and Luke are literally the best! I highly recommend taking the course in Costa Rica. The course is intense, you will have to dedicate many hours during the month. However, Melanie and Luke make the course fun and the learning approach is great. They really teach you the grammar and what you need to know to be a successful ESL teacher. You learn so much in the month you are there!
How has your TEFL training helped you in your current teaching position?
It has taught me the different approaches to teaching, how to incorporate games and activities to make your lessons fun, an insane amount of ideas for future lessons, and the real life practice is SO helpful. They really know how to give you constructive criticism, so when you do your next lesson you have already improved on your weaknesses!

Which city and country did you decide to teach English in and why?
I decided to teach English in Panama in the city of Panama City. I had visited Panama before and I really enjoy the country. I am also a city person. Being able to live in the middle of the action is something I could not have afforded to do while I was in the States living in Chicago. Also, for Central America, you make pretty good money here in Panama in the city.
How long have you been in this country and how long do you plan to stay?
I have been in Panama for a little over 5 months now. I have no idea how long I plan to stay but I know it will be more than one year.
What school, company, or program are you working for?
I am currently working for a company called Future Business Learning
During which months does your school typically hire?
They hire only when they need new instructors. The company is small, about 12 instructors in all.
Did you secure this position in advance of arriving?
No.
How did you interview for this position?
In-Person Interview.
What kind of Visa did you enter on?
Tourist Visa.
Please explain the visa process that you went through.
I do not have a working visa. I am here on a tourist visa. The government has recently changed the visa, and I am now able to stay for 6 months on my tourist visa. However, after the 6 months are up, the law says you need to exit the country for 30 days. For me I was able to take a 6 day vacation and return to the country. I have read that they are not really enforcing this new law yet. So it is still possible to stay for 6 months, leave for 3 or 4 days and come back to the country. (However, I have heard that land boarder crossings are more strictly enforced than when trying to reenter through the airport)
What are the qualifications that your school requires for teachers? Please check all that apply
- TEFL Certification
- Native English speaker
What is the best way to apply?
Apply online.

Please include any application resources (website, email, etc.) or other information here:
You can find Future Business Learning on Instagram and LinkedIn. Ultimately, I found out they were hiring while I was job searching on LinkedIn.
Tell us about your English teaching job!
Type of school: At Future Business Learning I am a Private Contractor. This means that I do not have a set schedule. I do not pay taxes and, I do not receive paid vacation time. How it works is I either have class in my office or I travel to other locations to teach classes in the students office. I teach Business English to business professionals that need the language in order to perform their daily jobs. I am enjoying the company very much. I have wonderful coworkers and teaching the business side of English is really fun! My TEFL class prepared me very well for this position because my lesson plans for FBL are almost the exact format I used in my TEFL classes!
Salary: Depending on how many students I have, I usually make between $1,000 and $1,800 a month. If I have 15 hours of class a week I will make around $1,000 a month. If I take on 25 hours of class a week I usually make around $1,800 a month.
Ability to save: Living with roommates in the city.....I would say you could live off of about $1,000 a month. It all depends on your lifestyle. Rent can be expensive here. I would say an average 1 bedroom in the center is about $800 and up a month. If you live with roommates you can drastically cut your living expenses.
Vacation time: I can easily take time off from work to make my boarder runs but unfortunately they are unpaid. However I think I landed a great job with a great company.
How did you find somewhere to live and what is it like? Do you have roommates?
Encuentra24 is huge here. I found my apartment on this site. Otherwise just walk around the neighborhoods you wish to live in. Look for rent signs in the different apartment buildings. You will find many apartments this way here. Right now I do not have roommates. I am living in a 1 bedroom apartment in El Cangrejo.
Please explain the cultural aspects, public transportation, nightlife, social activities, food, expat community, dating scene, travel opportunities, etc...
Public transportation is very easy and cheap to use. There are Metro buses (.25 to .75) and the Metro Train (.35). There are also private Chivas you can take as well. Of course there are taxis and Uber here as well. A cheap alternative to public transportation is to buy a scooter here.
Food: There are many restaurants and bars to go out to with friends and for a night out. You can score local food for $3-6 a plate. If you are looking for a more western food experience, there are plenty of options. However, expect the western price tag to be attached.
Travel opportunities: In the city you can access any part of Panama from the National terminal in Albrook. Panama is relatively small so you can go anywhere within 12 hours.
Cultural aspects: As for culture the people are generally very friendly. However customer service in Panama is lacking. Do not expect 5 star service here. However, once you have gotten used to the slower and lack of attention to details, you will be fine.
Dating is similar to the Untied States. Tinder is a common app many people use to date here. Otherwise just going out to the bar or any other activity that interests you are easy places to chat and meet new people.
What are your monthly expenses?
My rent and utilities comes out to $1,000 a month.
Food is more expensive here compared to other countries in Central America. However I spend maybe $250 a month on groceries. There are many grocery stores as well as local markets to buy food.
Transportation: I use Uber and public transportation and spend about $150 a month... This is a lot, and I will be buying a scooter this month so I will not need to use Uber any more.
Social activities: A ticket to the cinema is $6. Bowling for 2 for an hour is $25. Social activities are more similar to US prices.
Travel is easy in and around Panama and inexpensive. You can fly out of Tocumen the international airport. Or take a bus throughout Panama or to other parts of Central America.
Phone/internet: For my phone I use Movil (there are Claro, Movistar and Movil here). Super easy I buy a sim card and buy prepaid cards. I spend $20 a month on my phone to have data.
How would you describe your standard of living?
I would say I live comfortably and a very western lifestyle here. I have a nice apartment in the center of the city with a rooftop pool and skyline views. I am able to go out when I want to and explore other parts of Panama on the weekend and when I take time off. I would say you can live a good middle class lifestyle here without putting in the same hours of work back in the US.
In your opinion, how much does someone need to earn in order to live comfortably?
With roommates I would suggest a minimum of $1,000 a month. By yourself $1,500-2,000 depending on how nice of a lifestyle you want.

What advice would you give someone planning or considering teaching abroad? Would you recommend teaching in your country?
Do it. You only live once so why not go outside your comfort zone and try something new. If you do not like it you can always go back. I do not regret my decision at all. But once you start, give yourself a few months to really settle. The first two months teaching, I would describe as a transition period if this is your first teaching experience. Once you get the hang of your students, your teaching approach and lesson planning everything is pretty laid back and fun! But the first two months can be stressful adjusting. Overall, DO IT!


In August of 2016, Nicky Irber decided to quit her job, get rid of everything she owned, and travel for a year. Before she started traveling, she looked into ways she could live abroad indefinitely and discovered that she could teach English as a foreign language. She took ITA's TEFL Course in Costa Rica before moving to Panama City, Panama, to teach Business English to adults.
Want to Learn More About Teaching English Abroad & Online?
Request a free brochure or call 773-634-9900 to speak with an expert advisor about all aspects of TEFL certification and teaching English abroad or online, including the hiring process, salaries, visas, TEFL class options, job placement assistance and more.