Teaching English in Mexico City, Mexico: Alumni Q&A with Maryclare Flores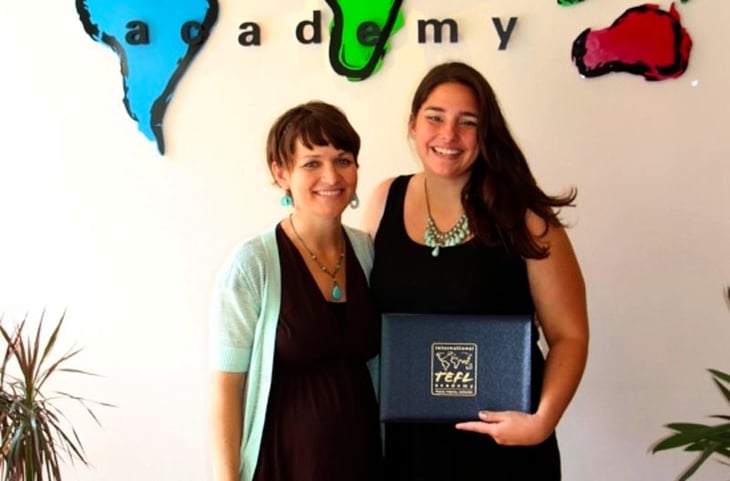 What is your citizenship?
United States
What city and state are you from?
Chicago, IL
How old are you?
25
What is your education level and background?
Bachelor's degree

Have you traveled abroad in the past?
Some international travel with friends, family, business, etc.

If you have traveled abroad in the past, where have you been?
Barely: India for less than a month (Personal) , Canada for two days (Choir), Uganda for 10 days (Research).
What sparked your interest in going to teach English abroad?
I knew I wanted to learn more about Mexico: the culture, the languages, the land. I decided to move to Mexico, and I figured since I was already an educator, I would be most qualified to teach rather than do any other job. I loved teaching. I just needed to make sure I was prepared to teach English, which I had never done before. It was an end to a means, but also a wonderful opportunity to learn about the lives of my students and the educational system.
What were some of your concerns before teaching abroad?
It was important for me to know what to expect. I wanted everything to be clear in terms of the visa process and what I would need for interviews when I was down there, (i.e. resume, a photo, visa, other forms of documentation). The idea of moving to a new place without a job lined up was nerve-wracking. Luckily, I was able to secure a position before I left, but I was ready to leave without one because I knew that it was easier and a better decision for me to find a school when I was on the ground. That way, I knew I would be making the best decision, and that I found a good match.
What did your friends and family think about you moving and teaching abroad?
At first, my family was concerned about me leaving the country without the support of a specific program. However, I did my research, became certified through this program, made contact with family in Mexico, and demonstrated how confident I was in my abilities and my passion. They were worried, but stood by me. My friends thought it was a long time to be in a foreign country, but were excited and impressed. When I ended up receiving a grant to teach in Mexico, there was MUCH more outward support and enthusiasm, but I was content and ready to go even without the grant.

Why did you decide to get TEFL certified and choose International TEFL Academy?
I wasn't sure if teaching English was going to be a long-term profession and I needed to become certified relatively quickly. Therefore, I wasn't going to get my Master's degree in teaching English as a foreign language. I was looking into alternative programs and didn't find much. However, I found International TEFL Academy and it looked legitimate and accredited. I inquired from whom they received their accreditation, if it was the highest they could receive, how well it was received by institutions around the world, etc. Helen, my advisor, answered all my questions patiently and linked information in email and in person. I sat in on a class and took my time making the decision. They really worked with me, and I felt confident by the time I made my decision.

Which TEFL certification course did you take?
USA - Chicago
How did you like the course?
I enjoyed the course for the most part. It was very difficult to work a job and take the course at the same time. There is a lot of reading, a lot of homework and projects that you are working on simultaneously, and they are long days. But all the information is useful, all the practice is extremely valuable, the structure of the class is well made, it's just kind of packed! The instructors seemed knowledgeable and helpful. I enjoyed the different perspective between the two instructors, the morning and afternoon instructors. They were a native English speaker and a person who learned English as a second language, respectively. I only had one negative experience in the way I was spoken to, but I spoke to someone about it and they assured me they would have a conversation with this person. Literally everyone else I spoke to was very supportive, positive, energetic, and helpful!
How has your TEFL training helped you in your current teaching position?
I felt extremely equipped with the resources I needed, the support I needed, and the experience I needed. I'm so glad we practiced lesson-planning, making sure we were appealing to multiple learning styles, and being overall student-centered! I loved what we learned and I loved that we had experience teaching varying levels of English! The latter was so helpful. I pulled out some of the physical resources I had from my course when I was in Mexico and used the techniques I learned in the class in my own classrooms, as well.

Which city and country did you decide to teach English in and why?
I decided to teach English in Mexico in Mexico City. I knew I wanted to teach in Mexico for personal and professional reasons. A week before I was moving to Mexico, I received a a grant to teach English at a university in Mexico City. I was assigned the capital of Mexico. However, if I did not receive the grant, I would have chosen between Puebla or Mexico City anyway because I had family in both places; both places had young people in them, were large cities, had the medical resources I needed, and were beautiful with lots of history and things to do.
How long have you been in this country and how long do you plan to stay?
I arrived in Mexico in August, 2016, and left at the end of June, 2017. I was there for about 10 months. I hope to return to visit family and friends often.
Did you secure this position in advance of arriving?
Yes
How did you interview for this position?
In-person interview. I was assigned this school and met in person.
What kind of Visa did you enter on?
Student Visa
Please explain the visa process that you went through.
I received a student visa per the requirements of my program and did the paperwork remotely and in person, for I had to visit the embassy in my home city.
What are the qualifications that your school requires for teachers? Please check all that apply
- Bachelors' degree
- TEFL Certification
- Native English speaker
What is the best way to apply?
In-person
Tell us about your English teaching job!
I felt very fortunate to work at this school. It is a public university for students who wish to become preschool teachers. Per the requirements of my program, I was only allowed to work 20-25 hours in a classroom a week (planning, tutoring etc. not included). However, it was a lot of running around when I was there especially since they did not have an elevator. The students were sweet, the staff was helpful and warm, and the physical school was open, outside, and large. It's beautiful with a courtyard, a pool, and auditorium. I was paid through my program and unable to save much due to how expensive it was simply to live and eat in the city.
I was able to wear business casual every day, but I'm sure they would have been fine with nice casual, as well. I could wear jeans and a nice top and be considered in a fine attire. If you were to work with business professionals, this would not be the case at all. I did receive sick days and vacation time and my staff was flexible with me to some regards. Since I was the only native, I was in every English classroom for an hour of their normal two hour course. They had another main English teacher, and I would just pop-in and teach. It is not uncommon for some colleges to have two or three hour English courses once or twice a week per group.
How did you find somewhere to live and what is it like? Do you have roommates?
It is best to be there in person and walk around looking for rent signs in the neighborhood in which you would like to live. It is the easiest and gives you a chance to meet in person, look at the room, and make sure it's what you want with the ability to ask questions. It's also the most reliable. I was able to obtain a room through a friend of a friend. It was in a fairly nice area with a lot of families and near the bus. I paid 4,000 pesos ($210 USD) a month with utilities and my own bathroom. It was a very small room, but it had a bed and another piece of furniture and I was welcome to use all the dishes and cups I wanted. We shared a kitchen and a living room.
I had three other roommates: a couple and a Mexican woman. The couple was an Argentinean man and a woman from Germany, but had been living in Latin America for over 10 years. And of course, a lovely dog named Maple. We had a fine relationship, chatting when we saw each other, going out once, but really keeping to ourselves most of the time and communicating through a WhatsApp group since we all had different schedules and were very busy. We shared buying water and dish soap.
Please explain the cultural aspects, public transportation, nightlife, social activities, food, expat community, dating scene, travel opportunities, etc...
Cultural aspects: Mexico is very diverse. That being said, the city is going to be different than rural areas or small towns. The culture is a little less conservative in the city; there is more diversity and open minds. People say "gracias" often and politeness is valued. Women may not feel comfortable in short dresses or skirt or shirts on the streets because you will receive more cat calls and whistles. Whistles aren't always for sexual attention; Mexicans use whistling a lot more than US Americans, and often it's to get a fellow worker or friend's attention.
Dating scene: In terms of dating in heterosexual relationships, men may open the door or offer to carry your things, but there is not a shortage of men who understand feminism. Machismo is often spoken about, which is the complex idea of misogyny and sexism specifically in Latin America. (Please note: there is sexism in every country in the world, however, there just happens to be a specific name for the way in which manifests itself in Latin America). Dating applications like Bumble and Tinder are quite common in Mexico City, or "CDMX."
Expat community: There is a large and lively expat (foreigner) community that you can find anywhere or on facebook groups. There are many people who speak English, especially if they attended language school or private schools growing up since English is more or less obligatory to learn in all schools.
Nightlife: There are a ton of clubs and bars that play American music and house music, as well as Latin hip hop and reggaeton. You can still find salsa or Cumbia clubs though with live music.
Travel opportunities: There are SO many travel opportunities around the city and traveling in bus is VERY safe and comfortable as well as affordable. They look like charter buses in the U.S. and have T.V.'s foot rests, and food. My experience was nicer than most airplanes. There is a disabled, women, and children car in most forms of public transport. Men are not allowed, but women can be in any section.
Safety: Men especially take care of your belongings on the metro since there can be pick-pocketing. However, in general, Ciudad Mexico is no different than any other city. Be aware of your surroundings and know that some parts are better than others. It's an incredibly large and full city! It's beautiful. Be humble, be polite, always try to speak Spanish first, and have fun! : ]
What are your monthly expenses?
Per Month Rent/utilities: 4,000 ($210 USD)
Food: 3,500 - including eating out ($185 USD)
Social: 500 ($26.50 USD)
Transportation: 400 (with some uber rides) ($21 - USD)
Travel: 400 (light weekend travel)($21 - USD)
Odds and Ends: 1,000 ($53 USD)
Total: 9,800 ($520 USD)
How would you describe your standard of living?
Quite well! I broke even, but I did not plan very well with my finances. If I wanted a souvenir, I just went for it. If I had bought more vegetables, fruits, and produce from local markets, and watched my budget, I could have been even more comfortable.
In your opinion, how much does someone need to earn in order to live comfortably?
I would say 12,000 pesos ($640 USD) at the very least a month especially if you plan well; don't use Uber all the time and use their excellent public transportation system, and plan to travel using hostels.
What advice would you give someone planning or considering teaching abroad? Would you recommend teaching in your country?
Go for it! Make sure you are mentally, emotionally, and physically prepared; do your research; have the medicines you need; and be honest with yourself. Make a plan for how to cope if you're home sick, and remember that it's ok. Reach out to people, join a club or group wherever you go to socialize, be daring, be safe, be smart; it's all about balance. Ask questions and be confident! Mexicans are warm for the most part and Mexico is an incredibly diverse place in the race and ethnicity of the people, religion, geography, terrain, weather, places, languages, everything! Make sure you get to know all the different aspects of the country! Enjoy!

Maryclare knew she wanted to learn more about Mexico - the culture, the language, and the land. Given that was already an educator, she figured she would be most qualified to teach than any other job. Maryclare loves teaching but wanted to make sure she was prepared to teach English, something she had never done before. She took ITA's In-Person TEFL Course in Chicago before moving to Mexico City, Mexico to teach English at a public university for students who wish to become preschool teachers.
Want to Learn More About Teaching English Abroad & Online?
Request a free brochure or call 773-634-9900 to speak with an expert advisor about all aspects of TEFL certification and teaching English abroad or online, including the hiring process, salaries, visas, TEFL class options, job placement assistance and more.
"I was also blown away by positive reviews from alumni. And the job assistance has proven invaluable. I love that ITA offers so many resources, manuals, and webinars that make the job search process a lot less scary."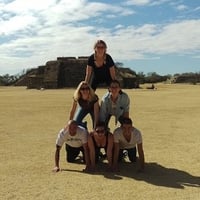 - Caroline Cassard
Teaches English in Mexico