diversity abroad
Teaching English in Yongin, South Korea: Q&A with Melanie Torreon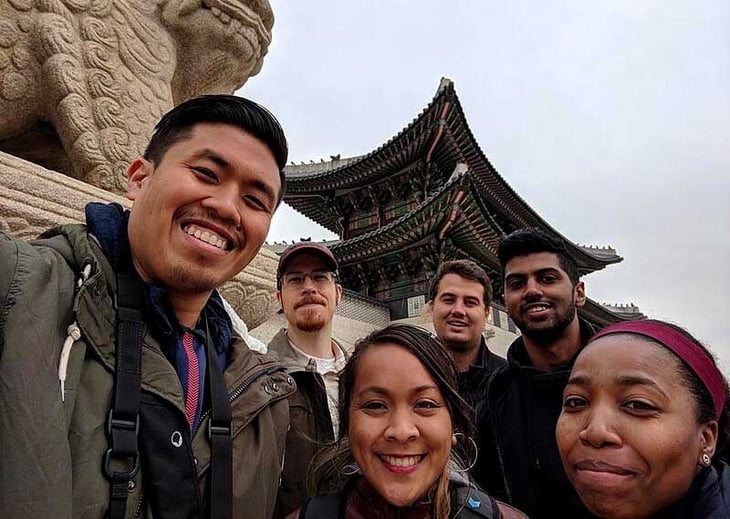 What is your citizenship?
United States
What city and state are you from?
San Diego, California, USA
How old are you?
31
What is your education level and background?
Bachelor's Degree.
Have you traveled abroad in the past?
Yes, I've traveled to the Philippines, Australia, Mexico, Canada, and several countries throughout Europe.
What sparked your interest in going to teach English abroad?
It was my initial goal to teach and travel after graduating from college in 2010, but I decided to go the career route first. I was a public school teacher for about 6 years. It wasn't until my husband had an inkling to teach abroad and travel and he encouraged me to fulfill that goal as well. He already had his TEFL certificate, so I applied for mine and we both decided to venture out together.
What were some of your concerns before teaching abroad?
My main concern was whether or not I could adapt to a new culture, and let alone adapt to the teaching culture of a new country. I found that having a supportive team or cohort of English and Korean teachers was extremely helpful with transitioning. Another concern was whether or not we were able manage living abroad as a couple in regards to finding a job, finding an apartment, managing finances, and navigating around a foreign country. My husband's previous job was unrelated to teaching, and he was concerned about whether or not he would do well with a career change. Luckily he's found his niche at the school we work at. He even enjoys learning the Korean language as well. The school provided us with a lot of support including hiring us together, providing an apartment, assisting us with paperwork, banking, and work training. Our recruiter even supported us with resources within our first month of moving to South Korea.
What did your friends and family think about you moving and teaching abroad?
Our friends and family were very supportive of our decision to do this together. They were a little shocked at first with how quickly we were able to apply, find a position, and started preparing for the big move. Nonetheless they were very hopeful that we would do well and adapt with ease. They even assured us that traveling and going together was a great idea because my husband and I could provide moral and emotional support for one another during times we may feel homesick.
Why did you decide to get TEFL certified and choose International TEFL Academy?
My husband and several colleagues have taken TEFL certification courses and told me how organized and beneficial the program is. You are given countless resources and access to support in finding a job or recruiter after you finish the course. Both my husband and colleagues had positive experiences with ITA and they learned a lot about the teaching methodologies for English Language Learners, and tips on how to be culturally aware of the environments you may work in.
Which TEFL certification course did you take?
I took the Online TEFL class as I was transitioning out of my previous job. I completed my practicum and observation hours in some of the classrooms in our school district.
How did you like the course?
My instructor for the online program was readily available to answer any questions we had about the program. I liked how the online course and due dates were manageable as well. The tasks were a combination of readings, videos, short answer responses, and lesson plan tasks. Each of these sections related to a general topic about teaching, classroom management, or teaching cultural sensitivity. I felt that I benefitted the most from the cultural sensitivity discussions. I have traveled abroad, but I was never really aware of any cultural faux pas I may encounter within and beyond the foreign classroom. In addition, the online program provided us with ample time to complete our practicum. I really enjoyed seeing class settings that had students who had just arrived in America from another country.
How has your TEFL training helped you in your current teaching position?
Even with my background experience as a public school teacher, TEFL has helped me with cultural sensitivity and lesson planning. I was used to teaching multiple subjects, so creating lessons solely for English Language development was helpful. It allowed me to focus on speaking, writing, or reading goals for each lesson I created. The practicum experience in a classroom of foreign students was eye-opening. I had to think outside of the box when teaching and engaging students whose primary language differ from one another. In my current classes in South Korea, I still refer back to strategies I have learned from some of my online tasks through TEFL.
How long have you been in South Korea and how long do you plan to stay?
I moved to teach English in Yongin, South Korea in 2019. I have been here for about 5 months. I currently plan to stay for a year and am still discerning about what the next steps will be. Some prospects could be to stay at the current school, move to another school, move to another country to teach, or move back to the United States within a year. All these choices are probable, but I am enjoying my current experience here nonetheless.
Why did you decide to teach English in this location?
The company I applied to had several locations throughout Korea. I wanted to be in a city that wasn't as busy or tourist-filled as Seoul. I wanted a city that had enough areas around that would be helpful for transportation, groceries, and even sight seeing when time allows. The city of Yongin met those needs, and I am even a short bus ride away from Seoul.
What school, company, or program are you working for?
I work for the hagwon Rise Korea.
During which months does your school typically hire?
When I had applied, my recruiter said they hire year round depending on the need for English teachers. The school year normally starts in March, so the hiring process is between December-February.
Did you secure this position in advance of arriving?
Yes, I was able to secure the position by the end of January and processed my paperwork prior to departing late February.
How did you interview for this position?
I had a Skype/Phone interview.
What kind of Visa did you enter on?
I entered with an E2 Work Visa.
Please explain the visa process that you went through.
My recruiter worked diligently to guide through the Visa process. The recruiting company already had a step by step list of what documents I needed prior to filling out the application for Visas. They were readily available to answer any questions I had, and communicated with the school consistently throughout the whole process I started the Visa application process at the end of January. I received my Visa just in time to fly out to South Korea at the end of February.
What are the qualifications that your school requires for teachers?
Bachelor's Degree
Native English Speaker
TEFL Certification
What is the best way to apply?
Through a recruiter.
Tell us about your English teaching jobs!
The school my husband and I work at is a hagwon or private school. On average we have about 10 students per class, and teach about 5 classes per day. We teach students ranging from age (Korean age) 5-11 years old. We work with a staff of about 10 Native English Teachers and 10 Native Korean Teachers. I am pleased with the work dynamic we have between teams of teachers. Because we work at a private school, most vacation days are on Korean holidays, one week in the summer, one week in December, and one week at the end of January. My husband and I already knew that we would have less vacations days when choosing the private over the public school route. However, we do get to save more money. Depending on your teaching experience, pay is about 2.1-2.4 million Korean won per month. Each month I usually save about 1.5 million per month, if I'm thrifty with my spending.
Please explain the cultural aspects, public transportation, nightlife, social activities, food, expat community, dating scene, travel opportunities, etc...
Cultural Aspects: Within the span of 5 months, I've already noticed some stark cultural differences while living here and even within the work place. It's to one's advantage to know a little bit of Korean to formally address superior coworkers or older men and women who may be working at the stores around you. Koreans show great respect to older generations. Table manners are of great importance along with the way you extend or receive objects like money or your credit card at a convenience store. The work environment and school environment exhibits a team-oriented mindset. I love that Korean teachers encourage staff and students with a "can-do" attitude. The students are also accustomed to working together to complete classroom tasks like cleaning up after themselves, setting up their own lunch, organizing their backpacks and cleaning the classroom. Students and staff also change from outdoor to indoor shoes while in school. In some areas of the school and even some Korean restaurants people are required to take off their shoes.
Public Transportation: It is easy to navigate around Korea once you have access to a map of the subway or have downloaded apps on your phone (KakaoBus, KakaoTaxi, KakaoMetro, or Naver Map). In most cases you will travel by bus or the subway, and these apps are handy when navigating from one place to another. In the off chance that you don't have access to the internet there are maps available at stations, and depending on which city you are in there are people at the station to help. You can purchase and load money on to a metro card at a station or convenience store that will work for the bus or the metro. If and when you decide to take a taxi you can use the Kakao Taxi app which is similar to the Uber app. Taxi rides are only great when the metro or bus stations close and you need means of transportation. I personally like riding the buses, because you get to see the city life around you. Subways are convenient if you want to get to a destination faster and the KTX train can help get you to distant cities around Korea.
Night Life: There are a range of pubs, bars, restaurants, arcades, and Norebangs (Kareokee rooms). Depending on which area you are in, Korea has a wide range of nightlife activities to choose from. Convenience stores are also great spots to grab a drink or a snack as you enjoy your evening. They have tables and chairs set up outside of the store for you to rest and enjoy your time.
Food: My husband has no problem eating anything and everything that has kimchi in it. He's tried a wide array for Korean dishes. If you love seafood, barbecue, and Kimbap, then Korea is the right place for you. I on the other hand, have had it tough with my share of food allergies ranging from nuts to seafood. But for those who have food allergies, you're in luck! I've tried Samgyupsal (pork belly), Tteokbokki (rice cakes), and Korean snacks and sweets from the local bakery.
Social Activities and the Expat Community: South Korea has an extensive expat community. With the power of social media (Facebook, Instragram, and Youtube), you can find many ways to explore and connect with others in a foreign country. That's exactly how we were navigate around and able to experience so much within the past few months. If you haven't done so already, join an expat group in the foreign country or region of choice, and you'll find a plethora of resources and events. Some activities range from art, photography, dance, music, religion, and food/drink meet ups. Some online groups require you to answer certain questions, and you have to join your group once you know what location you'll be teaching in. As a result, we were even able to meet with other expats from the same recruiting company we are a part of, and met some of our recruiters to personally thank them for their support!
Travel: There are many opportunities to sightsee on weekends and holidays. Depending on how you like to travel and what your interests are, Korea has a range of locations and activities.
What are your monthly expenses?
Rent/Utilities: $200-$400 per month
Food: $200-300 per month
Social Activities: $50 per month
Transportation: $50 per month
Communication: $40 per month
Travel (varies): This is dependent on time, location, and duration. Most of the places in South Korea we are able to travel to using public transportation expenses for the month.
Other: $100
How did you find somewhere to live?
My husband and I were very lucky that we got hired at the same school. They provided us with an apartment. The school covers rent while we pay for utilities which range from 100,000-200,000 won per month depending on usage or any additional building fees. Our apartment is about a 5-7 minute walk to our school. I love our apartment location! It is such a convenient place to live. Bus stops, subway stations, gyms, salons, community parks, convenience stores, groceries, banks, health clinics, and shops are all within walking distance. Our community is also near a University, and a popular cafe street that has a selection of food, pastries, and drinks. I was worried that we needed a car. Everything is accessible to you through walking.
How would you describe your standard of living?
For a married couple, I'd say that our standard of living and working in Korea is average. We can get by with both cooking meals at home and eating out on occasion. With a two person income we are able to live comfortably, save, and travel if time allowed. The location of where we live is a plus, because everything we need is within walking distance of home and work.
In your opinion, how much does someone need to earn in order to live comfortably?
In my opinion to live comfortably in Korea one would have to earn about $2,000 USD per month.
What advice would you give someone planning or considering teaching abroad? Would you recommend teaching in your country?
My only advice to someone planning to teach abroad is to be open minded and flexible. You are the "foreigner" in the country you teach in, but also know that what you'll be doing is a gift to the students you will teach. I would highly recommend teaching in Korea & teaching English in Yongin, because you have a great balance of travel, work, and cultural experience.
Melanie's initial goal was to teach and travel after graduating from college in 2010 but she decided to go the career route first. She was a public school teacher for about six years. It wasn't until her husband had an inkling to teach abroad and travel and he encouraged Melanie to fulfill that goal as well. He already had his TEFL certificate, so she applied for hers, and they both decided to venture out together. Melanie now teaches English to children ages 5-11 at a hagwon in Yongin, South Korea.
Want to Learn More About Teaching English Abroad & Online?
Request a free brochure or call 773-634-9900 to speak with an expert advisor about all aspects of TEFL certification and teaching English abroad or online, including the hiring process, salaries, visas, TEFL class options, job placement assistance and more.