Teaching English in Seoul, South Korea: Q&A with Michelle Garcia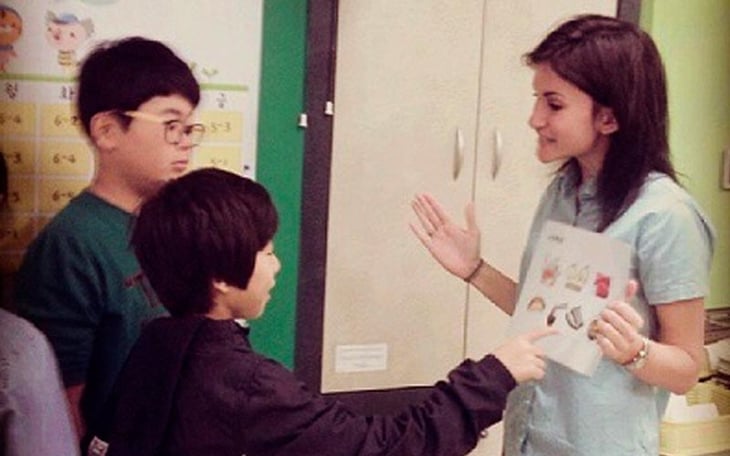 What is your citizenship?
United States
What city and state are you from
Los Angeles, CA
How old are you?
25
What is your education level and background?
Bachelor's Degree
Have you traveled abroad in the past?
Some international travel with friends, family, business, etc.
If you have traveled abroad in the past, where have you been?
Costa Rica, Guatemala, Mexico, Canada
What sparked your interest in going to teach English abroad?
I got the travel bug when I went to Costa Rica. I met some amazing people who were traveling on their own and I thought to myself, "What's stopping me from doing that?" I did some research and decided teaching English abroad was the best way to make my travel dreams come true.
What were some of your concerns before teaching abroad?
My main concern was not having any teaching experience. I was a graphic designer before becoming an English teacher, and the transition was tough. But it has allowed me to see parts of the world I may not have been able to as a designer.
What did your friends and family think about you moving and teaching abroad?
My family was very supportive. Although sad to see me go, and slightly concerned of South Korea's neighbor to the north, they were so great and supportive of my decision.
Why did you decide to get TEFL certified and choose International TEFL Academy?
I decided to get TEFL certified because I had no educational background, and a TEFL certificate was required for the job I was interested in. I was starting from scratch and needed lots of support to get started. I went with International TEFL Academy because they had really great reviews and lifetime job placement assistance.
Which TEFL certification course did you take?
Online TEFL Clas
How did you like the course?
I enjoyed the Online TEFL course and learned a LOT! I had a great instructor that was so helpful and responsive
How has your TEFL training helped you in your current teaching position?
Because I was starting from scratch, I'm so grateful that my TEFL training introduced me to the basics of child language education. Working with children was new for me, and I think the online course helped me to better understand how they learn.
Which city and country did you decide to teach English in and why?
I chose to teach English in Seoul, South Korea because I had known a few people who went through the program before, and they highly recommended it. Working in Seoul provides great pay, housing, and benefits that didn't compare to other countries.
How long have you been in this country and how long do you plan to stay?
I have been teaching in Seoul for 10 months and plan to stay for 12 months.
How did you secure your English teaching job?
I applied with a recruiter (Korvia Consulting) to EPIK (English Program In Korea). EPIK handles all the public school English teachers in Seoul and many other regions around the country. They provide a week-long orientation when you arrive in the country.
What school, company, or program are you working for?
I work at Seoul Huam Elementary School through SMOE (Seoul Metropolitan Office of Education)
How did you get your work visa?
I received a work visa with the help of my employer. Applying through EPIK was so easy and my recruiter was so helpful in preparing my documents. Everything was taken care of and handled with care.
Tell us about your English teaching job!
I work at a public elementary school right across the street from Namsan Park in the center of Seoul. I work from 8:40-4:40 Monday - Friday and teach 22 40-minute classes a week. I'm paid 2,000,000 won a month, which translates to about $2000 USD. I am able to save about half my paycheck due to the fact that my housing/rent is provided for me.
I have 21 vacation days a year that I'm able to take while the students are not in school (so only during Winter, Spring, Summer vacation, or random holidays). I have great benefits, end of year bonus, flight reimbursement, and a solid contract. I teach 4h-6th graders with the curriculum provided by the school, and most of the students are pretty darn cute.
How did you find somewhere to live and what is it like?
My housing was provided for me. I learned my location while at orientation the first week I arrived, and got very lucky. I have a great location in the center of the city. I'm in a foreigner populated neighborhood, which provides lots of opportunities for delicious food! I have my own apartment with two bedrooms (a RARE bonus) and a wrap-around balcony on the top floor. Small kitchen, washing machine, bathroom without a separated shower (meaning everything gets wet, but it's not so bad).
Please explain the cultural aspects, public transportation, nightlife, social activities, food, expat community, dating scene, travel opportunities, etc...
South Korea is awesome - especially Seoul. This city never sleeps. Psy and Snoop Dogg's video "Hangover" is a pretty accurate representation of what life can look like in Seoul (if you're a drinker of course). There is life and people and events happening everywhere.
Coming from California, there are tons of cultural differences, but nothing has ever made me truly uncomfortable. I've learned to embrace the differences and relish in it.
The food is amazing; the drinks are amazing, public transportation is a god send; the people are so pretty (especially in Gangnam area haha); and the expat community is HUGE. Coming through the EPIK program allowed me to make so many friends though orientation, and I'm so grateful for that experience.
Not only is it a great place to live but it has given me the opportunity to travel to nearby countries. In less than a year I have been to and explored Thailand, Philippines, and Vietnam, and could have done more.
What are your monthly expenses
Rent= 0
Transportation = $10-15 USD a week
Phone = $60 USD a month
Internet = $20 USD a month
Food + Social activities + living expenses = $500-600 USD a month if frugal
Language classes = vary from free to $300 USD /12 weeks
How would you describe your standard of living?
Living in Seoul provides a pretty high quality life. I have a great life here and saving money at the same time.
In your opinion, how much does someone need to earn in order to live comfortably?
I'd say about $2000 USD/month is very comfortable. You could get away with less if your housing is provided and you're not trying to save. I live on about $1,000 USD a month and save the other $1,000.
What advice would you give someone planning or considering teaching abroad? Would you recommend teaching in your country?
Come to Seoul! It's a great place to get started. You can save money, travel, you have TONS of support and resources to help you out, and it's a great place to live. Also, see a baseball game while you're there... you'll never forget it!
After a trip to Costa Rica, Michelle caught a case of the travel bug. She met some amazing people there that were traveling solo which led her to ask herself why she wasn't doing the same. She did some research and saw that getting TEFL certified and teaching English abroad was the best way to do this. Michelle teaching English in Seoul, South Korea as part of EPIK.
Want to Learn More About Teaching English Abroad?
Request a free brochure or call 773-634-9900 to speak with an expert advisor about all aspects of TEFL certification and teaching English abroad or online, including the hiring process, salaries, visas, TEFL class options, job placement assistance and more.