40+ teachers
Teaching English in Daegu, South Korea: Alumni Q&A with Jasmin Zorlu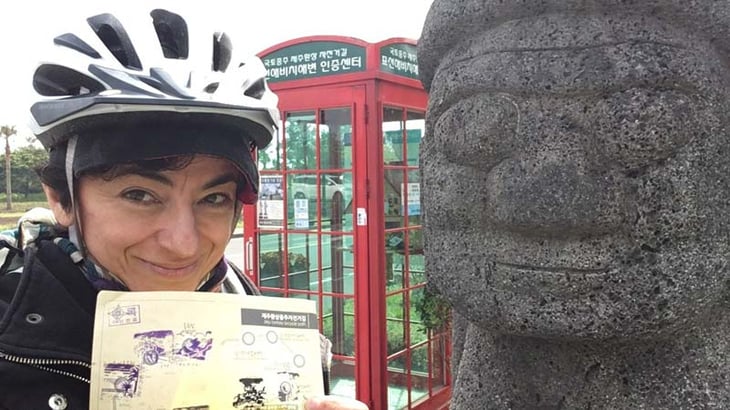 What is your citizenship?
United States
How old are you?
50
Where are you originally from?
I was born in Germany and grew up in Italy, Turkey, Japan and Iceland because my mother taught the kids of the US military.
What is your education level and background?
Bachelor's Degree.
What sparked your interest in teaching English abroad?
I've wanted to teach ESL since 1998, but didn't make the leap until 2015 when I took my TEFL class. My father had taught Japanese businessmen at a college near Tokyo when I was 8 years old, and I remember poring over his textbooks.
What were some of your concerns before teaching abroad?
That I would be considered too old to start this new career.
What did you friends and family thing about you moving abroad?
My mother was supportive because she was a teacher herself who taught abroad, though she was nervous because I lived and worked in Korea from mid 2016-2017 when it was constantly in the news (North Korea issues).
TEFL CLASS INFORMATION
Why did you decide to get TEFL certified and choose International TEFL Academy?
I was living and working in New York City and I had to choose between a CELTA and TEFL certificate. I visited schools which taught each and loved the methodology that ITA used. CELTA seemed to be more focused on grammar, whereas a TEFL certificate seemed to train teachers who wanted to teach practical spoken English.
Which TEFL certification course did you take?
In-person in New York City.
How did you like the course?
I loved the course but it taxed my brain because 8 hours a day for a month straight at 160 hours total was too intense for my visual and kinesthetic learning style. It would have been better for me to take a 1 1/2 month course or a 2 month course. I would have liked more hours to be required for the practicum. My instructor was amazing, and luckily I had only three other classmates.
How did you find the technological aspects of the course?
We didn't really use technology that much.
How has your TEFL training helped you in your current teaching position?
Having the TEFL training really helped in creating lesson plans and SWBAT statements (Students Will Be Able To). It also gave me the confidence to teach kids in Korea almost a year after finishing the certificate (yes, it was a bit challenging to find a job at my 'advanced' age of 47 in Korea).
TEACHING ABROAD
Which city and country did you decide to teach English in?
I moved to South Korea in 2016 to teach English in Daegu. I was there only for a year because my elderly mother wanted me to come back and help her out when my contract was finished. I didn't want to leave Korea, I loved it so much! At the moment, I'm applying to jobs in Vietnam, China and Taiwan. I'm so ready to return to work in Asia and resume my new career as an ESL teacher!!!!
Why did you decide to teach English in Daegu?
I had a fascination with Korea ever since my Turkish father told me that Turkey sent volunteer soldiers there for the Korean war. Also, I had been teaching at a Fashion university in New York City where many of my students were from Korea or were Korean-American. They made designs inspired by traditional Korean clothing.
What school, company, or program are you working for?
I worked for Daegu Gyeongbuk English Village near Daegu.
Did you secure this position in advance of arriving??
Yes I did. I had another offer from a hagwon (private cram school) but it fell through for a nebulous reason, after I had signed the contract and sent my documents to Korea for the visa processing. So I was delayed for an extra month, living in New York City.
Did you experience any ageism during your job hunt and interview process?
I did experience ageism from time to time. If the recruiter wasn't confident they could find me a job, I just moved on and found a different recruiter. I had several job offers. Luckily, my spirit is young and I look about 10-15 years younger than my biological age, depending on how healthy I'm eating or how much I've been swimming. Even last year I had seven job offers that I turned down, because I didn't want to leave my elderly mother alone. Five were in China, one in Vietnam and one in Korea.
I learned that ageism occurs even with the people native to the country where you're being discriminated against. Don't take it personally!
My suggestion is to pursue a new career path when it first hits you, don't sit on it and think that you're not good enough or ready for it. If you're already in your 'mid life', don't get discouraged. There is a place for you!
What kind of visa did you enter on?
Work visa. My job had me pay for all the fees in the US and in Korea, even the health check.
Please provide a summary of the visa process that you went through.
I had to send my certified documents to Korea and then wait for a visa number to be issued to me. Then it took about a week to get my visa from the embassy in New York City. I went there in person.
What are the qualifications that your school requires for their teachers?
Bachelor's Degree and Native English Speaker.
What is the best way to apply for a job there?
Online.
Tell us about your English teaching job.
I taught 26-32 classes for 45 minute each, with a 15 minute break in-between. 3 classes in the morning and 4 in the afternoon. Mondays and Fridays were light. It was intense! Before going to Korea, I was applying to teach adults, as I enjoyed teaching them at a fashion university in New York City, but most of the jobs available were for teaching kids. I found out that after only a month of teaching in Korea that I prefer kids, especially the 7-11 year olds. Kids are so fun! I did teach some adults business classes a few times but I preferred the kids. They have the ability to lift up your spirits.
There were 35-50 other teachers at the English Village, so I had the chance to make friends. I don't drink alcohol, so it was a bit challenging to make friends, but I did make a few who I'm still in touch with.
I was paid $1700-1800 a month with free housing and free food (I lived at the dorm), able to save $600 a month, which went towards paying off my credit card debt.
Vacation time was very generous. I got a whole month, divided in half! I went to Vietnam for Christmas and back to the States for a week to visit my mother. After my contract was over, I went to Jeju Island (I highly recommend this idyllic island) on the ferry with my mountain bike and biked around the island solo!
I started at the lowest pay, even though I had experience teaching other subjects and had a TEFL certificate, which they didn't pay extra for. I did try to negotiate a higher starting salary, but it didn't work.
LIFESTYLE INFORMATION
Please explain your countries cultural aspects, public transportation, nightlife, social activities, food, expat community, dating scene, travel opportunities, etc.
I loved the traditional fabrics from Korea, as my background is in Fashion accessories design. There is a group there that I recommend you join for cultural events. 'Hippie Korea'. Find them on Facebook. In Daegu, there's an amazing market named 'Seomun'. You can get bags of fresh raw nuts and all kinds of clothing and fabric.
Public transportation is great, buses came quickly and regularly in Daegu. The bus from the school into town was a bit tricky, so I used my bicycle and had some adventures on the bike path and shoulder of the highway. I was even driven home by one off-duty fireman once, because it was getting dark! (I wish I had asked for his phone number).
I didn't engage in nightlife, as I don't drink alcohol. Food was a bit difficult for me, as I'm gluten intolerant and Korea isn't very gluten-aware. They put soy sauce in almost everything, so I ended up eating BiBimBap and KimChi stew and plain rice a lot.
Travel opportunities are great when you can take the KTX high speed train. I went to Seoul a few times, Andong twice and Busan once. I was tired a lot so I used the weekends to ride my bike into Daegu and rejuvenate. The bike paths in Korea are amazing. Most are by the rivers, I highly recommend you buy a bike there if you're a biker. You can even bike from the north to the south in 4 days, all on paths!
P.S. Korea doesn't have a lot of good dark, high quality chocolate, so if you're a chocoholic, make sure to bring some with you, especially to get over the jet lag ;)
Tell us about your living situation.
I lived in the dorms provided by my employer. I had the choice to move to a free apartment in town (you had to pay your own utilities), but I didn't want to ride the bus one hour each way everyday because I get motion sick easily.
How would you describe your standard of living?
It's prohibited to have a second income source in Korea while you're working on a visa, but I did hear of others who did private tutoring on the side through their church or online to China.
How do you handle insurance and healthcare abroad?
Healthcare was paid for by the school. Acupuncture was covered by the health system!!! And I did take advantage of it.
What advice would you give other mature teachers planning or considering teaching abroad?
I do recommend Korea, it's an exciting and inspiring place. I recommend to learn the Hangul alphabet and a few key words before leaving. "Talk to me in Korean" is a great resource online. Watching Korean dramas is helpful also.
Try to be as fit as you can, able to stand for the entire day, with highly comfortable comfort shoes! Korea looks down upon you if you sit while teaching. Also, find a job where you teach only 25 classes a week. The public school system through the EPIK or GOE program follows this schedule.
Founded in 2010, International TEFL Academy is a world leader in TEFL certification for teaching English abroad & teaching English online. ITA offers accredited TEFL certification courses online & in 20+ locations worldwide and has received multiple awards & widespread recognition as one of the best TEFL schools in the world. ITA provides all students and graduates with lifetime job search guidance. ITA has certified more than 40,000 English teachers and our graduates are currently teaching in 80 countries worldwide.
Want to Learn More About Teaching English Abroad & Online?
Request a free brochure or call 773-634-9900 to speak with an expert advisor about all aspects of TEFL certification and teaching English abroad or online, including the hiring process, salaries, visas, TEFL class options, job placement assistance and more.