Teaching English in Amman, Jordan: Alumni Q&A with Adam Lucente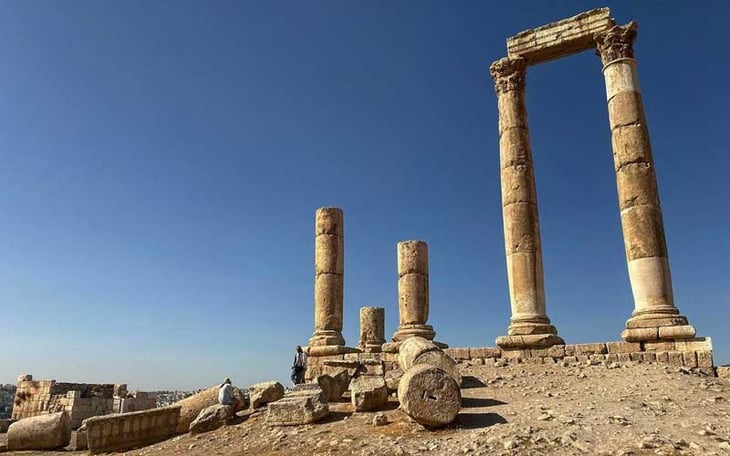 What is your citizenship?
United States
What city and state are you from?
Suffern, New York
How old are you?
24
What is your education level and background?
Bachelor's Degree
Have you traveled abroad in the past?
YesIf you have traveled abroad in the past, where have you been?
Canada, Brazil, Spain, France, Italy, Tunisia, Egypt, Jordan, South Africa, and Zimbabwe.
If you have studied abroad in the past, where did you study?
Jordan
What sparked your interest in going to teach English abroad?
I wanted to spend more time in the Middle East and am fascinated by languages. Teaching abroad is a great fit!
What were some of your concerns before teaching abroad?
Securing enough work
What did your friends and family think about you moving and teaching abroad?
Supportive, but apprehensive about the security situation in the region.
Why did you decide to get TEFL certified and choose International TEFL Academy?
I wanted to teach in the MENA region and came to the conclusion that a certificate from a reputable company would make me more competitive in the job market.
Which TEFL certification course did you take?
USA - New York
How did you like the course?
The course was an amazing experience. I learned more than I did in many of my undergraduate classes. We started most days with lessons on the theories behind TEFL, and then observed demo lessons. Later in the day we would prep for our own demo lessons, and of course give them. After, we would give each other feedback and also receive tips from our instructor. It was a exhilarating, exhausting, and satisfying all at the same time.
How has your TEFL training helped you in your current teaching position?
It is directly applicable to my current position. My employer values the student-centered, inductive methodology I was taught in the course. I find many of my colleagues with CELTAs and other types of TESOLs were taught similar methods.
Which city and country did you decide to teach English in and why?
I decided to teach English in Jordan in the city of Amman. I studied abroad here and wanted to continue my study of Arabic where it all began!
How long have you been in this country and how long do you plan to stay?
I have been here for two months and plan to stay a year in total.
How did you secure your English teaching job?
I applied directly through the company's website.
What school, company, or program are you working for?
AMIDEAST
How did you get your work visa?
I received a one month visa on arrival (as all Americans do) and then extended it for an additional two months at my local police station (actually several different local stations). Many teachers work without a residency permit without a problem. As far as I know, after the initial three months expires, you either need to apply for residency or leave the country and re-enter.
Tell us about your English teaching job!
My hours have been mostly around 12 a week for the first two months. I plan on doing more once the opportunities arise, as hours vary from session to session. I have not been able to save thus far, and find it difficult to break even, but this depends on your pay rate, how much work you find, and where you live (see below). I only have Friday off, and the work week is Sunday to Thursday, as it is in many Islamic countries. I find the students to be polite, eager to learn and overall pleasant. Mine are mostly young professionals and university students.
How did you find somewhere to live and what is it like?
I found a place to live on a Facebook group for local expats. There are many, and people are always looking for places to live and roommates. I have two roommates, also foreigners. It's less common to find locals to live with.
Please explain the cultural aspects, public transportation, nightlife, social activities, food, expat community, dating scene, travel opportunities, etc...
LIFE IN JORDAN - I think most foreigners find Jordanian society relatively easy to live in People are friendly. In terms of Arabic countries, I find people are happy to help foreigners learn Arabic here.
SAFETY & CRIME - There is little anti-foreigner sentiment on the surface. Crime in west Amman is low.
SOCIAL LIFE & NIGHTLIFE - There are traditional nightlife options, such as cafes, that serve Turkish coffee and hookah. There is a large amount of bars and clubs as well. The expat community is large, and includes many Americans and others from the Anglosphere, as well as Europeans, and people from other Middle Eastern countries, Africans, and Asians.
TRAVEL & RECREATION - There are many outdoor activities to do around Amman, and so many ruins, cities, religious sites, and natural wonders to see throughout Jordan.
FOOD - You can find most food here. The traditional Arab cuisine is present, as are numerous American fast food chains, Asian, pizza etc. There are restaurants that specialize in the food of Jordan's minority populations as well, i.e. Greek and Armenian restaurants.
What are your monthly expenses?
RENT - My rent is $350 a month + utilities. Between electricity, decent internet, and paying the guard, it's around an additional $50. But this is in an upscale neighborhood. Rents go as low as $200 in some areas.
FOOD - If you eat out in the west part of the city where most foreigners live, it's around $5 for something like a burger and fries, a personal pizza, or a shawarma. In the working class areas, traditional food is significantly cheaper, as is everything else. The traditional markets offer vegetables, fruits, pasta etc. at very low prices.
PHONE & INTERNET - I spend $7 a month on my phone, which includes enough texts and minutes, and 2GB of internet. Taxis are the main form of transportation, and a few dollars will get you anywhere almost anywhere in the city. I haven't traveled outside of the city much.

How would you describe your standard of living?
Good, but I need to budget significantly.
In your opinion, how much does someone need to earn in order to live comfortably?
Depending on your rent, I'd say 500 JOD (approximately $710 USD) at the very least.
What advice would you give someone planning or considering teaching abroad? Would you recommend teaching English in Jordan?
I would recommend teaching English in Jordan, but keep in mind it is quite expensive. Other than that it's a nice place with several interesting teaching opportunities if you look hard enough.
Adam Lucente is a journalist and English-language teacher from New York City. He learned Arabic in college and has since taught in Tunisia, Jordan, and the Kurdistan Region of Iraq. As an ITA Alumni Ambassador, Adam has shared many of his experiences and insights with others interested in teaching in the Middle East through numerous articles.
Want to Learn More About Teaching English Abroad & Online?
Request a free brochure or call 773-634-9900 to speak with an expert advisor about all aspects of TEFL certification and teaching English abroad or online, including the hiring process, salaries, visas, TEFL class options, job placement assistance and more.