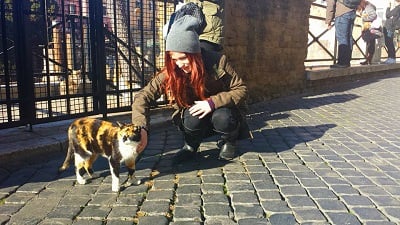 Rome, Italy English Teaching Q and A with Kelsey Connors
TELL US ABOUT YOURSELF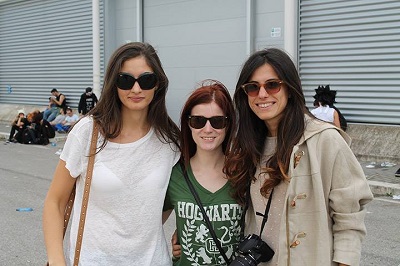 What is your citizenship?

United States

What city and state are you from?

Chicago, IL

How old are you?

24

What is your education level and background?

Bachelor's Degree
Have you traveled abroad in the past?
Studied Abroad

If you have traveled abroad in the past, where have you been?

UK, Ireland,Spain, France, and Italy
If you have studied abroad in the past, where did you study?

I studied at the JFRC in Rome.

What sparked your interest in going to teach English abroad?

Well I was working post-grad in sales and marketing to pay the bills, but I have a degree in Ancient Rome. I realized I wasn't in my career field and that I needed to make a change immediately and decided to move to Europe. That's when I discovered the ITA and got inspired to become an English teacher.

What were some of your concerns before teaching abroad?

Mostly the fear of moving out of my comfort zone.

What did your friends and family think about you moving and teaching abroad?

Everyone was really happy that I was following my dreams at a young age, so I'd say really supportive!
TEFL CLASS INFORMATION
Why did you decide to get TEFL certified and choose International TEFL Academy?

I was really depressed working for a 9-5 office job, so I knew I had to make a really big change in my life. When I decided to move to Europe, I started by looking up ways to manage my student loans from college while I was there- the ITA has an article about it on their site and that's when I learned about the program and the possibility of teaching.
Which TEFL certification course did you take?

Online TEFL Course

How did you like the course?

The course was great- easy but informative. I used to do my reading and homework at my desk when I had down time at work. The best part was learning about classroom techniques and types of learners. I still use the lesson plan I built for homework assignments in my classrooms today.

I did my practicum at two places - the first was the tutoring center at Loyola University Chicago (my alma mater) and the second half was at the Asian Human Services in Chicago. The tutoring was basically how private lessons are run here in Rome, so it was very helpful and at AHS I observed three full classes in session to learn how groups are ran.

How has your TEFL training helped you in your current teaching position?

It has helped me A HUGE AMOUNT. I actually switched from my first job here in Rome because they had very strict rules that did not allow for different types of learners to be accommodated. I knew my students weren't learning and now I work at a University where I plan my own lessons as I was taught at the ITA. My students love the TEFL method.

I use the TEFL process for planning my lessons as well. I still use my original lesson plans that I made for the course and follow the same format.
\
Which city and country did you decide to teach English in and why?

I chose to teach English in Italy in the city of Rome. I studied abroad here. The expats here joke that once Rome is in your blood you never want to be anywhere else!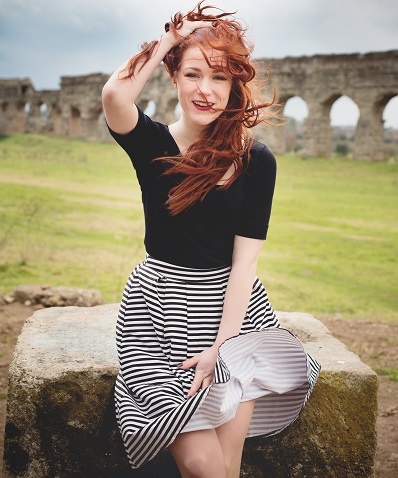 How long have you been in this country and how long do you plan to stay?
I have been here 6 months and I planned to stay a year. However, I got accepted to a graduate program here so I can stay at least 2 more years!

What school, company, or program are you working for?

I work for Trinity School.

During which months does your school typically hire?

I was hired at my first job the last week of August; however, I got my job at Trinity in February.

Did you secure this position in advance of arriving?

No. Most schools responded to my CV emails to make an appointment for interview when I was in the country.

How did you interview for this position?

- In-person interview

What kind of Visa did you enter on?

Tourist Visa

Please explain the visa process that you went through.

I entered with just my passport; however, I did secure a cheap ticket to London for about a week before my visa expired to avoid trouble getting into Europe. Some countries require a ticket showing you leaving the Zone.

What are the qualifications that your school requires for teachers? Please check all that apply

- Bachelor's Degree
- Native English speaker

What is the best way to apply?

- Email
Tell us about your English teaching job!

I work for a private school about 35 hours a week but its enough to exhaust me. The school does classes on and off site.

For the hours I do at the school, I get paid 10 euros an hour; however, any classes I have OUTSIDE the school I get paid 15 euros an hour. I work 20 hours outside at a private university and a 15 hour block at the school. It comes out to 300-450 euros a week. I personally haven't been able to save because I have student loans but I'm okay with that!

How did you find somewhere to live and what is it like? Do you have roommates?

Finding an apartment was the mot difficult part, which really surprised me. Italians typically rent by ROOM not by apartments. When I came here, I found it would cost me around 3000 euros to rent an apartment with my friend because of deposit and city tax, so I went for a room instead.

Craigslist was taking too long, so I used easystanza.it to find a room. I ended up in an older apartment here for 400 euros a month. I was skeptical, but I ended up loving my house. I have three Italian roommates who are like sisters to me. They speak decent English and taught me a lot about living like an Italian and have helped me out of several messes. Also, they cook!

On a scale of 1 - 10 please rate your experience with this school.

10
COUNTRY INFORMATION - FUN!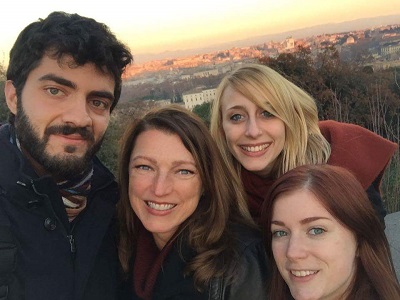 Please explain the cultural aspects, public transportation, nightlife, social activities, food, expat community, dating scene, travel opportunities, etc...

Rome is the best place on earth!

I split my social life between Italian and Expat friends. With the Italian friends, I go for aperitivo (which is like 10 euro happy hour with a free buffet... did I mention Rome was the best place on earth!?) and dinners with groups. Italians typically have a tight-knit group of friends and even though I don't understand all of what they say, I always have a really warm, amazing time with them. My expat friends are Irish, Scottish, Welsh and English. I have one close American friend who I attended the ITA with! We typically go out for sports games or hang out at our favorite pub. It always feels like I'm surrounded by a big, crazy family. I met an Irish guy here and we have been dating seriously for 5 months now, so I'd say the dating life is pretty great also.
COUNTRY INFORMATION - MONEY
What are your monthly expenses?

Rent costs me 400 euros but the utilities are killer. We have bills for garbage, gas, water, condominio, electric etc. A monthly E-pass for the Metro is 35 euros a month, which is WAY cheaper than Chicago. I pay 10 euro a month for my pay-by-minute vodafone phone and use my Iphone on wifi for whatsapp and social media.

I spend a lot of money on food but only because I value food above all social activities. There are grocery stores all around here (4 near my house alone), so you can eat pretty cheaply if you want, but it is Italy, after all.

I go out quite a lot with my friends but if you find a local pub with good people they typically don't charge you full price (or at all!). Italian bars make poorly crafted cocktails for expensive (10 euros) but beers for cheap. Irish and English pubs have expensive beers (6 euros) but cocktails cost about the same.

How would you describe your standard of living?

With my first job only moderate but with this new one really great.

In your opinion, how much does someone need to earn in order to live comfortably?

1400 Euros a month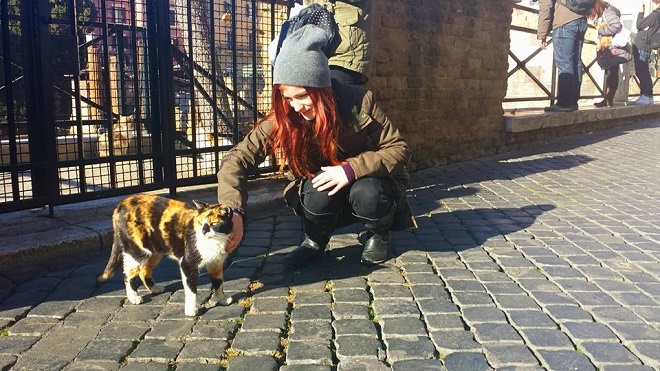 ADVICE FOR PROSPECTIVE ENGLISH TEACHERS
What advice would you give someone planning or considering teaching abroad? Would you recommend teaching in your country?

Prepare yourself for the culture. The best thing and the worst thing about Rome is the same. The life is slower and more easy going which means you might wait an hour for the bus, and the train drivers will go on strike every few Fridays. You have to have an open mind, but if you do, you will be received like family.

My biggest advice: DO AS THE ROMANS DO! Watch how Romans live and mimic what they do- I haven't had a real culture shock and I owe it all to trying hard to acclimate to the culture. Leave your old habits behind.

Also, count your change. Italians are wonderful people in all aspects but business, where they might try to cheat you because you look like an American.

Use Hola to unblock US websites (hello Netflix!), Google Chrome for the translate feature, and don't forget to pack adapters because block converters will blow out your computer charger.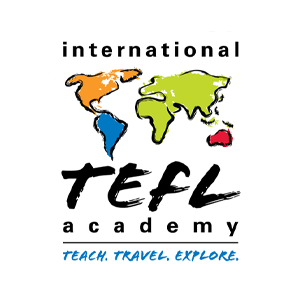 Founded in 2010, International TEFL Academy is a world leader in TEFL certification for teaching English abroad & teaching English online. ITA offers accredited TEFL certification classes online & in 25 locations worldwide and has received multiple awards & widespread recognition as one of the best TEFL schools in the world. ITA provides all students and graduates with lifetime job search guidance. ITA has certified more than 25,000 English teachers and our graduates are currently teaching in 80 countries worldwide.
Want to Learn More About Teaching English Abroad?
Request a free brochure or call 773-634-9900 to speak with an expert advisor about all aspects of TEFL certification and teaching English abroad or online, including the hiring process, salaries, visas, TEFL class options, job placement assistance and more.