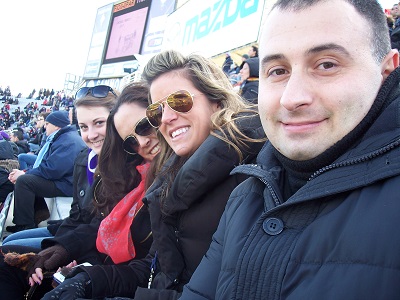 Florence, Italy English Teaching Q and A with Kevin Iannone
TELL US ABOUT YOURSELF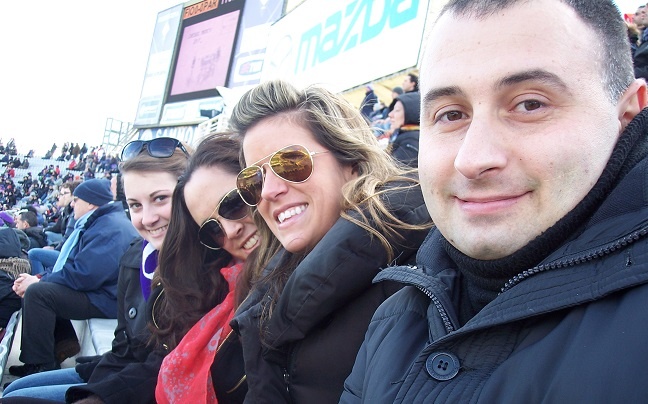 What is your citizenship?
USA
What city and state are you from?
Flagstaff, Arizona
How old are you?
29
What is your education level and background?
Bachelor's Degree
Have you traveled abroad in the past?
Studied abroad
If you have traveled abroad in the past, where have you been?
Italy, Mexico, Canada, China, Germany
If you have studied abroad in the past, where did you study?
Italy
What sparked your interest in going to teach English abroad in Italy?
I became interested in teaching abroad after hearing of the usually interesting and mostly positive experiences of friends who had taught abroad.
What were some of your concerns before teaching teaching in Italy?
The legality of working in a different country, my ability to afford such an endeavor, and my limited contact with friends and family back in the States.
What did your friends and family think about you moving and teaching English in Italy?
Response about my decision to move to a different country to teach were, for the most part, positive. Friends and relatives were really excited and supportive.
TEFL CLASS INFORMATION
Why did you decide to get TEFL certified and choose International TEFL Academy?
I decided to get TEFL certified because I believed that I would have a much easier time making contacts and finding work abroad with a TEFL certification. A TEFL certification would provide evidence to potential employers of both my qualification to teach English and the seriousness of my commitment to do so. I chose International TEFL Academy because of the wide availability of course dates and locations.
Which TEFL certification course did you take?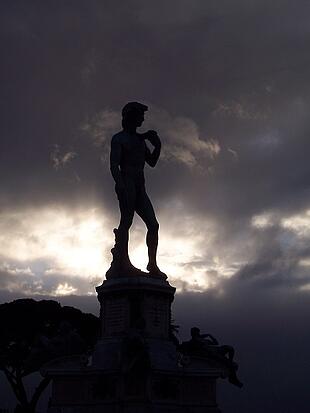 How did you like the course?
The TEFL course in Florence, Italy was rigorous and rewarding. It was described as an intensive course, and this was no idle boast. The instructors formed a highly enthusiastic and experienced team that gave its full effort and attention to the TEFL students. In return, the students were expected to prepare for their input sessions and teaching practices with the same level effort and attention.
I liked this course very much. The difficulty of the coursework prepared me for the challenges of foreign language instruction, and the instructors provided inspiring, yet relatable examples of the professionalism and expertise required of a good EFL teacher.
How has your TEFL training helped you in your current teaching position in Italy?
I cannot imagine teaching English as a foreign language without the training I received. I learned and practiced techniques such as the elicitation of student responses, encouraging means of feedback, and effective classroom presence that have been put to use in every one of my classes.
In addition to these acquired skills, I also received a thorough review and formal reinforcement of English grammar and usage.
Introductions to teaching materials, common tasks (test preparation and business English), and expected rates of pay have also been of great benefit to my teaching work.
TEACHING ABROAD IN FLORENCE, ITALY
Which city and country did you decide to teach English in and why?
I decided to teach in Florence, Italy because I received my TEFL training here, and was offered a job upon completion of the course.
How long have you been teaching English in Italy and how long do you plan to stay?
I have been teaching English in Italy for two and a half months, and I am unsure as to how long I wish to stay.
How did you secure your English teaching job in Italy?
I was offered a job by my TEFL certifying school upon completion of the course.
What school, company, or program are you working for?
North American Center of Language
Tell us about your English teaching job in Italy!
I work around 15 hours a week at a rate of 12 euro an hour. I am not really able to save anything, as Florence is a rather expensive city. The type of school I am working for is medium-sized language school that offers class and private lessons. All of my students have so far been private students interested in learning English to improve their career or educational opportunities. I am able to make my own schedule with my students, so I can take vacation whenever I wish, however, due to the constraints of a tight budget, I am not able to take vacation often. Teaching is rewarding, but it can also be exhausting.
How did you find somewhere to live and what is it like? Do you have roommates?
I found my apartment on Craigslist. This website is still relatively unknown in Italy, but it is slowly gaining in popularity. I almost fell for an apartment scam through Craigslist, so I must strongly recommend waiting until you are in the city of your choosing before entering into any monetary transactions with potential landlords. I have two roommates, both Italians from Tuscany, who have been friendly courteous and helpful to me.
COUNTRY INFORMATION - FUN!
Please explain the cultural aspects, public transportation, nightlife, social activities, food, expat community, dating scene, travel opportunities, etc. about your country: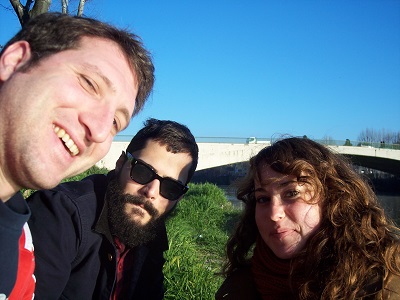 Culture: It's Italy: art, food, fashion, scenery, quirky cars, and expressive people beyond
compare.
Public transportation is somewhat unreliable what with scheduling changes and frequent strikes.
Nightlife in the center is tainted by the unbridled drunkenness of spoiled, embarrassing foreign students. Elsewhere, the scene is lighthearted, fun and sophisticated.
Social activities are easily available and highly rewarding.
Food is life here in Florence. Rome and Naples beat it for pizza, but in most other meals, the Tuscans have topped it.
The expat community is large and supportive. A savvy group of teachers, business people and artists who know how to get the most from it's host and native cultures.
Dating scene is fun and exciting. There are a lot of open minded young people in Florence, from a myriad of nations and cultures.
Travel opportunities are abundant, but can be expensive. Fortunately there is much to see in Italy, relatively close to Florence.
Know the weather of your intended city and love it, otherwise choose a different city.
COUNTRY INFORMATION - MONEY
What are your monthly expenses?
Rent is 380 euro plus utilities for my nice apartment, but the place is a bit far from the city center.
Food: There are a lot of take out and restaurant locations, but with a limited budget, it's been many nights of pasta at home.
Bar Trivia in English is a blast. So is going for aperitivo for a good drink and buffet.
Public transportation: You can go most places in Florence by foot. The busses are unreliable and often crowded, but the drivers are helpful and well informed. Bikes are abundant, but your bike will eventually be stolen, and the response of the population is to accept bike theft as an immutable law of existence.
Communication: I received my phone as a gift, so I don't know how hard they are to aquire. The pre paid minute cards have worked well for me.
Travel by train is easy, but make sure to buy your ticket in advance. By plane is something I've not tried yet.
How would you describe your standard of living?
Adequate
In your opinion, how much does someone need to earn in order to live comfortably?
I'd say 700 euro a month, but then, I'm a man of simple tastes.
ADVICE FOR PROSPECTIVE ENGLISH TEACHERS IN FLORENCE, ITALY
What advice would you give someone planning or considering teaching abroad? Would you recommend teaching English in Italy?
If you don't know if you should bring something don't bring it. Do pack rain gear and good walking shoes. Don't surround yourself with your TEFL classmates at all times. Meet some locals, and spend some time in your new surroundings completely alone.
I recommend teaching in Italy, but not necessarily in Florence, because there are far too many EFL teachers here to earn much money, and because there are lots of small towns that need your services far more.
Founded in 2010, International TEFL Academy is a world leader in TEFL certification for teaching English abroad & teaching English online. ITA offers accredited TEFL certification classes online & in 25 locations worldwide and has received multiple awards & widespread recognition as one of the best TEFL schools in the world. ITA provides all students and graduates with lifetime job search guidance. ITA has certified more than 25,000 English teachers and our graduates are currently teaching in 80 countries worldwide.
Want to Learn More About Teaching English Abroad?
Request a free brochure or call 773-634-9900 to speak with an expert advisor about all aspects of TEFL certification and teaching English abroad or online, including the hiring process, salaries, visas, TEFL class options, job placement assistance and more.