Teaching English in Tapolca, Hungary: Alumni Q&A with Kristen Herbert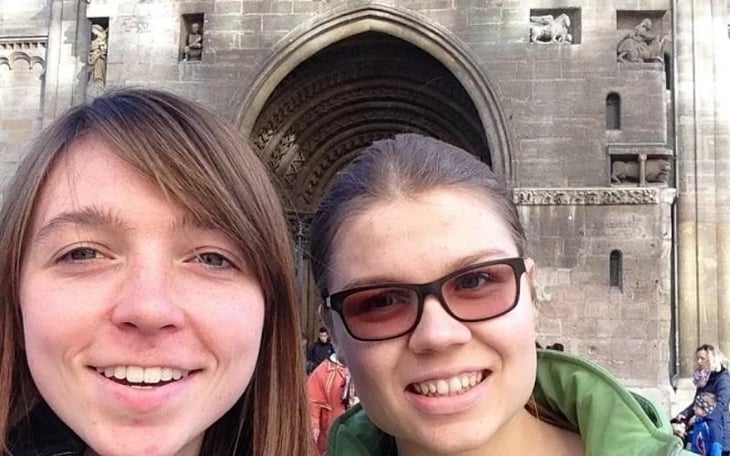 TELL US ABOUT YOURSELF
What is your citizenship?

United States

What city and state are you from?

Chicago, IL

How old are you?

22

What is your education level and background?

Bachelor's degree
Have you traveled abroad in the past?
Studied abroad

If you have traveled abroad in the past, where have you been?
France, Belgium, Luxembourg, Netherlands, Spain, England, Sweden, Hungary
If you have studied abroad in the past, where did you study?

France

What sparked your interest in going to teach English abroad?

I had studied abroad my second year of college, and afterwards went to a conference about study/work abroad, where ITA had a table. I put my name down on an email list for ITA, but then I sort of forgot about it. After I graduated, I was looking for jobs and wasn't sure what direction to go. I got a call from ITA about a live info session about teaching English abroad in Chicago, and decided to give it a try—I realized it was exactly what I wanted to do because I could use my degree and see the world.

What were some of your concerns before teaching abroad?

I thought about all the friends and family I was leaving behind, especially when I started interviewing and realized I was really going to leave. I was afraid of all the unknowns. Also, a lot of people joked that I was going to get 'taken.' It couldn't have been further from the truth, but I think going somewhere by myself that I didn't know caused me to run through all the possible things that could go wrong.

What did your friends and family think about you moving and teaching abroad?

That depended on the person. I definitely felt like I was doing a lot of explaining on why I should go. My immediate family backed me, and that was the most important.


TEFL CLASS INFORMATION
Why did you decide to get TEFL certified and choose International TEFL Academy?

I'd looked at a lot of different certification programs, and I was really impressed with the International TEFL Academy's alumni resources. I felt like they provided a lot more information and support than other places, especially when it came to looking for jobs afterwards. I was also really impressed by their info session and how they'd called me to invite me to go.
Which TEFL certification course did you take?

Online TEFL Course

How did you like the course?

It was great. I was balancing it with a lot of other responsibilities at the time, and I felt like the online 11-week program worked really well for me. I always got quick feedback from my instructor. The material was practical and covered a lot of different areas that were helpful for somebody that didn't have an educational background (as I didn't). The practicum (live practice teaching) was definitely the best aspect of the course.

How has your TEFL training helped you in your current teaching position?

It gave me a lot of practice lesson planning, which was very important because I was responsible for the full curriculum planning at my first position afterwards.

Which city and country did you decide to teach English in and why?

I decided to teach English in Hungary in the city of Tapolca. I visited Budapest, Hungary, when I had studied abroad, and fell in love. I knew I wanted to go back to Hungary in whatever way I could. As I did more research, it sounded like the CETP program was the best way to go. I wasn't able to leave Chicago until October, and there was a position open in Tapolca where it would be possible for me to start late. Also, their native English teacher taught Art History courses, and I had an artistic background.
How long have you been in this country and how long do you plan to stay?

Well, I'm in Chicago now, but I was in Tapolca for the full academic year. I hope to go back to Hungary this year through the CETP program.

During which months does your school typically hire?

Year round

Did you secure this position in advance of arriving?

Yes

How did you interview for this position?

Skype/Phone Interview

What kind of Visa did you enter on?

Tourist Visa

Please explain the visa process that you went through.

I came on a tourist visa, and my work visa was processed upon entering the country. I had a list of documents that I needed to send in advance, and bring copies of. These documents needed to be notarized. I also did an FBI background check, and because I was doing it in a short time frame, I used SentryLink. With CETP it was really straight forward: they give you the instructions of what documents to provide, and the paperwork is taken care of by our CETP contact person (as it is in Hungarian). My CETP contact person took me to different government offices to complete the necessary steps. It took about two months to get my work visa, and this is a standard time frame.


What are the qualifications that your school requires for teachers? Please check all that apply

- Native English speaker
- TEFL Certificate
- Bachelor's degree

What is the best way to apply?

Apply online
Tell us about your English teaching job!

Hours per week: 22-25 hours per week contact hours, so maybe 35 total

Pay: 160,000 Forints ($520-540) per month after taxes, this includes state healthcare and housing.

Ability to save: I wouldn't count on saving, though this is a generous salary. You could theoretically live on $3-8 dollars a day. This salary supports local travel in Hungary or in other neighboring countries in Eastern Europe (if you go to Austria, or west of it, it can be pretty expensive; your salary would not support that. If that is your plan, it is recommended to come with savings).

Type of school: I worked for a state bilingual school for grades 1-8. There are many state bilingual schools or bilingual programs like this throughout the country where CETP teachers are placed.

Vacation time: The vacation time is also generous, the school year starts around September 1st and ends June 15th, but teachers typically work until June 30th. There are three breaks during the year: the fall break which is about 9-10 days, the winter break which is two weeks, and the spring break that can vary in length but is about a week.

In CETP there are both rural and urban placements. I was in a rural placement. Public transportation is well-connected and I was able to travel many places throughout the country. I think this allows you to get a different perspective than if you were in Budapest, because in Budapest there is a big expat culture- maybe you don't get to learn as much about the country, as if you were living in New York and comparing it to the rest of the United States.

How did you find somewhere to live and what is it like? Do you have roommates?

My housing was included in my contract. I did not have roommates. I lived in the town center. My school was outside of the town, about a 25 minute walk or a ten minute bus ride.
COUNTRY INFORMATION - FUN!

Please explain the cultural aspects, public transportation, nightlife, social activities, food, expat community, dating scene, travel opportunities, etc...

Cultural aspects: In general, I would say people are more withdrawn until you get to know them better. It's perhaps the opposite of in the United States, where people are more outgoing on the surface and then reserved with the exception of only a few friends. Life in Tapolca starts and ends early. Shops are open early and close early, and most people are out taking care of their errands between 3 and 5 o'clock in the afternoon.

Nightlife in the countryside... if you're looking for nightlife, you should pursue an urban placement. The nightlife in Budapest is very noteworthy, and no matter where you are, you can take part in it if you visit over the weekend.

Social activities: I wouldn't say I had a lot of social activities, until I met the North Americans in Tapolca. That being said, I traveled to meet other teachers and was very grateful for the time that I spent with them.

Expat community: There is a really vibrant expat community in Budapest, but if you are in the countryside you may be one of the few foreigners. This is a unique opportunity to learn more about Hungary as a whole and get to know more of the perspectives of the culture.

Travel opportunities are abundant. There are so many things to see in Hungary all throughout the country, and some of the natural sights are the most remarkable. I was very lucky to be near Lake Balaton, which is perhaps the most beautiful part of the country. Hungary is very well connected by buses and trains, so you can get around.
COUNTRY INFORMATION - MONEY
What are your monthly expenses?

Rent and utilities are included in the contract as part of CETP.

Food is not expensive, between $3-8 a day depending on how much you cook and how balanced you want your diet to be.

The nice thing about the CETP program is that you have a network of other teachers. As it turned out, I was not the only North American in Tapolca.

This was maybe a little bit random. I often traveled to meet people, and since my travel was long, I learned a lot of Hungarian sitting on the train. Transportation is well connected via buses and trains. I preferred buses; it's easier not to get lost that way and usually shorter.

Phone is also provided by CETP; it's a pay-as-you-go phone and you add money as you need it.

Travel: There are so many incredible sights to see in Hungary, like the remnants of the Turkish campaign in Eger, thermal baths, volcanic hills, the Lake Balaton. I think the most interesting places I visited were in the smaller cities of Hungary, like Eger, Sopron, Debrecen, Szeged.

How would you describe your standard of living?

I was not worried about my finances when I was there.

In your opinion, how much does someone need to earn in order to live comfortably?

Because my housing was included, I thought that $500 per month was fine (also my expenses were lower than say Budapest). From what I understand, rent in Budapest can be around 300 euros a month (that should be verified), groceries maybe $8 a day, public transport about $1-1.25 each way on a bus/metro/tram within the town/city, about $8-16 dollars for a longer trip via intercity train. A night in a hostel is about $7-15, in a bed and breakfast $30-40.


ADVICE FOR PROSPECTIVE ENGLISH TEACHERS
What advice would you give someone planning or considering teaching abroad? Would you recommend teaching in your country?

I think it's important to have a flexible mindset going into it, because you never know how everything is going to play out. I think it's never good to go into a totally new situation with specific expectations. Be strong, be ready for failure or disappointment, and above all, stay positive. Challenges come wherever we are, but they feel stronger when we're away from our support system. I think no matter what kind of experience you have teaching English abroad, you will come away it with it happy that you did it. I think it's one of the best and the hardest things I have ever done. It has grown me exponentially more in a year than if I had stayed at home and found the first job that opened. I saw so many incredible things that I would never have dreamed existed, like the specific turquoise color of the lake, 12th century ruins, or the view from the top of a volcanic hill over the countryside.



Kristin is from Chicago and took ITA's Online TEFL Course. She studied abroad in France during college and was interested in continuing to travel after she graduated. She then moved to Tapolca, Hungary to teach English.
Want to Learn More About Teaching English Abroad & Online?
Request a free brochure or call 773-634-9900 to speak with an expert advisor about all aspects of TEFL certification and teaching English abroad or online, including the hiring process, salaries, visas, TEFL class options, job placement assistance and more.