no degree
Hamburg, Germany English Teaching Q&A with Tamie Arietta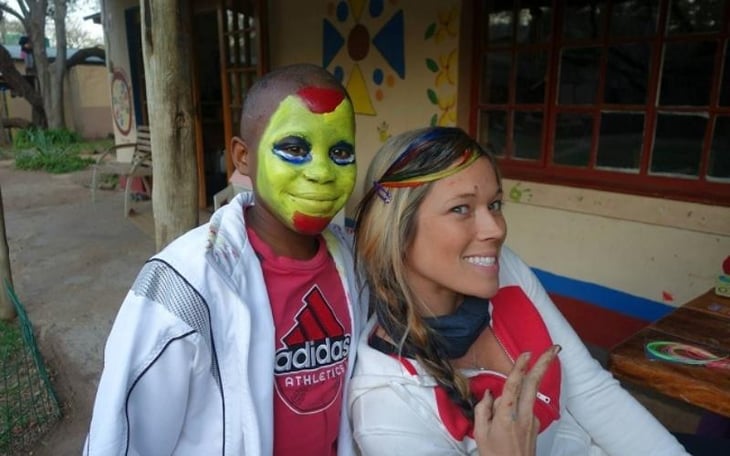 TELL US ABOUT YOURSELF
What is your citizenship?

United States

What city and state are you from?

San Diego, CA

How old are you?

36

What is your education level and background?

Some College
Have you traveled abroad in the past?
Never left the country
What sparked your interest in going to teach English abroad?

I was a facilities engineer in the corporate world and was just one of over 5,000 employees that was laid off. I knew I didn't want to go back to the corporate world right away. I wanted to travel and find a new career path, so when I researched and found a way to do both, I jumped at the opportunity.

What were some of your concerns before teaching abroad?

My biggest concern was that I had never traveled outside of the US. I didn't know what to expect.

What did your friends and family think about you moving and teaching abroad?

Most of them were very supportive, but a few were apprehensive because it was unlike me to just pick up and move, especially to another country.
TEFL CLASS INFORMATION
Why did you decide to get TEFL certified and choose International TEFL Academy?

I decided to get my TEFL certification because I wanted a different career path. I chose International TEFL Academy because I felt they had the most to offer. Plus, their willingness to assist me went above and beyond my expectations.

Which TEFL certification course did you take?

Italy - Florence

How did you like the course?

I thought the instructors were great; they were there to support and guide you every step of the way. However, I felt it was very challenging, because the workload made it extremely tough to stay afloat. It puts even the most organized person to the test.

How has your TEFL training helped you in your current teaching position?

It gave me a sense of comfort knowing exactly how to plan lessons catered to the needs of my students.

Which city and country did you decide to teach English in and why?

I chose to teach English in Germany in the city of Hamburg. I love Germany and knew I wanted to learn the language and live here, so it was an easy decision for me.


How long have you been in this country and how long do you plan to stay?
After traveling the world for several months upon completion of my TEFL certification, I moved to Hamburg (officially) in October 2014. I plan to stay here as long as possible.

How did you secure your English teaching job?

I developed an online business to market myself and other EFL teachers and found students through my website.

What school, company, or program are you working for?

I currently run my own online EFL teaching network website, Speakeasy Language Academy, so I teach privately one on one and group lessons as well as online.

How did you get your work visa?

At first I was here on a language visa and then I applied for a freelance / self-employed visa. It's a very difficult and lengthy process.

Tell us about your English teaching job!

I currently teach part time and make my own hours. I am flexible with what I charge, but it depends on the level and if it's a group or private lessons. I work as a private EFL teacher. My students range from children to adults and business professionals. Because I am my own boss, it allows me to be flexible with pay and vacation time. I feel blessed that completing this program has given me an opportunity to learn and work in another country.

How did you find somewhere to live and what is it like?

That was a hard part, especially here in Hamburg. I eventually found a place living with other working professionals. My rent is super cheap which allows me to save.
COUNTRY INFORMATION - FUN!
Please explain the cultural aspects, public transportation, nightlife, social activities, food, expat community, dating scene, travel opportunities, etc...
GERMAN CULTURE: I love the German culture. At first, people seem hard to get to know, but once you make friends, they are friends for life. They love speaking English which makes it hard to learn German, but great to teach.
FOOD & NIGHTLIFE: Hamburg is an amazing city! The nightlife (Reeperbahn) is insane in a good way. The food is amazing; so diverse, even more so than San Diego. There is a huge expat community and several clubs to join.
TRAVEL OPPORTUNITIES: The beauty of living in Europe is the travel opportunities. Hop on a bus, train or even a flight and be anywhere in no time. Plus, the added bonus is it's super cheap. I was able to go from Hamburg to Nuremberg for one euro!! Yep, €1... can't beat that.
COUNTRY INFORMATION - MONEY
What are your monthly expenses?

RENT: My rent is €200 for everything.

FOOD: I eat like a rabbit, so it's fairly cheap. Much cheaper here than in SD.

ACTIVITIES: There is a lot to do here for free, so that keeps the spare change in my purse.

TRANSPORTATION: Transportation can be around €40 a month, but since I can bike or walk to everything, I don't pay for transportation.

PHONE/INTERNET: My phone is around €15 a month. It's so nice not to have a $100 cellphone bill anymore.

TRAVEL: Since I started traveling, I've been to four continents and over 15 countries. I am hooked!!!

How would you describe your standard of living?

As an engineer I made a lot more than now, but I'm no where near as happy as I am now. I believe I live comfortable and still can afford to travel. :)

In your opinion, how much does someone need to earn in order to live comfortably?

That would depend on where you live, but I quickly learned you don't need so much to live comfortably and happy. I am much less wasteful living in Europe.
ADVICE FOR PROSPECTIVE ENGLISH TEACHERS
What advice would you give someone planning or considering teaching abroad? Would you recommend teaching in your country?

Do it! :) Don't allow yourself too much time to second guess it, because you will always find a way to make excuses as to why it shouldn't be done. I would highly recommend teaching in Germany. Learning German in my opinion has been my biggest hurdle, but honestly that's because everyone here is so excited to speak English to me. I don't get that much of a chance to practice my German skills.
Hailing from San Diego, Tamie had explored most of the United States but had never been abroad until age 35 when she embarked on a year of traveling, volunteering, and studying around the world. After earning her TEFL certification in Florence, Italy, & traveling through Europe, Tamie headed for Hamburg, Germany. In Hamburg, she not only taught English for 4+ years but also established her own business providing support and assistance to other English teachers with navigating the German visa process.
Want to Learn More About Teaching English Abroad & Online?
Request a free brochure or call 773-634-9900 to speak with an expert advisor about all aspects of TEFL certification and teaching English abroad or online, including the hiring process, salaries, visas, TEFL class options, job placement assistance and more.