diversity abroad
Teaching English in Frankfurt, Germany: Q&A with Karen Callwood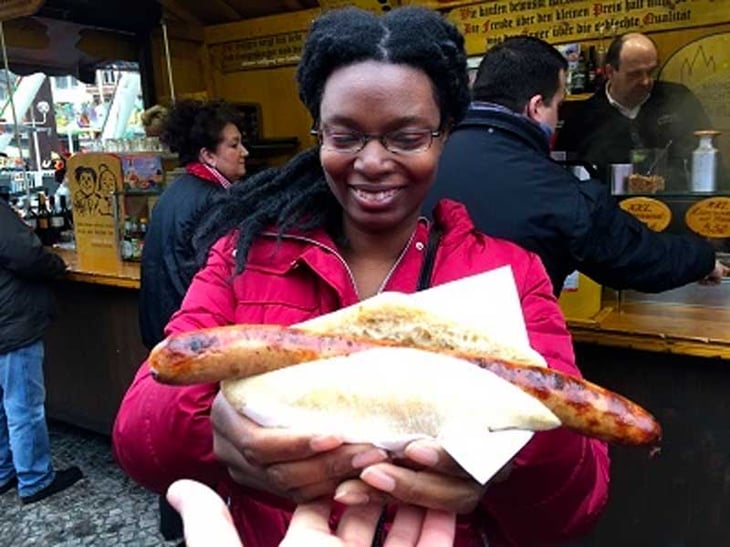 What is your citizenship?
United States
What city and state are you from?
Somerville, MA
How old are you?
32
What is your education level and background?
Bachelor's Degree
Have you traveled abroad in the past?
Some international travel with friends, family, business, etc.
If you have traveled abroad in the past, where have you been?
Paris and London.
What sparked your interest in going to teach English abroad?
I've always dreamed of living in Europe ever since I was a kid. Getting involved in teaching seemed like the easiest way to turn my dream into a reality.
What were some of your concerns before teaching abroad?
Not being able to find a place to live and not making enough money to survive.
What did your friends and family think about you moving and teaching abroad?
My friends and co-workers were supportive. I had a few family members who thought it was cool and other family members such as my mom who thought I was nuts, but my mom is a lot more comfortable with my decision now that she sees how well I adjusted.

Why did you decide to get TEFL certified and choose International TEFL Academy?
I wanted to get TEFL certified because I thought it would give me a leg up during my job search. International TEFL Academy had great reviews online and the cost was reasonable compared to what other schools were charging. I also read a ton of success stories from TEFL Academy alumni, so that was a huge deciding factor for me.

Which TEFL certification course did you take?
Online TEFL Course.
How did you like the course?
I liked the course a lot. It was challenging without being overwhelming. The instructor answered my questions and the other students' questions super quickly and thoroughly.
The tasks definitely made you use your critical thinking skills, and the homework was great practice on lesson plan creation. My favorite part was doing the practicum (live practice teaching). I got to do observation at a local language school and tutored groups of adults at our local library. In fact, when I was at the library I met another student doing her practicum for International TEFL Academy too! It was great to run into another person in the same position I was.
How has your TEFL training helped you in your current teaching position?
The practicum in particular gave me a lot of confidence. Having that previous experience calmed my nerves when I first started teaching.

Which city and country did you decide to teach English in and why?
I chose to teach English in Germany in the city of Frankfurt because Frankfurt has a ton of business people who need to brush up on their English.
How long have you been in this country and how long do you plan to stay?
For six months so far, and I will be here for at least another year due to my rental contract.
What school, company, or program are you working for?
I work at more than one school.
During which months does your school typically hire?
The fall and winter are the busiest times.
Did you secure this position in advance of arriving?
Nope, when it comes to Germany, you can't really do much before you arrive.
How did you interview for this position?
In-person interview.
What kind of Visa did you enter on?
Tourist visa.
Please explain the visa process that you went through.
I got VERY lucky. Just be hopeful and brace yourself for anything. It took me three months to get my visa, and you CANNOT work legally without this. You need to save up enough money in advance before you come here because you will likely need to support yourself for at least a couple of months after you arrive.
In my case, I had my German friend call the visa office, and he got my appointment moved up a couple weeks. I had another friend come to the visa office with me to do all the translating. If you don't speak German, you need to bring someone who does with you.
At the office, they just needed to see proof of my health insurance, proof I have a German address, and they also looked at my work contract (I already got hired by a school before going to the office). It's kind of a catch 22,;you might not get the visa until you have a work contract, but some schools won't hire you without the visa. In my case I got hired by a school who was patient enough to wait for me to get my visa before they put in any classes.
The most important thing is to always be optimistic. I've heard multiple horror stories from other teachers, so I know I had it easier than most. Waiting for my visa appointment was still extremely stressful.
Also, if you don't know German fluently, you can't do this alone. Don't let that stop you because I didn't know a single person before I moved here, and I still don't know German. Make friends as soon as you can; join meet up groups; stay in a hostel and talk to people. Even join a dating site. You never know who knows someone who can help you.
What are the qualifications that your school requires for teachers? Please check all that apply
- Bachelor's Degree
- Native English speaker
What is the best way to apply?
- Apply online
- In-person
Please include any application resources (website, email, etc.) or other information here:
I did a mix of applying directly on school websites and going in person to drop off my CV.

Tell us about your English teaching job!
My hours are completely different each week; freelancing isn't exactly the most stable thing in the world. I work for two language schools that primarily cater to business professionals. Both schools pay me once a month, and I'm still in the process of recouping the money I spent the first few months I was here so I'm not really saving anything at this point. I hope to find a full time position when hiring season starts up again.
How did you find somewhere to live and what is it like? Do you have roommates?
I HIGHLY recommend this website: https://www.wg-gesucht.de
I found my flat in just a matter of weeks and actually had multiple places to choose from. Keep in mind, I moved in winter so I don't know how competitive it is in the fall.
My rent is pretty cheap at 320 Euro a month (about $350 USD) which is a great deal considering I live only a couple stops from the city center. I live with one human roommate and one cat, I guess that would make her my cat-mate?
On a scale of 1 - 10 please rate your experience with this school.
8.
Please explain the cultural aspects, public transportation, nightlife, social activities, food, expat community, dating scene, travel opportunities, etc...
I love Germany so far. One of the reasons I picked Germany is because it's so centralized to other countries. I hope to do more traveling once I can start saving more money.
I'm going on a one week trip this summer to Italy and England that I'm super excited about. Also, there are amazing places right here in Germany to check out. My boyfriend and I have hopped on super cheap buses to go on day trips to Heidelberg, Cologne, and Mainz.
In the winter, Frankfurt is pretty dead, but it's starting to come alive now that the weather is getting warmer. Most places are closed on Sundays, and even on the weekdays, stores close earlier than what I'm used to.
What are your monthly expenses?
Rent and utilities are a little over 320 euro a month ($350 USD).
Grocery shopping is pretty cheap but I don't know how much I really spend a week. Traveling to other parts of Germany can also be pretty cheap if you're willing to take the long distance bus instead of the train.
There are two monthly passes for Frankfurt public transportation. You can get an after 9am pass for about 69 euros ($75 USD) and a before 9am pass for 89 euros ($95 USD). Keep in mind that if you get the cheaper after 9am pass, you can't take public transportation before that time. If you get caught, you have to pay a hefty fine, and the buses and trains are patrolled often.
There are a ton of other types of passes you can buy, but I find their pass system super confusing, and I'm not sure how the other types of passes work.
How would you describe your standard of living?
It's pretty good. I eat well, live in a nice flat and use a little bit of my money for activities. Unfortunately the stress of student loans and other bills do hang over my head.
In your opinion, how much does someone need to earn in order to live comfortably?
I don't know an exact amount yet because I haven't been here that long.
What advice would you give someone planning or considering teaching abroad? Would you recommend teaching in your country?
Save every document you get; Germans love paperwork. Also do everything early; don't procrastinate. I started going from school to school the day after I arrived in Frankfurt. Also I can't stress this enough: if you don't know German, start to make friends as soon as you get here. I've found people to be very friendly, and making connections wasn't as hard as I thought it would be.

Karen had always dreamed of living in Europe ever since she was a kid. She knew that teaching English abroad would be the easiest way to make her dream a reality. She took ITA's Online TEFL Course before moving to Frankfurt, Germany where she works for two language schools teaching Business English to adults.
Want to Learn More About Teaching English Abroad & Online?
Request a free brochure or call 773-634-9900 to speak with an expert advisor about all aspects of TEFL certification and teaching English abroad or online, including the hiring process, salaries, visas, TEFL class options, job placement assistance and more.