Berlin, Germany English Teaching Q&A with Conor O'Riordan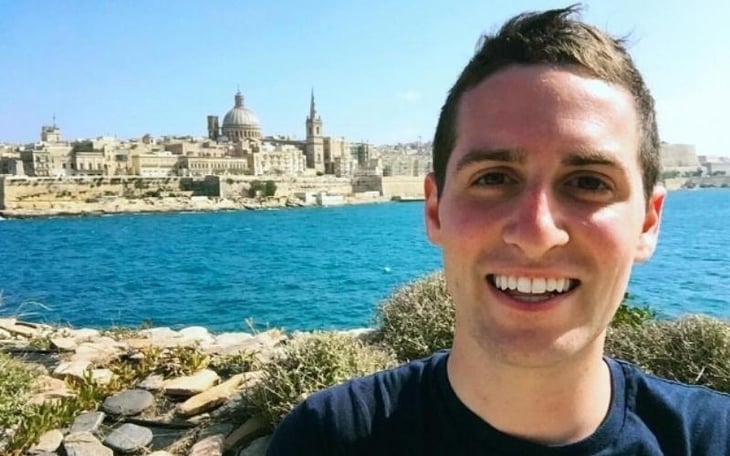 TELL US ABOUT YOURSELF
What is your citizenship?

United States
What city and state are you from?

Boston, Massachusetts

How old are you?

24

What is your education level and background?

Bachelor's Degree
Have you traveled abroad in the past?
Studied Abroad

If you have traveled abroad in the past, where have you been?

Germany, UK, France, Spain, Italy, Malta, Greece, Sweden, Norway, Denmark, Hungary, Czech Republic, Austria, Croatia, Switzerland, Lichtenstein, Belgium, The Netherlands
If you have studied abroad in the past, where did you study?

Regensburg, Germany

What sparked your interest in going to teach English abroad?
I studied abroad for seven months in 2012 and did a 10 week trip across Western/Central Europe in 2014. In late 2014, I decided that I wanted to spend considerable time in Europe (primarily Germany) and found that the best way over would be to get my TEFL certification and become an English instructor.

What were some of your concerns before teaching abroad?
Financial stability, proper health insurance, and feeling at home and comfortable in a new place.

What did your friends and family think about you moving and teaching abroad?

Quite supportive; I'd been talking about it for a long time and everyone was excited that I was 'following my dream' (hokey, but true!)


"TEFL CLASS INFORMATION
Why did you decide to get TEFL certified and choose International TEFL Academy?
I felt that a TEFL certification would give me an advantage when applying for English teaching positions and make myself a more desirable candidate. Additionally, I didn't have any teaching experience at the time and felt I needed some proper training to feel comfortable in the classroom. ITA had one of the strongest online reputations and after a thorough research and a preliminary phone call with one of ITA's representatives (Paige), I felt that it was the right fit.

Which TEFL certification course did you take?

Online TEFL Course

How did you like the course?

At this point I can't really remember specific details about week-to-week projects, homework and topics, but I enjoyed the feedback my instructor gave me and the prospect of finding in-class practice to get hands-on experience.

How has your TEFL training helped you in your current teaching position?

The pre-course grammar material is a must-do for any hopeful teacher just to have a general understanding of how to explain certain grammar structures and rules. It think it also gave me realistic expectations for how to run a classroom and using the student-centered approach to maximize engagement.

Which city and country did you decide to teach English in and why?

I decided to teach English in Germany in the city of Berlin. After traveling extensively throughout Europe, I realized that Berlin is the absolute perfect environment to teach English. The students are diligent, the living costs are affordable and the city is magnificently rich with culture and diverse grit,

How long have you been in this country and how long do you plan to stay?

I have been in Berlin for a little over nine months, and I plan on being here for several years at least.

What school, company, or program are you working for?

LINGUA FRANCA

During which months does your school typically hire?

Primarily August-September and January, but year-round, I believe.

Did you secure this position in advance of arriving?

No, but I had frequent contact with my interviewer and eventual employer.

How did you interview for this position?

In-person interview

What kind of visa did you enter on?

Tourist visa

Please explain the visa process that you went through.

Germany is part of the Schengen Zone and therefore Americans (from the US) can come and travel within its borders for up to 90 days without need of a visa.

To begin working in Germany as a Freelancer (and specifically Berlin, as I'm not sure about other cities) you need the following:

1) A registered address from a Bürgeramt [this might require a rental contract, but I've know people to register Airbnbs and hostels and things]
2) Two job offers (letters of intent to hire or contracts)
3) Proof of German Health Insurance (or travel insurance that is accepted by the German Government)
4) €60-120 depending on how long you want to stay
5) One Biometric photo
6) Passport
7) Filled out application for an Aufenthaltstitel (Residency Permit, with permission to work)

Take this to the Ausländerbehörde (Foreign Register's Office) and voila.

What are the qualifications that your school requires for teachers? Please check all that apply

Native English speaker (I don't think they require you to be a native English speaker, but Lingua Franca usually has you teach your native language--even if you can speak English perfectly.).

What is the best way to apply?

Email
Please include any application resources (website, email, etc.) or other information here:

Lingua Franca's email: info@lingua-franca.de

Tell us about your English teaching job!

HOURS: I have had times where I'm working 20-25 hours per week and times where I only have 5 or 6 classes a week so my schedule is very thin.

PAY: Pay is fairly good, making around €18 per hour (about $20 USD) but it depends on the school.

SAVINGS: I have needed to use substantial savings because I've not been as proactive as many teachers at getting more courses and I travel a lot; however, if you plan it right, you could save a little for travel and more lavish expenses. It takes a while building up a schedule though, and it's best to work for a few different schools.

STUDENTS: I teach only adults (business professionals) and they are all German. Mostly mid-upper level students that are mostly conversation based.

VACATION: I have taken a lot of vacations and that has really hurt my income because freelancers do not get paid vacation.

How did you find somewhere to live and what is it like? Do you have roommates?

WG-gesuch is the primary website Berliners and most Germans use to find a place to live when moving around. It is a very competitive city to live in, so finding the right flat can be tough with lots of competition.

It's best to have a profile on WG-Gesucht with pictures and a profile to show a little bit of your personality. Try to have a paragraph or so in German and then you can put more information in English (and say in German that your German isn't great if it isn't).

On a scale of 1 - 10 please rate your experience with this school.

7
COUNTRY INFORMATION - FUN!
Please explain the cultural aspects, public transportation, nightlife, social activities, food, expat community, dating scene, travel opportunities, etc...

CULTURE: Germany has a rich cultural history dating back centuries. Obviously the two world wars have lasting effects here in the country. The language is tricky for some to pick up, but it's consistent once you know it. Berlin is easily the most interesting city in Germany if you're looking for big-city atmosphere. It's gritty and edgy, but still with German charm. Berlin is not quaint--which is something saved for the Western and Southern regions.

TRANSPORTATION: Berlin transportation is quite strong for its size and population, though can be spotty on occasion and more so in the winter. It is a very, very bike-friendly city as well (and flat so it's not incredibly difficult to cycle around). Nationally, the train system is also quite good, yet it can be expensive.

NIGHTLIFE: Berlin has arguably the best nightlife in the world, dwarfing most of Europe and America with its quality pubs, bars, and especially nightclubs. This is a city where people get back to their flats at 1 in the afternoon the next day.

SOCIAL ACTIVITIES: Berlin is a leading European city (along with Paris, London and Rome) with the amount of things you can do. The music, theater, art and film scenes are thriving here and could compete with any world-class city with the amount of quality social events and activities you could do. Berlin is probably the greatest European city for its number of parks and nature access. It is also probably the most spacious and sprawling European capital.

FOOD: Unlike many cities in Germany, Berlin has an exceptionally well-balanced and diverse food scene (similar to New York or London, just at a nicer price).

EXPAT COMMUNITY: Berlin is probably the most international European city after London, where English is everywhere and expats are ubiquitous. It's one of the hottest European destinations for Europeans as well.

DATING: Dating is common and fairly easy, as there are so many people to meet in so many interesting places. The LGBT community here is probably top 5 in the world just for sheer numbers and representation.

TRAVEL: Berlin has two airports and is located near the Polish border. It's right in line with Munich, just 5 hours north by car. As such, it's basically the center of Europe so any major city or destination is all within a 1-3 hour plane ride. There are two major airports in Berlin which have access to almost all major airports across Europe.
"COUNTRY INFORMATION - MONEY
What are your monthly expenses?

Rent: Quite cheap in Berlin compared to other cities, so expect to pay between 300 - 500 euro ($320 - $535 USD) per month for a single room.

Food: Can be cheap at the discount supermarkets, but if you're looking to eat healthier and organic, expect to pay a smidge more. Restaurants are reasonably priced, and you're saved by not having to tip as much.

Nightlife activities: Far cheaper than they are in most US and European cities, but can get expensive if you go out a lot. Cultural events and museums and things like that can be quite affordable if you're under 30 or a student, with loads of discounts and special deals.

Transportation: About €80 ($85 USD)per month for an unlimited train/bus pass. 1-way tickets are €2.70 ($2.90 USD) on either the bus or subway/streetcar and everything between that. A bike will cost you anywhere from €100-1000+ but after that, traveling around the city is free!

Phone/internet: I have a crappy pay-as-you-go phone just for making calls and €20 ($20.40 USD) can last me anywhere from 1-3 months. I have an unlocked smartphone from America on my family's plan that I only use on Wifi so that's free. You can unlock your phone and have a local number for a cheap plan, I've heard. I just haven't had the need for that yet.

Travel: I have traveled a fair amount and a cheap weekend could be €150 - 200 (($160 - $215 USD) and an expensive 10-day trip could be up to €700+ ($730 USD+)


How would you describe your standard of living?

My standard of living is quite nice, but I've also been dipping into my savings while not working as much as I could. With the right number of classes, it is more than easy to have a great quality of life on a relatively middle-low budget!

In your opinion, how much does someone need to earn in order to live comfortably?

€1300-1400 ($1390 - $1500 USD) to be comfortable on a 20 hour week, €1600 ($1710 USD) for more spending money, €1800+ ($1925+USD) for monthly traveling.



ADVICE FOR PROSPECTIVE ENGLISH TEACHERS
What advice would you give someone planning or considering teaching abroad? Would you recommend teaching in your country?

I would absolutely recommend living in Germany and teaching English. It's a safe, engaging, culturally rich country with fabulous people and excellent travel opportunities. My biggest piece of advice is making sure you're prepared to hit the ground running and be confident in your ability to tackle the city and get the most out of your time there.


Conor is from Boston, MA., and took ITA's Online TEFL Course. He studied abroad in Germany and after college graduation, was looking for a way to get back, so decided to get TEFL certified and move to Berlin to teach English.
Want to Learn More About Teaching English Abroad & Online?
Request a free brochure or call 773-634-9900 to speak with an expert advisor about all aspects of TEFL certification and teaching English abroad or online, including the hiring process, salaries, visas, TEFL class options, job placement assistance and more.