Teaching English in Bogotá, Colombia: Alumni Q&A with Craig Skillman
What is your citizenship?
United States
What city and state are you from?
Richmond, IN
How old are you?
23
What is your education level and background?
Bachelor's degree

Have you traveled abroad in the past?
Yes, I studied abroad in Spain, Peru, Brazil, and have also been to Chile, Argentina, Colombia, and Canada.

What sparked your interest in going to teach English abroad?
I first became interested in teaching abroad during my undergraduate study abroad program in Lima, Perú. A friend of mine introduced me to a volunteer organization that provides different educational programs for women and children in the community of Huaycán: The Light and the Leadership initiative. I decided to try it out, and began volunteering with their English programs every Saturday possible for a few months. I really enjoyed it, and thought that it might be something that I would like to continue doing in the near future.
What were some of your concerns before teaching abroad?
The first time I taught abroad in Peru, I was mainly worried about teaching children. I had never worked with children before, and was not sure how well I was going to do. However, after receiving a Fulbright grant to teach English in Colombia, I had a whole new array of questions and concerns running through my mind. How would I handle teaching English at the university level, having students my own age and gaining their respect? Did I really have enough training/prior experience to effectively teach at this level? What would working abroad in this environment entitle in terms of schedules, planning, preparation? These were some of the things that were passing through my mind. Although, I will say that I was a little more excited than nervous. Having prior experience abroad, I knew that I could handle the challenge.
What did your friends and family think about you moving and teaching abroad?
My friends and family have always been supportive of me. In college, I majored in Spanish, Portuguese, and International Relations, therefore they all expected that I would be off to work abroad sooner or later.

Why did you decide to get TEFL certified and choose International TEFL Academy?
I decided to get TEFL certified because I thought that it would enhance my teaching abilities and make me a more well-rounded English teacher. I felt that I should always be providing my students with the highest quality of education, and that a TEFL certificate would allow me to truly do so. As for choosing the International TEFL Academy, I did so through the recommendation of another Fulbright ETA in my cohort. She had taken the course and thoroughly enjoyed it, and it was also very convenient that it had an online option, allowing me to participate while abroad.

Which TEFL certification course did you take?
Online TEFL Course
How did you like the course?
I really enjoyed the course. I liked how it touched base on not only the educational side of teaching, but the cultural side as well. The lessons, assignments, and practicum aspect were all very useful in preparing us to go out and be able to plan, teach, and work on our own.
How has your TEFL training helped you in your current teaching position?
I believe the TEFL training has helped me most in improving my planning methods and making sure I have the right scaffolding and materials to go along with each lesson. Before taking the TEFL course, I found my planning sheets to be less organized and thorough, but with the course, the templates they provided have really helped me change that.
Which city and country did you decide to teach English in and why?
I decided to teach English in Colombia in the city of Bogotá. I decided to teach in Colombia because I felt that it is a country with a lot of potential internationally. It has many bilingual goals nationally, and is working hard to emerge into the international realm in not only business, but education as well. Having been overlooked for decades due to many issues surrounding its armed-conflict, Colombia is finally able to starting making the progress it needs to better the country. I wanted to help be part of this change.
How long have you been in this country and how long do you plan to stay?
I was in Colombia for ten months and will be returning for another ten after a short break in the United States for the summer.
What school, company, or program are you working for?
I teach English through the Fulbright Program in Colombia.
During which months does your school typically hire?
Applications for Fulbright are due in October the year before your desired grant period.
Did you secure this position in advance of arriving?
Yes.
How did you interview for this position?
Skype/Phone Interview.
What kind of Visa did you enter on?
Diplomatic visa.
Please explain the visa process that you went through.
The visa process is all online. After receiving a temporary electronic copy, you can then go to your closest consulate or the immigration office in Bogotá.
What are the qualifications that your school requires for teachers? Please check all that apply
- Bachelor's degree
- Native English speaker
What is the best way to apply?
Apply onlin
Tell us about your English teaching job!
Teaching in Colombia is very different depending on the institution, especially at the university level. Weekly, I worked around 20-30 hours, having classes at different times throughout the day. Classes at the university level can be anywhere from 7 am to 10 pm at night. Many Colombian students study at night so they can work throughout the day. At the university where I worked, I was in charge of teaching students in the English Licensure Department, or in other words, students who wanted to become future English teachers. In the department I helped with English clubs, test preparation courses for the Cambridge English Exams, and gave pronunciation workshops for various levels from beginner to advanced.
With Fulbright, I received a stipend that was enough to cover the cost of food and living expenses, while having a little left over to travel and do activities. Seeing as I was in Bogotá, the cost of living was considerable higher than other parts of the country, not allowing me to save much money at all. Colombia also has lots of holidays, therefore giving me many three day weekends to visit other departments.
How did you find somewhere to live and what is it like? Do you have roommates?
There are lots of apartment share websites that Colombians use to advertise rooms and living spaces throughout the city. I used these to find apartments with other Colombians, seeing as it is more affordable to have roommates than live alone. Typically, I would look online until I found a place that looked nice, then visiting it in person before making a decision about living there.
Please explain the cultural aspects, public transportation, nightlife, social activities, food, expat community, dating scene, travel opportunities, etc...
Colombia is a country with many diverse regions, all having different characteristics and cultures. From the Caribbean coast to the Amazon rainforest, it is hard to sum up the culture in only a few words. From ajiaco to bandeja paisa, salsa to vallenato, mountains to deserts, the diversity truly will captivate you as you get to know each department. The best thing to do is to come and experience it for yourself!
What are your monthly expenses?
Monthly expenses vary depending on where you are living throughout the country. As stated before, Bogotá is, for the most part, more expensive than other parts of the country.
Rent: Average rent is around 500,000-800,000 Colombian pesos($175-$280 USD).
Phone costs on a prepaid phone chip are around 40,000 ($14 USD) a month, depending on what plan you would like to buy.
Transportation costs can vary, but local buses cost around 2,000 pesos (75 cents US) per ride, and taxis/private transportation can vary depending on time, location, and demand.
Socal activities: There is something for everyone.
Eating out: If you want to have a fancy night out with dinner and drinks, you can certainly do so, but at the same time, you can also find more affordable places to eat, dance, and hangout throughout the city.
How would you describe your standard of living?
I would say that I can live quite comfortably on my stipend.
In your opinion, how much does someone need to earn in order to live comfortably?The typical foreign English teacher makes around 1,500,000 pesos ($525 USD) monthly. That stipend is enough to live comfortably in most places in Colombia, but in bigger cities, teaching private lessons on the side may be necessary at times.

What advice would you give someone planning or considering teaching abroad? Would you recommend teaching in your country?
I would highly recommend teaching English abroad in Colombia. Before deciding on anywhere to teach, do your research. Look into different placement options, schools, regions, the culture; all of these things are important when thinking about making any move abroad. Try to picture yourself in that country and living there.


Craig first became interested in teaching abroad during his undergraduate study abroad program in Lima, Perú. A friend of his introduced him to a volunteer organization that provided different educational programs for women and children in the community of Huaycán: The Light and the Leadership Initiative. He decided to try it out and began volunteering with their English programs every Saturday possible for a few months and really enjoyed it. As a result, he worked on getting TEFL Certified through ITA and then headed to Bogota, to teach English through the Fulbright Program in Colombia.
Want to Learn More About Teaching English Abroad & Online?
Request a free brochure or call 773-634-9900 to speak with an expert advisor about all aspects of TEFL certification and teaching English abroad or online, including the hiring process, salaries, visas, TEFL class options, job placement assistance and more.
"I knew International TEFL Academy had a good reputation, and a friend recommended them to me, so I decided to finally get my certification in order to become a better teacher and be more confident in my teaching skills."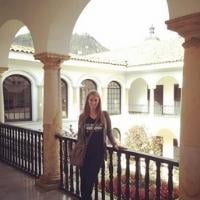 - Laura Hoppe
Teaches English in Colombia