non native english speaker
Teaching English in Shenzhen, China: Alumni Q&A with Armand Diab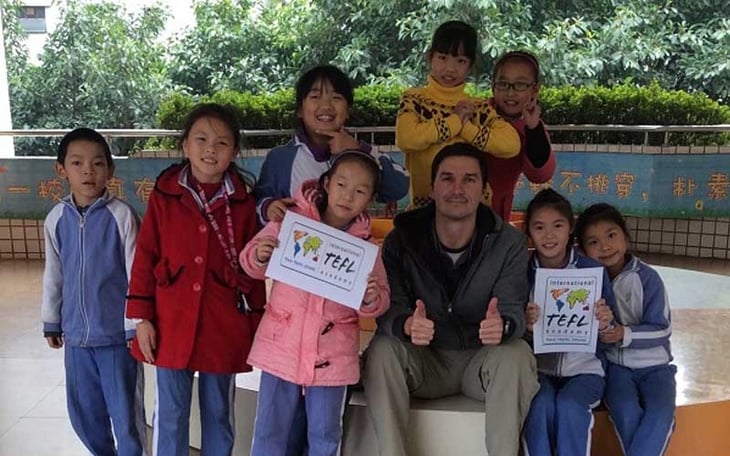 What is your citizenship?
United States
What city and state are you from?
Chicago, IL
How old are you?
35
What is your education level and background?
Bachelor's Degree
Have you traveled abroad in the past?
Some international travel with friends, family, business, etc.
If you have traveled abroad in the past, where have you been?
Mostly Europe (Germany, Bosnia, Croatia, England)
What sparked your interest in going to teach English abroad?
I wanted to travel the world a bit, and also to get paid doing it. Teaching English in a foreign country sounded like a great idea, and I'm glad that I took the TEFL course.
What were some of your concerns before teaching abroad?
Possible culture shock, and missing my family and friends back home.
What did your friends and family think about you moving and teaching abroad?
Most of them were excited and supportive, while some were skeptical, saying that I did not need to dedicate a year of my life to teach in China.
Why did you decide to get TEFL certified and choose International TEFL Academy?
It was very close to where I lived (north side of Chicago), and it ensured me a TEFL certificate, which is a requirement to teach anywhere abroad as an ESL teacher.
Which TEFL certification course did you take?
USA - Chicago TEFL Class
How did you like the course?
I loved the TEFL course. My instructors Gosia Mroz and Jan Kasik are two very knowledgeable people about the English language and grammar. Even though neither was born in the US, they know more about the English language than most Americans.
I thought that I learned a lot about teaching techniques from both of them, and was glad to have had them as my instructors.
How has your TEFL training helped you in your current teaching position?
The teaching training that I received at the International TEFL academy was invaluable in my preparation as an ESL teacher. Honestly, I don't think I would've been able to teach currently had I not taken the class itself.
Which city and country did you decide to teach English in and why?
I am teaching English in Shenzhen, China, because it allowed me the best possible opportunity for someone with no previous teaching experience.
How long have you been in this country and how long do you plan to stay?
I've been here for 3 weeks now, and my current contract runs for 10 months (end of June 2014).
How did you secure your English teaching job?
I found the job post on Dave's ESL Cafe, replied to it and rest is history.
What school, company, or program are you working for?
I'm working for Penergy Education, they are based in Canada.
How did you get your work visa? If you didn't get a work visa, please elaborate on working under the table without a work visa.
The school here in Shenzhen worked with the Shenzhen government to send me an invitation letter. Once I received it, I went to the Chinese embassy in Chicago and got my Z working visa.
Tell us about your English teaching job!
I work at a public elementary school, teaching grades 1 through 3. My teaching week consists of 16 classes, which really isn't bad. Salary is 10,000 RMB per month, which should allow me to save at least $500, if not more per month, because my apartment and all bills inside of it are covered by the school/Penergy.
How did you find somewhere to live and what is it like? Do you have roommates?
Penergy and the school I'm working took care of my living arrangements. I don't have a roomate; in fact, I have a 2 bedroom huge apartment all to myself. It's great!
Please explain the cultural aspects, public transportation, nightlife, social activities, food, expat community, dating scene, travel opportunities, etc. about your country:
China is a great and exciting country, much more advanced than I thought.
The food is terrific, and Shenzhen has a very modern downtown area full of westerners and all sorts of foreigners working and living here.
The subway system is great, and allows easy access to all parts of the city.
What are your monthly expenses?
I have no apartment expenses, nor bills of any kind associated with the apartment. Only my phone, and those are relatively inexpensive, about $10 per month. I also have to buy my own food, but it's very cheap here in China.
How would you describe your standard of living?
Very comfortable.
In your opinion, how much does someone need to earn in order to live comfortably?
In China, I'd say anywhere around 8000 RMB with a free apartment should make for a comfortable lifestyle.
What advice would you give someone planning or considering teaching abroad? Would you recommend teaching in your country?
Yes, I would very much recommend for others to teach in China. It is a very large country, and there is a lot to see and all sorts of things to learn about their culture. The amount of money one can earn here is more than enough for China's standards, and the life lessons accumulated in the process are priceless.
Armand Diab is a former Corporate Video production freelancer who graduated from Columbia College Chicago in 2002 with a Bachelor's Degree in Film & Video Production. He took his TEFL class at the International TEFL Academy in Chicago in the spring of 2013, and shortly after moved to Shenzhen, China to teach English for a year.
Want to Learn More About Teaching English Abroad & Online?
Request a free brochure or call 773-634-9900 to speak with an expert advisor about all aspects of TEFL certification and teaching English abroad or online, including the hiring process, salaries, visas, TEFL class options, job placement assistance and more.