diversity abroad
Teaching English in Guangzhou , China: Alumni Q&A with William Butler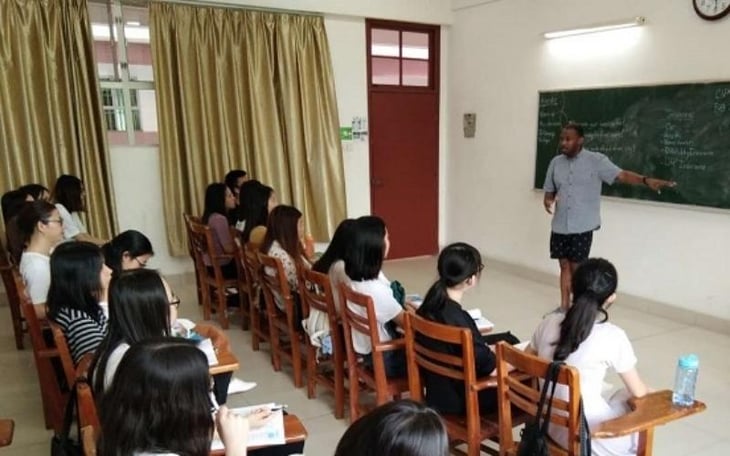 What is your citizenship?

United States

What city and state are you from?

Detroit, Michigan

How old are you?

34

What is your education level and background?

Bachelor's degree
Have you traveled abroad in the past?
Some international travel with friends, family, business, etc.

If you have traveled abroad in the past, where have you been?
Canada
What sparked your interest in going to teach English abroad?

I was down and out in the job market and wanted to find something that would allow me to explore working outside of the USA.


What were some of your concerns before teaching abroad?

My major concern was safety. I wasn't sure how I could survive without speaking the language of the country that I was visiting. I was concerned about shoddy contracts also. After doing tons of research online, I found that there were a few possibilities to receive some shoddy contracts. Lastly, I was concerned about not being able to successfully move into a career of teaching.

What did your friends and family think about you moving and teaching abroad?

My family, especially my mother and grandmother, were very concerned about me moving and teaching abroad. They all confused North Korea with South Korea. They were very apprehensive about my decision. They couldn't understand why I needed to go all the way across the world to feel whole. Also, they couldn't get onboard with the salary. For them the salary was a fourth of what I was making in the states. So they wanted me to reconsider.


TEFL CLASS INFORMATION
Why did you decide to get TEFL certified and choose International TEFL Academy?

When I researched on the internet, International TEFL Academy kept popping up. I did some preliminary research and found it to be very reputable. Additionally, I chose it because it was headquartered in Chicago, which was close to my hometown. It allowed me the chance to study in one of my favorite cities and get some on-ground experience before making the leap abroad.
Which TEFL certification course did you take? How did you like the course?

I 150% enjoyed the experience. The staff was very helpful. The job placement advice was very detailed and informative. At the beginning of the course I was very apprehensive about my decision to become an English Teacher. I quickly learned that I was not as good at English as I had imagined. The first day of class we all needed to take a grammar test. Most of us failed miserably. This actually helped to boost my confidence. Most of my classmates had about the same knowledge about English grammar as I did. This encouraged me to stay in the fight. As the weeks progressed, I saw all of us improve drastically. The work load was very rigorous, but worth it. The practicums were very helpful. The instructors were very supportive in every aspect. The thing I loved most was that Bruce was a very visual CEO. I could see him in the hallway and in between classes. He was very impressive and it was a joy to probe him for knowledge about his experience abroad and as a CEO. I gained a lot of respect for him and his vision for helping others achieve their dream.

How has your TEFL training helped you in your current teaching position?

My TEFL training has helped me tremendously during my current teaching position. In South Korea, I worked for four years. I worked for two years at a private academy and two years as a freelance English teacher. Currently, I'm working at a university in China. The job is great. I'm able to use the methods that I have learned over and over again throughout every different organization. At my current schools, I have some of the highest feedback from students praising my teaching capabilities.

Which city and country did you decide to teach English in and why?

I originally decided to teach English in South Korea in the city of Daegu. Now I am teaching in China in the city of Guangzhou. I chose to teach English in South Korea because it made the most sense. With other countries there was lots of up front cost. With South Korea, the school paid for my flight up front and offered accommodations. For me it was the deciding factor. When I decided to leave the USA, I was down and out, so I wanted to be sure that the decision was a good choice financially.
How long have you been in this country and how long do you plan to stay?

I was in South Korea for four years; now I'm living in China. I plan to stay in China at least another three to five years.

What school, company, or program are you working for?

Guangdong Peizheng College

During which months does your school typically hire?

May to September/November to January

Did you secure this position in advance of arriving?

Yes

How did you interview for this position?

Skype/phone interview

What kind of Visa did you enter on?

Work visa

Please explain the visa process that you went through.

I had to submit tons of documents to the Chinese government. The school was very helpful in advising which documents to submit. The documents included a background check, previous work experience, a certified degree, and a TEFL Certificate.

What are the qualifications that your school requires for teachers? Please check all that apply

- Bachelor's degree
- TEFL Certification
- Native English speaker

What is the best way to apply?

Email
Tell us about your English teaching job!

Hours: I work 22 hours per week teaching 9 classes. I usually work about 4 hours a day with weekends off. Some days I work only 2 hours.

Salary: The pay is great for China. In China, I'm able to live a middle class lifestyle. In US dollars I'm able to save about $500 a month while still enjoying some luxuries like Starbucks a few times a week.

School: I'm working for a university. Actually, my work load is considered heavy compared to other university jobs in China. But it's a gateway to better jobs. If you can endure the strenuous work schedule for a year, it's easy to move to another university which usually works 10 to 15 hours a week.

Students: I teach first and second year university students. I've been able to also teach Business English while here at my university.

Vacation: I enjoy 3 to 4 months of vacation a year. A winter break and a summer break. While teaching at the university may seem intimidating at first, it has turned out to be one of my best jobs while teaching abroad.

How did you find somewhere to live and what is it like? Do you have roommates?

I live alone. All of my jobs abroad have provided nice housing. It's quite small compared to the United States, but it's tolerable. It takes some time to get used to living in a smaller space.
COUNTRY INFORMATION - FUN!
Please explain the cultural aspects, public transportation, nightlife, social activities, food, expat community, dating scene, travel opportunities, etc...

Culturally, it's an adjustment. The Chinese administration tends to move a very relaxed pace. For me it's quite stressful because I'm a planner and a control freak. But over time you'll get used to it. Public transportation is amazing. It's like nothing I have seen elsewhere. The subways stations are usually very clean and the transportation is well connected in this region.

Guangzhou has an impressive night life. If you are into the expat scene, there are lots of things to do and you can find your Western fix for food pretty easily. They have all of the yummy fast food places such as Burger King, Mickey D's and KFC. If you're more into the Chinese style of life, here is a great place to discover the culture. It's close to Macau and Hong Kong, so going to those countries is about a 3 hour trek to the border.
COUNTRY INFORMATION - MONEY
What are your monthly expenses?

Housing is provided by the university. They also offer a free apartment in Hong Kong for our use. China is one of my most well connected countries that I have ever visited. They have an amazing rail system where you can take the high speed train to many destinations. There are airports in most cities also, which allows you to travel Asia conveniently. The broadband network here in pretty good. Make a Chinese friend. They will show you how to save money for shopping and through phone applications.

How would you describe your standard of living?

I would say that I have a pretty good Western standard of living. Although technically China is still developing, it's quickly advancing. So I'm in the middle. While my school's location is quite rural, I can easily access the city and enjoy some of the western luxuries that I appreciate.

In your opinion, how much does someone need to earn in order to live comfortably?

I feel that my salary is adequate. In this country most live comfortable off of 10,000 RMB. But there are plenty of opportunities to make more, but you will work more hours.


ADVICE FOR PROSPECTIVE ENGLISH TEACHERS
What advice would you give someone planning or considering teaching abroad? Would you recommend teaching in your country?

I would say that you shouldn't judge a country by what you see on the internet. If you want to teach abroad, I feel you should have a real heart to heart with yourself and determine your true reason for wanting to try living abroad. I would say that it's easier than you think. If you go in with an open mind then you'll do great. One piece of advice is that this is not America. If you think it will be just like America, then you're probably making the wrong choice. I think most people that hate living abroad have difficulty accepting that it's not their home country. Once you realize this, you will be more than 70% successful in your travels abroad.
William Butler is from Detroit, Michigan and took his TEFL course at the ITA headquarters in Chicago. He then went on to teach English in both South Korea and China.
Want to Learn More About Teaching English Abroad & Online?
Request a free brochure or call 773-634-9900 to speak with an expert advisor about all aspects of TEFL certification and teaching English abroad or online, including the hiring process, salaries, visas, TEFL class options, job placement assistance and more.