Teaching English in Santiago, Chile: Alumni Q&A with Erin Durian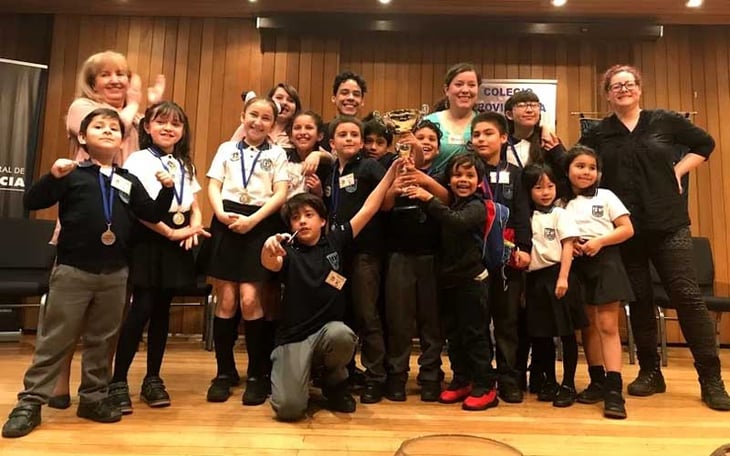 What is your citizenship?
United States
What city and state are you from?
Iowa City, Iowa, USA
How old are you?
23
What is your education level and background?
Bachelor's Degree
Have you traveled abroad in the past?
I studied abroad in Spain and have also traveled to Austria, England, and Mexico.
What sparked your interest in going to teach English abroad?
I love learning about other cultures and languages and wanted to have a deeper understanding of them by being more than just a tourist.
What were some of your concerns before teaching English abroad?
I was worried that I would hate it and miss home.
What did your friends and family think about you moving and teaching abroad?
My family was nervous for me to leave for so long and by myself to a country they knew almost nothing about. I reassured them that Latin America doesn't have to be dangerous and they accepted what I was going to do.
Why did you decide to get TEFL certified and choose International TEFL Academy?
I felt they had a good reputation and a strong curriculum. I saw all of the alumni stories and the fact that they gave me so many resources for finding a job and connecting to people in that country made me feel less like I was doing it all by myself.
Which TEFL certification course did you take?
I took the Online TEFL class.
How did you like the course?
I enjoyed the online course very much and I had a great time doing the practicum especially. I met a lot of nice people and continue to volunteer with that group.
How has your TEFL training helped you in your current teaching position?
The TEFL training helped me have an idea of some of the things I might encounter in my job as well as gave me the tools to figure out things I hadn't been trained in specifically. I felt pretty confident stepping into my first class.
How long have you been in Chile and how long do you plan to stay?
I started teaching English in Chile in 2019. I stayed until my contract ended in December of 2019 and then spent my time traveling into January of 2020.
Why did you decide to teach English in this location?
I had previously studied abroad in Spain and really enjoyed it. I wanted to explore somewhere in Latin America this time where I could learn Spanish, teach with a visa, and travel. Chile was advertised as one of the most stable economies in South America and it was relatively easy to get a work visa.
What school, company, or program are you working for?
I worked for a company called The Language Co.
During which months does your school typically hire?
January through March.
Did you secure this position in advance of arriving?
Yes.
How did you interview for this position?
Skype/Phone interview.
What kind of Visa did you enter on?
Temporary Resident Visa.
Please explain the visa process that you went through.
I had to compile some documents such as a background check, passport photos, and medical letter to send to the nearest consulate. My company was able to write me a letter and gave me a contract to send to the consulate. I waited about 6 weeks and once I was approved, went in and had them put the visa in my passport. The most difficult part was finding the required documents to send in as not all of the consulates had the same process.
What are the qualifications that your school requires for teachers?
TEFL Certification and you must be a Native English Speaker.
What is the best way to apply?
Online.
Tell us about your English teaching job!
I was in a special situation - I worked with all children, although my company also does corporate classes. I went to their homes after school and we played games and did homework. I worked about 7 hours a week doing that. I was also sent to do various workshops/classes with public schools in the city. I was paid a minimum of $600.000 CP per month ($900 USD). The was enough to live on though I didn't save any money.
Please explain the cultural aspects, public transportation, nightlife, social activities, food, expat community, dating scene, travel opportunities, etc...
Chile was not too much of a cultural shock - Santiago is similar to many US cities and it is easy to find a lot of recognizable foods and items. They have an easy to use metro system as well as city buses (micros). It is easy to catch a bus to the north or the south of Chile and not very expensive - I went to the beach for the weekend about once a month.
There are many universities and so you can easily find a dance club with reggaeton music or to dance salsa. Chilean food is not widely known for a reason (it's quite boring), but you are able to find a wide variety of other international cuisines and cheap street food. (Venezuelan food is the best).
There are many expat groups on Facebook that you can use to connect with other English speakers and many people also try language exchanges to meet local people as well.
It is not as cheap as Europe to travel to other countries in South America but you can find good deals to visit Argentina and other nearby countries. Chile itself has a lot to offer in terms of natural beauty and there are tons of national parks to check out in the north (Atacama desert) and the south (the lake district, Patagonia).
What are your monthly expenses?
Rent/utilities: $300 USD a month
Transportation: $25 USD a week
Food: $130 USD a month
Phone: $6 USD a month
Social: $100 USD a month
Travel: $50 USD a month
How did you find somewhere to live?
I found my apartment on a Facebook group for people looking for shared living spaces in Santiago (Roommate and Flat Finder Santiago). I shared a small furnished apartment with two other Chilean girls. I had a tiny, cozy room and I shared a bathroom with one other girl. The building we lived in had 24 hour security, an elevator, and a swimming pool. It's in a great location and under $195.000 CP ($300 USD) per month.
How would you describe your standard of living?
Modest.
In your opinion, how much does someone need to earn in order to live comfortably?
$850 USD per month.
What advice would you give someone planning or considering teaching abroad? Would you recommend teaching in your country?
I had a great experience living and teaching abroad. I met so many great people and got to travel and made some great memories. Chile is a good option if you want to go to a Spanish speaking country, teach legally, and have opportunities to travel South America. Current events in Chile may deter some people from going but I think it is perfectly safe to go to Chile right now as long as you avoid the protests and are smart as in any other country. It's beautiful!
After studying abroad in Spain during college, Erin wanted to have a deeper understanding of language and culture by being more than just a tourist. She completed her TEFL Certification with International TEFL Academy in 2018 and spent 2019 teaching English abroad to children in Santiago, Chile while brushing up on her Spanish-speaking skills.
Want to Learn More About Teaching English Abroad & Online?
Request a free brochure or call 773-634-9900 to speak with an expert advisor about all aspects of TEFL certification and teaching English abroad or online, including the hiring process, salaries, visas, TEFL class options, job placement assistance and more.