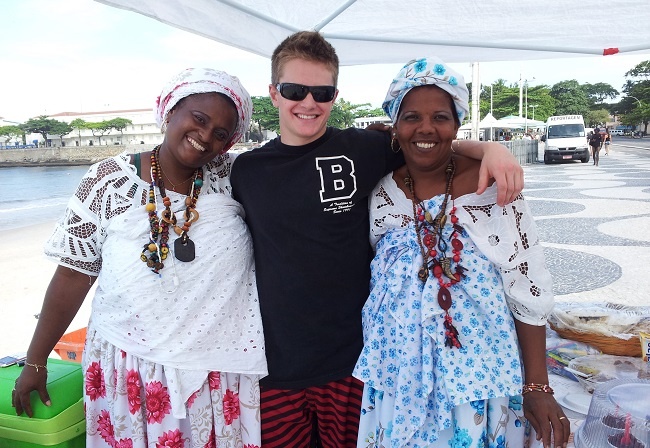 Teaching English in Sao Paulo, Brazil: Alumni Q&A with Benjamin Penner
What is your citizenship?
United States

What city and state are you from?
Carlsbad, California

How old are you?
25

What is your education level and background?
Bachelor's degree

Have you traveled abroad in the past?

Taught English abroad previously

If you have traveled abroad in the past, where have you been?
Brazil, Germany, Australia, Mexico, etc.
If you have studied abroad in the past, where did you study?
Brazil

What sparked your interest in going to teach English abroad?
Both of my parents are teachers, and my interest in teaching has always been strong. I have always been a huge fan of traveling, and exploring the world. The best way to combine those two things seemed to me would be teaching abroad.

What were some of your concerns before teaching abroad?
Monthly expenses, safety, health risks, and the ability to actually earn a solid income and living.

What did your friends and family think about you moving and teaching abroad?
My friends like most were stoked, "We can't wait to come and visit you!" My family was extremely apprehensive, being the oldest son, and being the first one to "branch out" and find myself so to speak. My family was generally concerned with the safety and ability to actually earn a living as well. Overall however everyone including my family were very supportive and backed my decision to move abroad.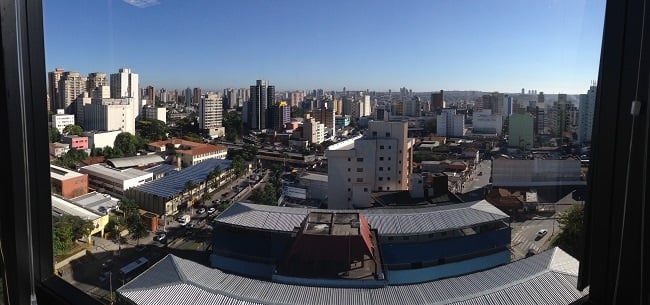 TEFL CLASS INFORMATION
Why did you decide to get TEFL certified and choose International TEFL Academy?
I wanted to get a certification that I could benefit from internationally. I wanted to be able to teach and be able to provide certificates to my students to be able to present to their institutions, workplaces, and family. I wanted to move at the time to Brazil. I chose International TEFL Academy because they were highly recommended by online reviews.
How did you like your TEFL course?
I loved the course! The course was extremely helpful because we went over the curriculum formation and the essential information that we needed in order to get the ball rolling fast. We worked with instructors that were seasoned vets in the area. Our instructors helped us get going fast with job leads as well as understand the location in which we were working. We were given great help with finding clients as well as building curricula specific to the client needs we were working with.

How has your TEFL training helped you in your current teaching position?
I am no longer teaching after five years. However, the TEFL has not only given me teaching experience and the ability to excel in the classroom, but it has also given me the opportunity to understand the management and marketing aspects of running a small business. I learned culture and learned a completely new language. I was able to expand my contacts professionally, and I was able to excel not only professionally but personally. I thank the TEFL training and certification process because it helped me shape the previous five years of my life which have made me who I am today.

Which city and country did you decide to teach English in and why?
I chose to teach English in Brazil in the city of San Paulo because although it may not be the prettiest, it is for sure the busiest. There is more opportunity here than anywhere else in my opinion. There is more of a need for English here than anywhere else in Brazil. I had to compromise the beach for the business. I chose the business and with a short 45 minute drive, I could be at the beach in no time. The clientele is much more serious and the demand for English services from a "gringo" is high.
How long have you been in this country and how long do you plan to stay?
I was in Brazil for close to five years. During that time i lived in Rio, Sorocaba, Sao Paulo, and ABC. I have since returned to the states, but I do plan to make my way back to Brazil someday, and teaching English plays a major role in that goal.

What school, company, or program are you working for?
English Made Simple. This was a company which I opened and started myself. We no longer have a site.

During which months does your school typically hire?
We were always hiring

Did you secure this position in advance of arriving?
No

How did you interview for this position?
I started the company

What kind of Visa did you enter on?
Tourist visa

Please explain the visa process that you went through.
I initially went through the tourist visa process, but after time I eventually obtained a permanent residency visa. I was then living in Brazil with a permanent visa for close to 4 and half years.

What are the qualifications that your school requires for teachers? Please check all that apply
- Bachelor's degree
- TEFL Certification
- Native English speaker

What is the best way to apply?
In-person
Tell us about your English teaching job!
Owning my own company, I was able to have a lot of flexibility as well as earn a lot more than most. I primarily worked somewhere between 20-30 hours per week. I secured some very large contracts which was great, and I would love talk in detail about how I was able to do so in a personal message. We can discuss the pay as well as the savings that come with running your own small private English company. I worked with primarily professionals as well as adults. I did have some kids, but I would say my primary contracts were closed with professionals. I was able to vacation frequently.
I owned the company which gave me leeway and the ability to delegate the time accordingly. I would strongly recommend starting small, working for a school part time and running your own personal contacts on the side. A lot of the time the students from the school will approach you to try and have you give them private classes rather than attend the school.

How did you find somewhere to live and what is it like? Do you have roommates?
I lived with friends primarily. I lived in Rio with friends and their families. It was amazing! It is the best way to learn and become comfortable with the culture and lifestyle. I also lived with nine other guys at one point! That was a lot of fun as well; we all lived in a house and had our own rooms, but we had the most amazing time. There were four Brazilians, two Argentinians, one German, one Mexican, and myself the only American. I then got my own apartment in Sao Paulo.

On a scale of 1 - 10 please rate your experience with this school.
10
COUNTRY INFORMATION - FUN!

Please explain the cultural aspects, public transportation, nightlife, social activities, food, expat community, dating scene, travel opportunities, etc...
The food is amazing! The language is super difficult to learn, but living there and with time it is 100% possible!
Public transportation in Brazil can be a nightmare or a blessing. It all depends on timing. You need to time your departures and arrivals accordingly. There are times where you will hit wall to wall traffic and times where can run down the freeway no problem!
The nightlife in Brazil is amazing! There is so much to do, there are great bars, clubs, and all kinds of different things you can do for fun. I would recommend a few places for sure that I was definitely a regular at.
The food in Brazil is the probably some of the best food I have ever eaten. I will say this though: be careful; I did have to get my stomach flushed for eating pork, and it was not a good experience. I would say take it slow with the meats, because they are totally different than here in USA.

COUNTRY INFORMATION - MONEY
What are your monthly expenses?
Rent can run you anywhere from $350 - $1500 USD a month.
Food: $250 - $450 USD a month.
Social Activities: This depends on you, what you like to do and what you want to make of it. This can run you from $200 - $500 USD a month!
Transportation: This can be negotiated with your school, and they can pay for you. But if not, it will cost you about $50 -$100 USD per month.
Phones: The best method is pre-paid phones; this can be about $25 - $50 USD a month.
Travel is another thing that depends on your own taste - where and what you want to do. Think of it like you would here in the states.

How would you describe your standard of living?
When I first moved to Brazil, my standards were very low. I was living off my savings that I had saved before moving. After I began to work more and more and get more and more clients/students, I began to live more comfortably. Eventually I was able to afford my own apartment, vacation around the country, and be able to save. The reality is all about your own expectations and desires. If you want to work very little you will gain very little, but the harder and more work you put in the more you will get out of it.

In your opinion, how much does someone need to earn in order to live comfortably?
When I was in Brazil, earning anywhere from $1,500 - $2,500 USD meant you could live extremely comfortably. This is not easy though; most people will earn around $1,000 and that is enough to live a normal day to day life without any big time expenses like vacations. But if you want to save, travel, and live in a nice neighborhood / apartment, you need to earn around $1,500 - $2,500 USD.

ADVICE FOR PROSPECTIVE ENGLISH TEACHERS
What advice would you give someone planning or considering teaching abroad? Would you recommend teaching in your country?
Teaching abroad is not only about the teaching of English. You are representing your home country, culture, and the perception of how others view your own lifestyle. Many people forget that teaching others is more than just making sure they meet the standards. Teaching is the most effective way to learn, and learning is the best way to grow. I think that anywhere you go in the world, it is more than important to have an open mind and heart. You need to be able to experience new things, and you need to be able to accept things that may be 100% different than what you are used to. I would recommend teaching abroad to anyone who is looking to grow professionally, personally, and culturally.



Founded in 2010, International TEFL Academy is a world leader in TEFL certification for teaching English abroad & teaching English online. ITA offers accredited TEFL certification classes online & in 25 locations worldwide and has received multiple awards & widespread recognition as one of the best TEFL schools in the world. ITA provides all students and graduates with lifetime job search guidance. ITA has certified more than 25,000 English teachers and our graduates are currently teaching in 80 countries worldwide.
Want to Learn More About Teaching English Abroad?
Request a free brochure or call 773-634-9900 to speak with an expert advisor about all aspects of TEFL certification and teaching English abroad or online, including the hiring process, salaries, visas, TEFL class options, job placement assistance and more.