Teaching English in Buenos Aires, Argentina: Q&A with Jamie Spiering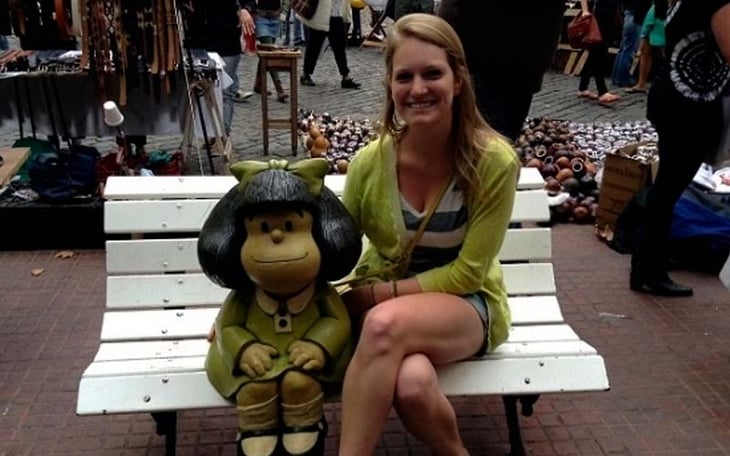 What is your citizenship?
United States
What city and state are you from?
Des Moines, IA
How old are you?
25
What is your education level and background?
Bachelor's Degree
If you have traveled abroad in the past, where have you been?
I've been to Chile, Peru, Brazil, Uruguay, Argentina, Panama, Costa Rica, and Mexico.
What sparked your interest in going to teach English abroad?
I love traveling. I love learning about new cultures and I wanted to continue learning Spanish. I mainly wanted the opportunity to immerse myself in a new culture and move to a country where I know no one. I thought teaching would be a great way to learn about the country as well as connecting with the locals.
What were some of your concerns before teaching abroad?
If I would make enough money to live and meeting new people.
What did your friends and family think about you moving and teaching abroad? Were they supportive, apprehensive, excited, concerned, etc?
My parents were very apprehensive, but my friends were all excited and supportive - plus they wanted to visit!
Why did you decide to get TEFL certified and choose International TEFL Academy?
One of my main concerns about finding a job was if I would find a job that would support me financially. I read a lot about teaching in Argentina and I knew that I would need the TEFL certificate to find a good job that pays decently. Also, I received my degree in business, so teaching was completely new to me and I thought the TEFL class would help with that. I did a lot of research and found the International TEFL Academy to be the best choice. They provided me with ample support and resources that I knew would help with my teaching career.
Which TEFL certification course did you take?
Online TEFL Course.
How did you like the course?
I loved the online TEFL course. Not only was I able to work on assignments and group discussions on my own time, but I had a great instructor who was very encouraging! She was great at giving feedback and answering questions. International TEFL Academy's online course allowed me to work full time and still get certified which was a big help, so that I was able to save money for my move. The tasks were challenging, but very helpful in creating lesson plans and learning how to deal with situations.
The practicum (student teaching ESL students) was definitely a great resource for me. Like I said, I was new to teaching and it was really helpful to be able to work with the students and see how they learn. I was able to observe and help in classrooms with both children and adults learning to speak English. I also made some good contacts in the ESL field!
How has your TEFL training helped you in your current teaching position?
The TEFL training I received helped with being able to manage my classroom time and use resources. I learned how to help keep the students engaged and motivated. I teach adults in a business environment, so it's important for me to keep them engaged since they are very busy people.
Which city and country did you decide to teach English in and why?
I chose to teach English in Buenos Aires, Argentina because I had spent a weekend in BsAs and I fell in love with the city. I also knew I wanted to be in a Spanish speaking country.
How long have you been in this country and how long do you plan to stay?
I have been here for about 1 month and I plan to stay 1-2 years.
How did you secure your English teaching job?
I actually have 2 part time teaching jobs, both of which I found on Craigslist.
What school, company, or program are you working for?
I am working for small, private companies with only a few teachers.
How did you get your work visa? If you didn't get a work visa, please elaborate on working under the table without a work visa.
I do not have a work visa. It is very common for teachers to work on a tourist visa. I will have to leave the country every 90 days to renew the tourist visa, which I am fine with. Colonia, Uruguay is only an hour ferry ride away and it's a very cute town!
Tell us about your English teaching job!
One of my jobs is at a local bank, in the downtown area. I have 5 groups (1-4 students) and I just move around the floors to meet with them. The classes usually meet for 1.5 hours, 2 days per week. The other job is private students (1-2) and they come to my apartment for 2 hours, twice a week. All my students are adults, intermediate levels, looking to learn English for travel or work. It's great that all my classes are in one location, that doesn't always happen.
I make $40 - $50 pesos/hour, which is about $8-$10 USD per hour and I will be working about 20-30 hours a week. I won't be able to save much, but I will (hopefully) make enough to live. I plan on doing some independent tutoring to earn extra cash. I also found a job working in a fun, language exchange group a few nights a week. I haven't figured out how much vacation time I will be able to use, but I'm hoping my bosses will be flexible with that.
How did you find somewhere to live and what is it like? Do you have roommates?
I found my housing options on Craigslist also (there are tons of options). I chose to live with a house-mom for the first month. She was very nice and helped me with finding my way around the city, a cell phone, subway pass, etc. This also gave me time to figure out which neighborhood I wanted to live and look for a place. I found a great apartment with a Colombian girl in a great neighborhood. I visited probably 5-10 apartments before I found the one I wanted, but I did make a few friends doing that. There are a lot of housing options with 5-10 roommates from all over the world in a big house. I chose to do a more private, 2 bedroom apartment. All of the apartments I looked at had everything you would need and most are decent sizes. It is also very common to have a housekeeper clean and do your laundry 2 times a week (bonus!).
Please explain the cultural aspects, public transportation, nightlife, social activities, food, expat community, dating scene, travel opportunities, etc. about your country:
The culture in South America is great. It is not uncommon to see a man in a business suit, enjoying a bottle of wine in the middle of the day. Everything is closed on Sundays and family is most important. You will often see groups of family/friends hanging out outside drinking mate (traditional herbal beverage that you share among groups). The Argentines are friendly and enjoy talking to people from other countries. The men are a bit aggressive, but you get used to it, it's their culture.
Another thing you will get used to is the nightlife. Porteños don't go out until at least 2am and the clubs are usually full until 6-7am. It takes some getting used to as you will sleep in until about 3pm the next day. But everyone is always up for a good party or asado (BBQ). Public transportation is very easy.
The subway is great and there's a mobile app for the bus routes (which I will probably never learn). You can just put in your starting point and destination and it will tell you which bus to take.
The Expat community here is HUGE!! There's a great website called baexpats.com that will help with any questions you have. They also post classifieds. There are always a ton of travel opportunities in South America, either by bus or plane. Bus rides will be less expensive, but sitting on a bus for 18-24 hours is not uncommon.
What are your monthly expenses?
Rent: Buenos Aires is probably one of the most expensive cities in South America. But living in a city like this is worth it. Rent here will be about $400-$600 USD depending on the living situation and neighborhood. I pay around $500 and I am in one of the most popular neighborhoods. This includes all utilities, fully furnished, and I don't have to sign a lease which was a big plus for me.
Food: Food is probably the same as in the US. You choose how much or how little you want to spend each week on food. If you go out, a typical lunch will run you $10-$15 and dinners can go up to $20-$30 - depending how much Malbec you are drinking.
Transportation: Transportation isn't too bad, it's about $.30 to ride the bus and $.50 to ride the subway. Cabs are usually $5-$8 - at night they go up in price.
Communication: Phones are very cheap (I bought mine for $40 and I pay probably $5 each month on minutes). But I also have a Nokia with no internet assess or camera. I use my iPod for that. It's a good idea to bring your unlocked smart phone down here and just buy a SIM card for $5 when you get here. There is WiFi everywhere, so you don't need to worry about having a network.
Each month, I will probably be spending about $800-$1000. And that doesn't include travel which I will use my savings for.
How would you describe your standard of living?
Comfortable.
In your opinion, how much does someone need to earn in order to live comfortably?
$800-$1,000 per month.
What advice would you give someone planning or considering teaching abroad? Would you recommend teaching in your country?
I would advise any one considering teaching abroad to do it but make sure you are committed. The first few weeks can be difficult while you are adjusting, but you need to remember why you wanted to teach abroad in the first place. I would absolutely recommend teaching in Argentina, but make sure you have money saved as the city can be a bit expensive! Also, I would advise to take Spanish lessons before you get here, they can be very expensive here and you will want to know how to get around. It's an amazing opportunity to move to a new country and I always encourage people to experience it.
Jamie loves traveling and learning about new cultures. She wanted to continue learning Spanish and the opportunity to immerse herself in a new culture and country where she absolutely no one. She figured teaching abroad would be a great way to learn about a new country as well as connect with the locals. Jamie took ITA's Online TEFL Course and moved to Buenos Aires, Argentina where she teaches English to intermediate-level adults.
Want to Learn More About Teaching English Abroad & Online?
Request a free brochure or call 773-634-9900 to speak with an expert advisor about all aspects of TEFL certification and teaching English abroad or online, including the hiring process, salaries, visas, TEFL class options, job placement assistance and more.