Stage Fright - Teaching Private English Lessons in Italy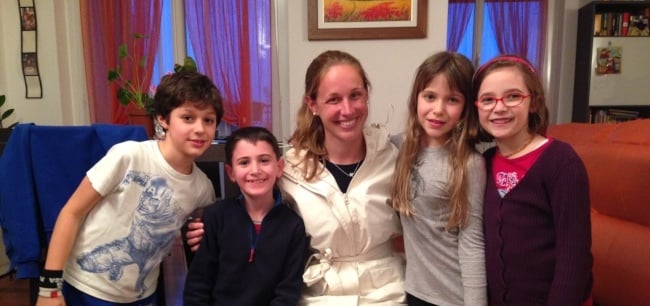 I don't like being the center of attention. I don't like being at the head of a crowd. I don't like a room full of strangers looking at me. Basically, I have stage fright. I thought that maybe going through the TEFL process and moving to Europe might help me get over it, or I thought that I would just have to suck it up because living in Europe would be worth it. No one told me that there would be a good way to avoid the problem altogether.
My boyfriend and I hatched a plan to move to Italy and teaching was the only way we knew we could make a living, so we signed up for an online certification class through the International TEFL Academy.
The problem, like I said, is that I have stage fright, so I was terrified to land a teaching job and spend my days standing in front of a group of Italians who expected me to teach them my language. Nonetheless, when we arrived in Milan, we started relentlessly emailing companies to see what we could do about working, and I was prepared to just deal with being uncomfortable as a teacher because Europe was more important than my fear.
However, two of the companies I applied to offered me part-time work as a private tutor. This was something I hadn't really considered before and it turned out to be the best possible option for me.
Instead of creating lesson plans a week in advance and spending eight hours a day in front of a class, I was able to scrap together one and two-hour lessons, two or three times a day. This meant that I could work enough to support myself and break even, but it also meant that I wasn't waking up at 6:00 AM or worrying about embarrassing myself in a classroom. These two companies did a great job of providing me with materials for the students. I basically had a full bookcase of English learning tools and books, so if a certain part of the lesson wasn't working, I had something else in my backpack to try instead.
My students were mostly groups of children ranging in age from 4 to 16 years old along with a few university students and adults thrown in. Some lessons were with individuals, and others had up to four students, which was well within my comfort zone.
A standard lesson would have me arrive at their house, ring the buzzer (and maybe say something in Italian), walk in and greet the family (usually in English), and then talk to the kids in English for an hour. We'd play Memory, read Dr. Seuss books, do some coloring if they were very young, sing the alphabet song, and things like that. Of course, the adult students were a little more complex and required grammar lessons and answering complicated questions that even native English speakers sometimes don't know the answers to.
An underrated aspect of this style of work is that it is not a standard daily routine. The weeks became fairly similar, but each day was different than the next. And since I was working directly with families, they might go on vacation, which meant that I could go on vacation. The private tutoring allowed more personal flexibility than teaching in a school ever could have.
The other trick to making private tutoring work is to consider advertising your services. I put up fliers near local primary schools as well as universities and ultimately got a few extra lessons from it. In fact, I had people messaging or calling me about these fliers several months after the fact. I even had someone contact me after I'd left for the United States.
If you don't have access to a printer, there are other ways to get the word out. While Craigslist is popular in the United States, there are countless websites that offer tutoring services as well as the chance to connect students with tutors. For me, Universitytutor.com was the most effective. I had at least four students contact me from this site alone, and I was able to take two of them on as once-weekly lessons. The others were always thankful for my help as I would direct them back to the companies I worked for to see if they could find anyone whose schedule would match (since mine filled up pretty quickly).
The only downside to this method of teaching is that almost all of my lessons were around dinner time. They were all between 3:00 and 9:00 p.m. On the one hand, it was great because I never had to wake up early for a lesson or go to school at the break of dawn. On the other hand, it was strange to get home from work at 9 or 10 o'clock at night most nights.
So the point is that there are options. If you feel like teaching at a school isn't for you, you can still make a living teaching abroad. If you feel like you don't want to get up in front of a crowd to give lessons, you can still make a living teaching abroad. And if you want some flexibility in your hours, you can still make a living teaching abroad.
Jenna, a Family Nurse Practitioner from Chicago, spent nine months from September 2014 to June 2015 living and teaching/tutoring English in Milan, Italy after getting TEFL certified with International TEFL Academy.
Want to Learn More About Teaching English Abroad & Online?
Request a free brochure or call 773-634-9900 to speak with an expert advisor about all aspects of TEFL certification and teaching English abroad or online, including the hiring process, salaries, visas, TEFL class options, job placement assistance and more.