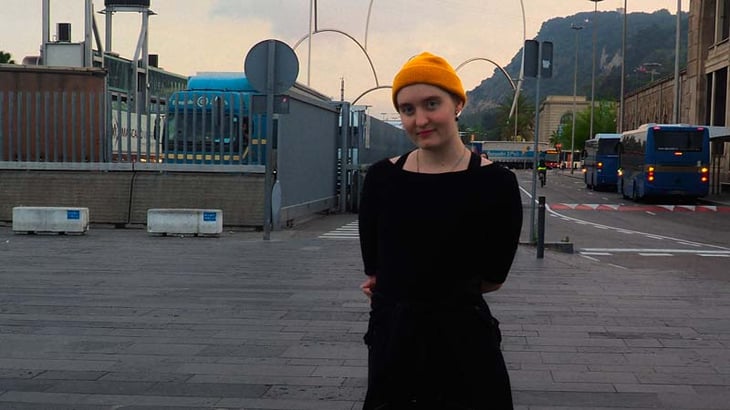 Teaching English Online from Spain as an 18-Year-Old
After reading the title of this article, you know I'm an 18-year-old English teacher. But that wasn't the case at first. When I started my TEFL class with ITA, I was just 17 years old. I was finishing my last year of high school in Nebraska and taking college courses as well from a local community college. My day consisted of college in the morning, high school in the afternoon, and my TEFL training in the evening. I know my case is a little unusual, if not very unusual and surprising. And then, I moved to Barcelona, Spain - alone. That tops it off as unusual and surprising.
Graduating high school, I knew I wanted to continue my higher studies overseas. Not only are higher studies much cheaper overseas (take a look at tuition in America then look at a school in Europe for example), I wanted to get outside my own little comfortable world in America and throw myself outside my comfort zone. I knew that 18 was a great age to do this.
I thought about the logistics of how I could make my dream possible. If I wanted to move abroad at the age of 18 and be able to study in Europe, I would need a way to fund all of this (and my parents were not about to pay for me to do this, either!).
I researched jobs overseas as a foreigner, how I could work overseas as an American in Europe (not to mention having only 18 years under my belt and no Bachelor's degree), and I came across my saving grace: Teaching English as a Foreign Language. Once I learned about this option, I knew this was my in.
I Google-searched "TEFL certification" and found the Chicago-based International TEFL Academy. I liked the idea of getting certified by a Midwestern academy, especially in case I had to travel to their headquarters for some reason (I never did, everything was super convenient and in-reach for me online).
After filling out a form on the ITA website, I was put in contact with a great advisor, Ashley Houston. I explained my situation and what I wanted to do, I was screened by writing a Young Teacher's Essay, and after proving my maturity level for taking the course, I was in. I was bound to be an English teacher abroad and travel the world - all at 18 years old!
In a zealous excitement, I missed my high school graduation and after finishing my TEFL course and receiving my certificate, I took a flight to Barcelona, Spain, and started looking for work in May of this year (2019). It's not a recommended month to find work in, but after a few weeks of contacting and sending my CV (European résumé) to over 50 (yes, 50+) online English-teaching companies (since most brick-and-mortar schools in Europe look for older teachers with a Bachelor's degree), I was interviewed and hired by three online English-teaching companies and I started working as an 18-year-old English teacher living alone in Barcelona, Spain. It sounds crazy but it happened - it was all possible.
It wasn't easy, but if you have the work ethic and drive, it's totally possible.
For me, it was worth the effort and pre-move anxiety. I had a dream, and with the support and guidance from International TEFL Academy, I was able to make this dream a reality: Something I am really proud of.
I remember doing my online coursework at my home in Nebraska along with my high school and college workload, and, in the moments between, feeling exhausted, daydreaming about Spain - my goal in mind.
What really shook me was my first day in Spain. Landing in El Prat Airport, the dream came to life before my eyes and, I swear to you, I cried happy tears. I was so happy my work had paid off like it had. I can't even properly explain to you how I felt - seeing Spain before my eyes after all the hard work I'd put in was an unforgettable feeling.

Job interviews as an 18-year-old English teacher
One thing people are curious about are my job interviews. How did they go over? Did they ask for your age? In fact, none of the companies I interviewed for ever asked for my age, which actually surprised me. They asked for my legal status as an American: a copy of my passport. My passport has my birthdate in it, so they could have known my age if they looked at that, but not one of my interviewers ever explicitly solicited my age nor was it an important factor in the interview process.
Not only that, but I will tell you that some of my students have asked me how old I am out of curiosity, and when I tell them I'm 18, their reaction is always of genuine surprise. I've had many people tell me they just assumed I was in my 20's and compliment my level of maturity for my age. Afterward, I get a new sort of respect from them during our lessons. I can see that they can understand the hard work I put into getting where I am now.
I remember feeling pretty nervous for my first job interview because I was such a young candidate - I suppose I am the youngest English teacher (or even candidate) in all three companies I work for. I remember feeling nervous they were going to drill me on all sorts of odd English grammar rules and random things that would be difficult for someone without a specialized degree in English, and although one of the interviewers did a little bit, I was hired on the spot.
I believe the majority of people in the professional world don't completely value the power of being young. I feel as though a lot of professionals I've met look at me in a sort of inferior, immature light in comparison to a 20+ teacher with a bachelor's degree and prior experience, but I still got hired on the spot during all three of my interviews. One thing I was told by a friend is: "You have the wonderful advantage of being young! (And sometimes, I promise you it will feel like a hinderance) but it means that sometimes places that we don't get into, are just not meant for us at that point in our lives." It's totally true. The advantage of being so young is that sometimes rejection just means we can try back in a few years. Keep your head up, kid, you have a future ahead of you!
What honestly helped me a ton and really made everything come together was the support of International TEFL Academy. Being so young, I had no idea what I was supposed to do, initially, to make my dream happen. ITA pairs you up with a personal, one-on-one advisor to help you through the entire process. And, I genuinely enjoyed the conversations I had with my advisor, Ashley. The advisors are punctual, to-the-point, and are just genuinely helpful and kind. If there's something that's not possible, then they will go the extra mile to find something that is possible for your unique situation. Not only that, but I was able to get help down to the details of writing my CV/résumé, getting into contact with English-teaching companies, and even booking my flight abroad.

If someone 18 years old or younger were to ask me if I would recommend becoming TEFL certified and moving abroad to teach English alone, I would definitely say YES. As long as you are someone who enjoys adventure with a little bit of hard work and spontaneity, go for it with your whole heart. As an alumna, someone who's already been through it all, I promise you every piece of the adventure is worth it.

If you would like to get into contact with me and ask me for advice, I'm all-ears. You can contact me through my Instagram (@callistarosesmydra) or email me at callistasmydr [at] gmail.com.
Read more: Teach English Online from Home or while Traveling.
Callista Smydra is an adventuresome 18-year-old from Omaha, Nebraska. She was a high school senior before getting TEFL-certified and moving overseas to Barcelona, Spain, where she is currently immersing herself in the local culture & supporting herself teaching English online.
Want to Learn More About Teaching English Abroad?
Request a free brochure or call 773-634-9900 to speak with an expert advisor about all aspects of TEFL certification and teaching English abroad or online, including the hiring process, salaries, visas, TEFL class options, job placement assistance and more.