lgbtq+
LGBTQ&A: Teaching English in Taipei, Taiwan with Jassira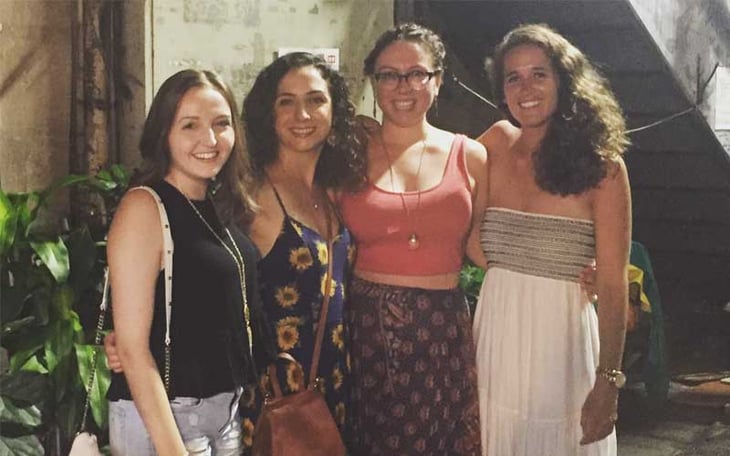 What is your citizenship?
United States
Where are you from?
Chicago
How old are you?
29
What is your education level and background?
Bachelor's degree
Have you traveled abroad in the past?
Some international travel with friends, family, business, etc.
If you have traveled abroad in the past, where have you been?
Before teaching: Pakistan, Czech Republic, Hungary, Germany, Austria, and Australia.
Please tell us about yourself.
I was born in the UK, raised in California, and then spent nearly a decade in Chicago, a city I still think of as home. I currently identify as queer or a lesbian.
What sparked your interest in teaching English abroad?
Being a third culture kid, I never felt like an American. I loved visiting my parent's families and countries when I was younger and while I love traveling, I really prefer longer term travel, where you get to stay in the same place for weeks on end and explore all the hidden parts.
A few years ago I reached a point where I was in a career I didn't want and unsure of what would come next. At that time, I traveled out of the country for the first time in years and realized what came next was leaving. After some research, teaching abroad seemed like the best choice and ITA the best company to prepare me.
Which country did you decide to teach English in?
Taipei, Taiwan.
What did your friends and family think about you moving and teaching abroad? Were they supportive, apprehensive, excited, concerned, etc.?
Everyone was very supportive, although sad of course.
What were some of your concerns before teaching abroad?
Most jobs in Taiwan are found on the ground, so being able to find work was definitely a concern. Honestly, it's been so long that it's hard to remember, which tells you something about how important those concerns wound up being. However, I was worried about leaving the place that I loved and how my relationships would fare. Now, my partner and I are moving to Madrid this summer and most of my concerns are immigration-related and financial.
What resources did you find helpful when deciding where to go?
ITA staff for sure! Just being able to talk with different advisors in the office (I took an in-person class) really helped. Hearing stories, asking them questions about different places they had taught, and what they liked best, as well as the online resources they have available. I also read some blogs online, including one that compared South Korea and Taiwan, that I found helpful. And as a member of the LGBTQ+ community, I did a lot of research specific to that. Ultimately, however, my decision was based on what felt right just as much as what all my research said.
Please give your thoughts on dating abroad.
I met my partner about a month and half in, so I don't have experience dating in Taiwan. I have queer friends who met their partner on an app here, as well as plenty who, like me, met them outside in the real world. Overall, I'd say it's much like it is in the US, although it might be a smaller pool of possibilities if you're from a big city!
Was there anything about being a member of the LGBTQ+ community abroad that was unexpected?
I never expected to feel so safe here, both overall and as a queer woman. I've felt more widely accepted here than I did in the US and much more free to be clearly out. This may be less a community-specific thing and more just a testament to Taiwan.
Did being a member of the LGBTQ+ community have an impact on where you decided to teach English? If yes, how so?
Yes. It was the number one deciding factor once I had narrowed down to a few countries of interest. I had no interest in going back into the closet in any way, even if that just involved being quiet at work. Taiwan is touted as the most gay friendly place in Asia, and I knew that made it the place for me. In fact, most of the research I did while deciding where to go was on this topic. Taiwan has not disappointed. It has also been one of the bigger factors in deciding where to move next.
Tell us about finding your community abroad
This hasn't been so easy. In Chicago I was part of a big queer community, and I loved that. Here, the community is smaller and a little harder to access. I have plenty of one-on-one friendships, but I've missed the sense of community I once had. As I mentioned above, LGBTQ+ factors have been huge in deciding where to go next and of those factors, a large and diverse queer/lesbian community has been of utmost importance. However, I've made some amazing friendships here and many of them are people I fully expect to see again as we all move around the globe. Also, my experiences with this may not be your experiences! I started a relationship shortly after I moved here, so community building hasn't been as big a priority as it should have been.
What were some of your most memorable experiences teaching English abroad?
Finding my partner has been hands down the best experience! But other than that, I think the pro-same sex marriage rally that we attended in December 2016, will continue to stay with me. It was really wonderful to see so many Taiwanese people, especially so many families, coming out in support of marriage equality. I was an outsider, because this isn't my country, but also not an outsider, because any fight for equality resonates and matters.
Did you have any difficult conversations abroad? If so, would you mind sharing?
I've had many interesting conversations, especially about how minority sexual identity fits into the patrilineal society here. But I haven't personally had an difficult conversations. In general, people here don't ask me about my sexuality.
Did you find that locals had any stereotypes? Or did you have any stereotypes about locals?
Well, there are plenty of stereotypes applied to me and I've heard many applied to locals, but I think this is common wherever you go. My favorite one was when a prospective parent told my boss that I wasn't bubbly enough for an American girl! I haven't run across any LGBTQ+ specific, but among locals gender roles within same-sex relationships tend to follow those in heterosexual relationships, although I've seen some evidence of that changing.
What are your thoughts on safety in your host country abroad, as a member of the LGBTQ+ community?
Taiwan is the safest place I have ever lived. It is one of the things I will miss most about this place. I have never felt safer than I do in Taiwan, so much so that I'm a little nervous I've been ruined for life!
Have you participated in any pride celebrations abroad? If so, please tell is about them.
Taiwan celebrates Pride in October, presumably because June is way too hot, although that's just a guess. They do a parade and there's always a bunch of Pride parties after.
Do you have any advice for people planning to move to this country/move abroad?
Taiwan is a wonderful country. It's gorgeous, the people are friendly, and it's super safe. If you're LGBTQ+, this is an excellent place to live and there are a lot of long term, LGBTQ+ expats here (and all letters are welcome here).
Do you have anything else you'd like to share? If so, please feel free to write that here.
Please contact me if you have any questions about Taiwan. Also, I'm moving to Madrid this summer, so in a few months time I'm hoping to be a resource for LGBTQ+ information there!
Born in the UK to multicultural parents, but having grown up in Southern California, Jassira has been traveling the world from a young age. She taught English to both children and adults in Taiwan and Spain, before returning to the US and eventually her adopted home of Chicago. An ITA alum herself, Jassira is now part of the ITA Student Affairs team.
Want to Learn More About Teaching English Abroad & Online?
Request a free brochure or call 773-634-9900 to speak with an expert advisor about all aspects of TEFL certification and teaching English abroad or online, including the hiring process, salaries, visas, TEFL class options, job placement assistance and more.