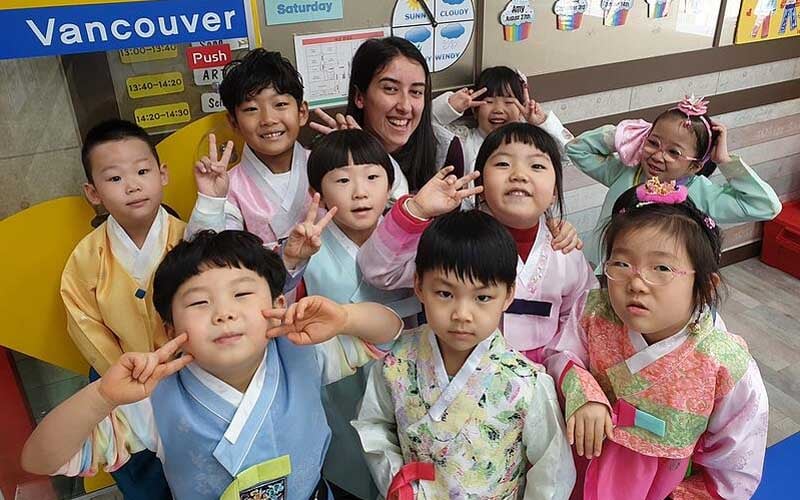 Teaching English in Busan: The Summer Capital of South Korea
Would you like to live in one of the most dynamic cities in Asia?
Do you want to receive free housing and airfare and make a great salary teaching English in Korea?
Busan - Center of Commerce & Culture
Known as the "Summer Capital of Korea" for its inviting beaches and southern locations, Busan is the second largest city in South Korea, with a population of more 5 million people. It's the largest port city in the country and the world's fifth busiest seaport; it is also one of the most modern. This makes Busan one of the most important centers of commerce, culture and education in all of Asia.
A center of Korean civilization and culture for centuries, Busan is located on the southeastern tip of the Korean Peninsula on the Pacific Ocean, where South Korea's longest and most important waterway, the Nakdong River, meets the coast. In addition to its status as a major port, Busan offers a wide array of great attractions from inviting beaches and ancient Buddhist temples, to nature reserves laden with forests, mountains and hot springs. Exploring the local streets you will encounter a vast assortment of colorful fish markets, fantastic restaurants, groovy cafes, and some of the best nightlife in Asia. Busan is even home to the world's largest department store: Shinsegae Centum City!

Teaching English in Korea - One of the Top Job Markets in the World for Teaching English Abroad
The job market for teaching English in Korea is huge (25,000 foreigners teach English there every year) and the country is quickly earning a reputation as one of the top destinations in the world for teaching English abroad. It may not be obvious why a nation of 50 million (small by Asian standards!) that is only the size of Indiana is one of the most desirable places to teach English overseas, but a closer look reveals why:
Ancient culture, stunning natural beauty and uber-modern, high-tech cities like Busan
The bottom line is that if you want to enjoy the international adventure of a lifetime and make great money teaching English abroad in the heart of Asia, you can't do much better than becoming an English teacher in Busan.
Here are 7 more reasons why:
7. Music, Film & Popular Culture
You may not realize it, but South Korea is a major center of popular culture that is consumed by more than a billion people across Asia. From Indonesia and Singapore to China and Japan, Korean popular music, films and even soap operas are all the rage, and Busan is right in the middle of it. In fact, the Busan Film Festival is the largest in Asia and is widely recognized as one of the most important in the world. Each year, the event attracts many of the world's top stars, producers and actors. But the Busan Film Festival is just the tip of the iceberg. From world class classical performances and traditional Korean music and theater, to rock festivals and jazz clubs, Busan is a truly global hub of culture and music.
6. Clubbing & Shopping in Seomyeon
Seomyeon is Busan's downtown and the city's main focal point of entertainment, shopping and nightlife. Here you will have your pick of cutting edge shopping malls, boutique restaurants, hip sake & soju bars and noraebangs. If you crave the excitement and dynamism of modern Asia, this is the place to be!
5. Haeundae Beach - The Korean Riviera
As a coastal city, Busan is known as popular beach destination and both the city itself and the surrounding areas offer many options to those who love to kick back, catch some rays and hang out on the shore. Haeundae is one of the most popular beaches in Korea, and during the summer swim season millions of Koreans and foreign visitor flock to Haeundae and other beaches like Gwangalli.
4. Gwangan Bridge
This engineering marvel and prominent landmark stands as a symbol of modern Busan and its status as an international center of commerce and trade. Completed in 2002 and officially opened in 2003, Gwangan bridge is more than seven kilometers long (4.6 miles) and is lit by 100,000 lights that change colors, making it one of the most spectacular sights in the city.
3. Jagalchi Fish Market
The passion Koreans hold for fresh fish and seafood is borderline religious in its intensity and nowhere is it more evident than at Busan's Jagalchi Fish Market. After stepping inside, your initial impression will probably be that you've arrived in shopping mall that sells nothing but fish and seafood. From bubbling tanks filled with prawns, lobsters, and octopuses (live octopus is a Korean delicacy!) to piles of fresh tuna and an endless variety of other fish and sea creatures, the market is truly paradise for seafood lovers. The fish market is a great place to enjoy some of the freshest and tastiest seafood in the world along with a traditional Korean refreshment.
2. Beomeosa Temple
This breathtaking 1,300 year-old temple is one of the calmest and most relaxing places in the whole city. From immaculate gardens to exquisitely carved sculptures and statues, the temple represents a classic example of traditional Korean Buddhist architecture. And the temple is not just a monument for tourists. Visitors can gain insight into the daily life of the temple monks by observing them as they carry on their daily rituals from tea ceremonies to meditation.
1. Haedong Yonggungsa Temple
Haedong Yonggunsa Temple is undoubtedly one of my favorite places in all Korea and one of the most beautiful temples of its kind. Erected at the edge of a rocky mountain overlooking the ocean, it encompasses an array of statues, pagodas, fountains, and beautiful trees. The temple provides a perfect opportunity to explore Korean history and spirituality, all while letting the cool ocean air refresh your senses.
You'll need Skype Credit

Free via Skype
Founded in 2010, International TEFL Academy is a world leader in TEFL certification for teaching English abroad & teaching English online. ITA offers accredited TEFL certification classes online & in 25 locations worldwide and has received multiple awards & widespread recognition as one of the best TEFL schools in the world. ITA provides all students and graduates with lifetime job search guidance. ITA has certified more than 25,000 English teachers and our graduates are currently teaching in 80 countries worldwide.
Want to Learn More About Teaching English Abroad?
Request a free brochure or call 773-634-9900 to speak with an expert advisor about all aspects of TEFL certification and teaching English abroad or online, including the hiring process, salaries, visas, TEFL class options, job placement assistance and more.