Noraebang - Just One More Reason to Teach English in South Korea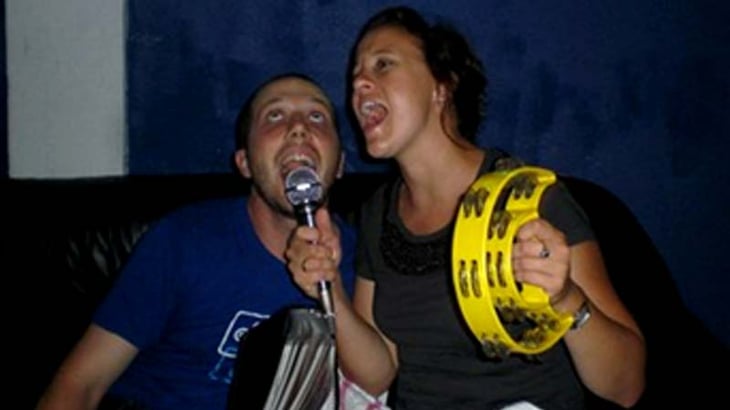 Do you love music and want to have the time of your life singing and carousing with friends?

Think Koreans only care about kicking butt in global trade and international test score rankings?
You need to consider teaching English in South Korea and experience the genius of Noraebang.
What's Noraebang you ask?
In Korean 노래(norae) means "sing", and 방(bang) means "room".
Keep these Korean characters in your mind! It's like Karaoke, but be careful not to slip, as "Karaoke" is a Japanese word, and prideful Koreans can be "sensitive" if you refer to one of their national pastimes using a label borrowed from their eastern neighbor.

The "noraebang" is a private room just for you and your friends, your coworkers, classmates, and/or business associates, to play videos with music and lyric captions that enable you to sing with musical accompaniment. This provides a "safe" environment where you can sing whatever you want, however you want, regardless of taste, ability, or demeanor (or degree of inebriation!).
These private rooms are typically fitted with a large size plasma screen TV, two reverberated microphones, comfortable couches, disco lights, ashtrays and tambourines. There is also a shinny karaoke machine that plays thousands of songs listed alphabetically.
Noreabangs can be found on literally almost every street corner in Korea, and they come in all shapes and sizes, categories and styles, which often depends on the character of the neighborhood you find yourself in.
A cheaper, bare-bones noraebang with a couch and a basic sound system and video can cost the equivalent of $5 (USD) per hour, while a standard one set-up with a few more amenities runs around $10-20 (USD) per hour. But the sky's the limit for those looking to really whoop it up. An ultra-exclusive, classy (or obscenely indulgent) high end noraebang can even cost up to $1000 dollars or more for several hours, and will come with all sorts of bells and whistles from personal waitresses and complimentary whiskey, champagne, and other drinks of your choice, to elaborate strobe lights, speaker systems and the obligatory fruit platter.
You can choose between an alcohol free noraebang, a noraebang that only serves beer, or even a BYOB noraebang that allows you to bring your own food and refreshments. It's up to you!
What makes Noraebang so special?
Spending an evening in a noraebang is the quintessential Korean social experience and is an absolute "must" when living and teaching English in Korea; or even if you are visiting for just a day. It's the "can't miss" authentic Korean experience and it's one of the most popular forms of entertainment for any night out.

A typical night on the town in Korea begins with a dinner out with a group of friends or colleagues: with thousands of food options like barbecue, noodles, rice, bimbimbap (rice topped with seasoned veggies, chilli sauce, an egg and perhaps grilled meat), and banchan (pickled, sautéed, and raw seasoned vegetables), that are available in a myriad of styles and flavors -all delicious and mostly inexpensive. Eating such meals provides a great communal culinary experience and an ideal start to the evening. After dinner comes a bar. After the bar, perhaps another (or two!), or maybe you'll choose to hit up a club ("Gangnam Style"!), or you might head to another neighborhood bustling with nightlife. Any way you go, the evening almost inevitably ends in a noraebang, as "a good night in Korea" almost always should.
Noraebang - A Perfect Way to Wind Down
After a long week at work - or a long night on the town - a visit to a noraebang provides a perfect way to wind down, gather with friends and let it all hang out.
For English teachers in Korea, it provides a perfect opportunity to break the ice and share laughs with Korean colleagues and friends. A highlight of any evening, and an endless source of humorous moments, invariably occurs when foreigners try their hand at singing in Korea, and vice versa.
Korean's consider noraebang to be "stress therapy for everyone." Most establishments list songs in Korean, English and Japanese, but many also offer songs in Spanish and Portuguese, or even French. So whatever language you want to sing, because doesn't matter... The whole point is, enjoy your time and have as much fun as possible!
More articles about life teaching English in South Korea:
Founded in 2010, International TEFL Academy is a world leader in TEFL certification for teaching English abroad & teaching English online. ITA offers accredited TEFL certification courses online & in 20+ locations worldwide and has received multiple awards & widespread recognition as one of the best TEFL schools in the world. ITA provides all students and graduates with lifetime job search guidance. ITA has certified more than 40,000 English teachers and our graduates are currently teaching in 80 countries worldwide.
Want to Learn More About Teaching English Abroad & Online?
Request a free brochure or call 773-634-9900 to speak with an expert advisor about all aspects of TEFL certification and teaching English abroad or online, including the hiring process, salaries, visas, TEFL class options, job placement assistance and more.